Tag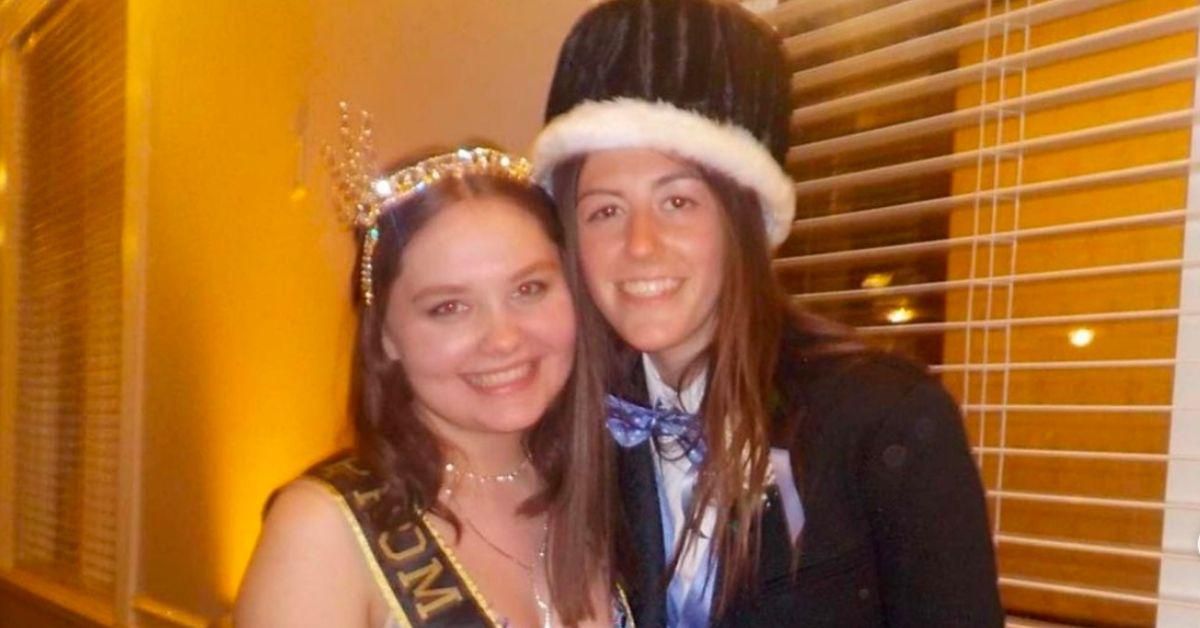 riley.loudermilk/Instagram
A majority of students at an Ohio high school were joined by school officials who cheered on a lesbian couple for becoming the first queer couple in their district to be crowned prom king and queen.
Annie Wise and her girlfriend Riley Loudermilk, both 18, attend Kings High School in the Kings Local School District in Ohio.
They have been dating for six months but have known each other since third grade.
Congrats to prom queen and king 👑 "I've gotten people from our school saying that they're more comfortable being g… https://t.co/6h6ZzA7Xyv

— It Gets Better (@It Gets Better) 1620064830.0
"It was so cool—it was like loud screaming, lots of tears," recalled Wise after finding out the news.

She told Today:

"My crown fell off and it broke. There was a lot going on, but it's something I'll never forget. It was amazing."
Loudermilk was genuinely surprised since neither she nor her girlfriend thought they had a chance at winning.
"Usually prom king and queen is like a popularity contest, and neither of us are really on that popularity spectrum."
The district celebrated and showed their support for the couple with a post on Facebook, where it was shared 400 times and received over 2,000 comments from around the country.

One parent praised the couple and wrote:
"I admire this generation for their thirst of knowledge and understanding, their strength to stand up for what they believe in
However, some parents failed to recognize the significant milestone as something worth celebrating.
Angry parents blast rural Ohio high school after a lesbian couple are voted to be prom king and queen by their clas… https://t.co/USmWS9prjP

— Daily Mail US (@Daily Mail US) 1620039890.0
The couple braced themselves for the expected condemnation to follow.

Loudermilk said the district had a challenging time going through and deleting all of the negative comments on the post. Many of the critics claimed the couple "needs Jesus."
One commenter insisted a prom king should be a male student.
According to WLWT, one unidentified parent reportedly complained to the school board at a meeting and said:
"Sorry, but I believe that there are still two genders, a male and a female."
@DailyMail Imagine being someone that gets angry over who is voted prom king 😂

— John (@John) 1620040523.0
Said Loudermilk of the disapproval.

"It also just was kind of surprising that a bunch of adults were bashing teenagers."
"I just think it's weird that somebody who's old enough to be my mom is so worried about my genitalia and what's in my pants. I think that's more concerning than having a gay couple win prom, obviously."
@DailyMail Why is this lesbian couple being voted prom king and queen *still* such an issue? It's 2021, for God's sake. I'm happy for them.

— David Frank (@David Frank) 1620040313.0
Dawn Goulding, a community relations coordinator for Kings Local School District, stood by the school's decision and said:

"This is solely a Kings High School senior class nominated and voted-on initiative."
You can watch the news report, here:
@DailyMail Proud of the students, ashamed of the angry parents.

— flora + fauna 🏳️‍🌈 (@flora + fauna 🏳️‍🌈) 1620045671.0
The couple noted the pushback from the parents did not reflect the views of most of their classmates.
@NBCNews @NBCOUT The future of America looks a little brighter thanks to the kids who supported them

— Fenton (@Fenton) 1619802091.0
A 2018 survey from Pew Research Center showed that 48% of members of Generation Z—those born after 1996—said gay and lesbian couples being allowed to marry was a good thing for society, whereas 15% disagreed.

For baby boomers—those born between 1946 to 1964—27% approved same-sex marriages while 32% did not.
@DailyMail Parents, get over with it, it is new era.. times have changes..

— 🦋Cheryl A 🦋 (@🦋Cheryl A 🦋) 1620049583.0
Wise's mother, Jen Kirby, noted of the criticism her daughter and her girlfriend faced online:

"Some people, you're never going to change their mind. And you know what? That's OK too. People are allowed to believe and feel what they believe and feel."