Tag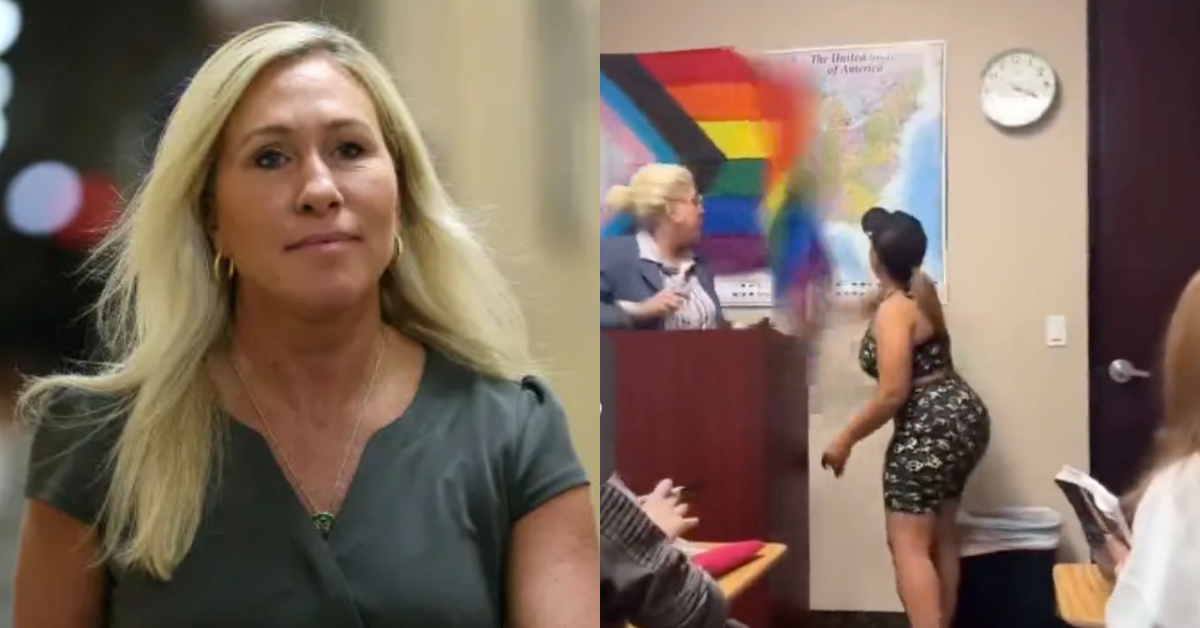 Kevin Dietsch/Getty Images; @RepMTG/Twitter
Georgia Republican Representative Marjorie Taylor Greene—one of the most anti-LGBTQ+ politicians in Congress—was roasted online after she fell for a fake video of an outraged "mom" tearing down a classroom's Pride flag.
The video features a woman wearing a cap entering a classroom and forcibly removing a Progress Pride flag from the wall, revealing a map of the United States underneath. The "teacher" in the video, portrayed as an older woman in a gray pantsuit behind a lectern, shouts, "What are you doing?" in response to the woman's actions.
The cap-wearing woman responds incoherently, shouting, "Not! Not!" as she crumples the rainbow flag and discards it in the trash. She attempts to convey her objection by saying she does not support having her "tax money" used to display Pride flags.
When confronted she yells:
"I'm teaching my son to grow up to be a man! And I don't want you hanging that flag!"
Greene gleefully shared the video with the following caption:
"GOD BLESS THIS MAMA!!!!! I stand with her!!! Teachers are paid by taxpayers – the PARENTS!!! Get the LGBTQ propaganda out of the schools!"
You can see Greene's message and the video below.
An X Community Note said all that Greene needed to know about the video's veracity:
"This video was made by an independent production crew known for provocative classroom scenes with recurring actors and sets, intentionally stirs online reactions for engagement and discussion."
"At the 6:25 mark in the original video, it is revealed to be scripted in nature."
The video is an example of rage farming, a tactic to elicit outrage with the goal of increasing internet traffic, online engagement, revenue and support.
Critics were quick to point out that the video was clearly staged and proceeded to mock Greene as a result.
Greene later suggested that it doesn't matter if the video is fake, writing:
"If this is a fake or a skit, it's a very good representation of exactly how people feel."
You can see her post below.

Greene has previously railed against Pride flags and made headlines for her blatantly homophobic remarks.
Earlier this year, she was highly criticized after she expressed her disapproval of an LGBTQ+ Pride flag displayed outside the Gaylord Texas Resort & Convention Center in Grapevine, Texas.
Greene later said at a Turning Point USA conference that "it shouldn't be about what people do sexually that causes us to hang a flag somewhere."
Adding that the only flag that should be flown is the American one, she declared her surprise that "one of y'all hasn't shimmied up that flag pole yet and taken it down."