petty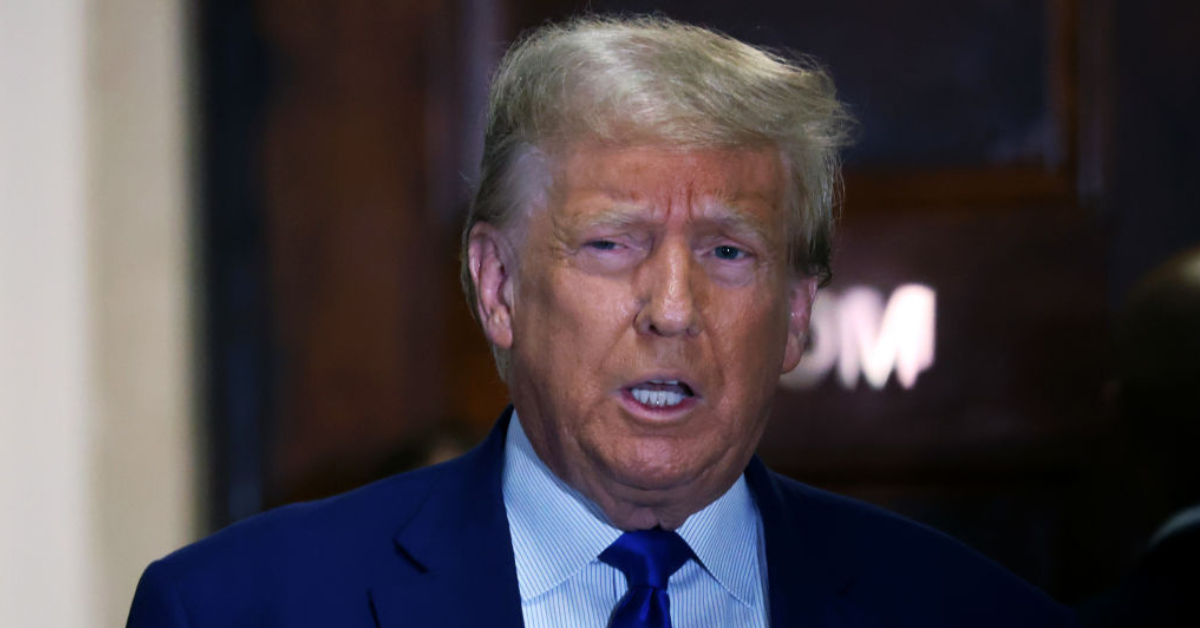 Spencer Platt/Getty Image
Former President Donald Trump was widely mocked after he attempted to use the television series Perry Mason to insult Michael Cohen—only to mispell it to great comedic effect.
Trump described Judge Arthur Engoron as a "radical left judge" on his Truth Social platform while reacting to the $10,000 fine imposed by Engoron for Trump's violation of a gag order, which prevented him from discussing his staff publicly.
Trump also compared his former lawyer and fixer Michael Cohen's confession on the stand to a scene from the classic fictional legal series Perry Mason, which was recently rebooted by HBO and ran for two seasons. However, Trump misspelled "Perry" as "Petty."
Trump said Engoron had "found me GUILTY before the trial even started," and said Cohen "was collapsing and choking under cross examination."
He added:

"[Cohen] committed MASSIVE PERJURY, at a level seldom seen on the stand before. It was like watching the end of the best Petty Mason episode, where the defendant breaks down and cries, 'Yes, I did it. I did it. I did it.'"
Trump went on to suggest that Engoron is in the pocket of New York Attorney General Letitia James, who has led investigations into Trump's financial crimes. He concluded that the case is ultimately "RIGGED," referring to it as "a disgrace to the legal system."
You can see what Trump said below.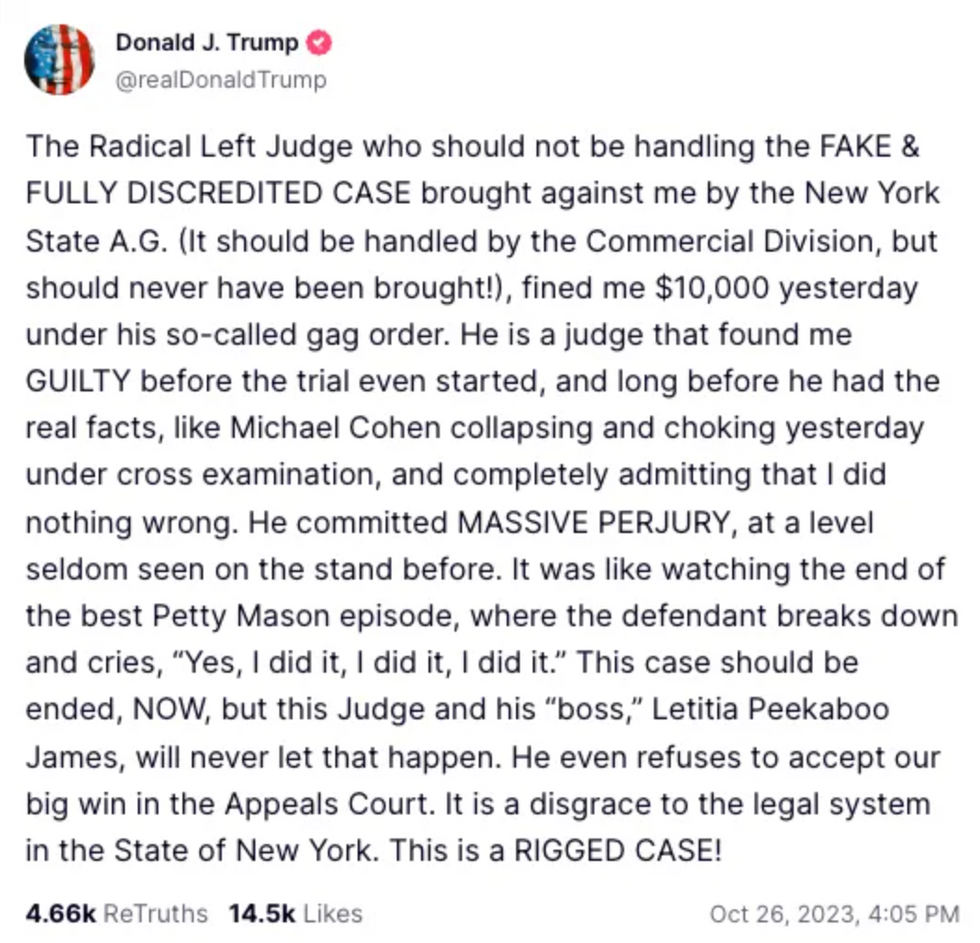 @realDonaldTrump/Truth Social
The typo didn't go unnoticed, with critics taking the opportunity to mock the former president's error.

Trump is no stranger to spelling mistakes, and his frequent typos have been a source of humor and criticism during his time in the political spotlight.

From "Shoebiz" to "hamberders," Trump's spelling errors have often made headlines and provided late-night hosts with comedic material. His X (formerly Twitter) feed, in particular, has been a fertile ground for these linguistic mishaps, including the infamous "covfefe" incident.
In 2019, CNN's Reliable Sources decided to dig deeper into Trump's spelling blunders and enlisted the help of Factba.se, a website that meticulously tracks every word spoken by Trump and other politicians. The goal was to compile a comprehensive list of Trump's misspellings to shed light on the extent of the issue.
CNN's Brian Stelter acknowledged that everyone makes spelling mistakes but noted that Trump's frequency of errors surpasses that of most people. While it may not be the most significant issue in the world, Stelter emphasized the importance of accuracy, particularly for the President of the United States.
Factba.se researchers took on the task of identifying and cataloging Trump's misspelled words. They chose to focus on the quantity and absurdity of the errors rather than minor punctuation mistakes. Their findings revealed that Trump had made 188 misspellings on Twitter since taking office, averaging roughly one misspelling every five days.
Of course, there have been many more since CNN's study—and they seem to have become more frequent as Trump continues to deal with the many criminal cases against him.
Keep reading...Show less