Tag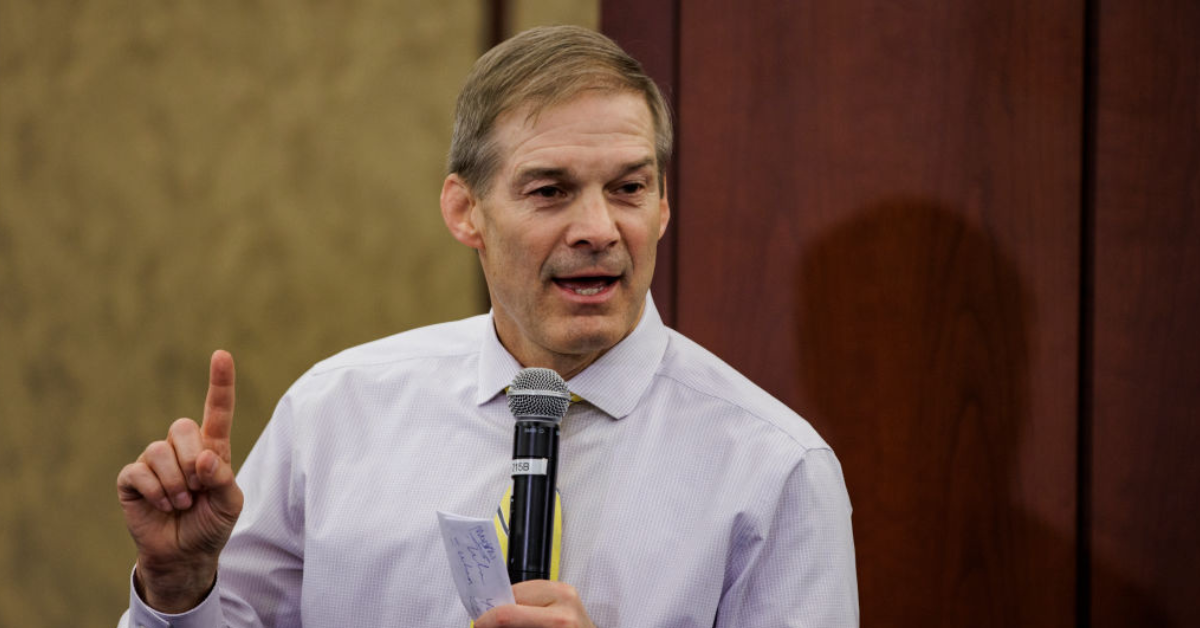 Samuel Corum/Getty Images
Ohio Republican Representative Jim Jordan was harshly criticized after he posted a tweet declaring a story about a 10-year-old girl who was raped in Ohio and had to seek an abortion in a neighboring state was "another lie" then deleted after the rapist was officially charged by authorities.
Jordan has not apologized for his false claim and has avoided questions about the offensive tweet. However, he did acknowledge the rapist "should be prosecuted to the fullest extent of the law."
You can see the tweet, which was screenshot and shared by Capitol Hill journalist Taylor Popielarz, below.
@Jim_Jordan/Twitter
\u201cOhio Rep. @Jim_Jordan (R) has now deleted his tweet calling the story of a 10-year-old Ohio girl being raped and impregnated before going to Indiana for an abortion "another lie."\n\nJordan has not acknowledged his mistake, but has tweeted that the suspect should be prosecuted.\u201d

— Taylor Popielarz (@Taylor Popielarz) 1657730490
The account of a 10-year-old girl who was raped and forced to leave her home state of Ohio for an abortion first garnered national attention after Democratic President Joe Biden mentioned it during a major speech about abortion policy shortly after the Supreme Court overturned Roe v. Wade, the 1973 landmark decision that once protected a person's right to choose reproductive healthcare without excessive government restriction.
In Ohio, there are no exceptions that would qualify a person for an abortion—not even in cases of rape of incest—and the draconian nature of these laws is what prompted the 10-year-old and her family to cross state lines to get the procedure.
Jordan's initial tweet quoted a story about Ohio Attorney General Dave Yost's office initially saying it was unaware of the case even though it would not have been made public record until charges were filed by the local authorities.
State Attorney Generals do not typically investigate or prosecute local crimes.
However, Jordan moved quickly to delete the tweet after local police arrested Columbus resident Gerson Fuentes, 27, after he confessed to raping the child on at least two occasions. Fuentes has been charged with first-degree rape, a felony in the state.
Franklin County Municipal Court Judge Cynthia Ebner ordered Fuentes be held in the Franklin County jail on $2 million bond, noting that he is a potential flight risk.
Many have criticized Jordan following this development.
More than a few brought up Jordan's history of minimizing and ignoring sex crimes occurring under his nose.
Jordan was accused of failing to report or stop serial sexual abuse in regard to his alleged actions during his tenure as an assistant wrestling coach with Ohio State University's wrestling program.
Jordan, who worked for the university between 1987 and 1995, was criticized by former wrestlers who said he was aware of, but did not respond to allegations of sexual misconduct by former wrestling team physician Richard Strauss, who died by suicide in 2005.
Jordan refused to cooperate with investigations into Strauss and described his accusers as "pawns in a political plot" even while facing legal action in response to his denials.
These facts emerged once again as people took Jordan to task for his offensive tweet.
\u201cA 10 year old girl in Jim Jordan\u2019s state of Ohio was raped. Jim accused her of \u201cmaking up\u201d the story & called it a \u201choax.\u201d Today, the Ohio rapist was arrested. Jim tried to silence a 10-yr old rape victim. Just like Jim silenced 43 students who were molested at OSU on his watch.\u201d

— Dash Dobrofsky (@Dash Dobrofsky) 1657742720
\u201cTo all the young people I see rising up in Ohio (& across the \ud83c\uddfa\ud83c\uddf8) who are channeling their outrage, energy and first votes to helping tear America back from the savage & disgusting claws of toxic men like @Jim_Jordan, we see you & we thank you! We SHALL overcome.\u201d

— David Dastmalchian (@David Dastmalchian) 1657846767
\u201cI wonder why. No I don\u2019t. @Jim_Jordan is a garbage human who can\u2019t be redeemed. Beyond pathetic.\u201d

— Beau Johnson (@Beau Johnson) 1657799922
\u201cJim Jordan pretending a rape didn't happen?\nYou don't say\u201d

— OrbLord (@OrbLord) 1657805328
\u201cIn Jordan's defense, this is hardly the first time he has looked the other way in response to rape.\u201d

— northierthanthou.com (@northierthanthou.com) 1657806041
\u201cThey called it a lie because they knew to prove it would expose the poor girl to unrelenting harassment and hate and rob her of whatever return to a childhood she could manage after the horrors she lived through. They exploited common decency to spread lies. Jordan is inhuman.\u201d

— Pete Woods, average person (@Pete Woods, average person) 1657759866
\u201cCrazy how accustomed Gym Jordan is to ignoring kids getting raped\u201d

— The Babylon Bee \u2014 fake news parody, nonactionable (@The Babylon Bee \u2014 fake news parody, nonactionable) 1657761480
\u201cTo be fair, his M.O. does seem to be to deny the existence of sex crimes. This is very that.\u201d

— Dan Fronckowiak (@Dan Fronckowiak) 1657798376
\u201cLet alone the fact that #GymJordan doesn\u2019t seem to have ever stood up for sexually abused children, he has NO morals, empathy, shame or conscience.\nSo, if he had apologized, I would have dropped dead.\n\nStill want to vote for him & \u201crepresent\u201d you in Congress, #Ohio?\n\n#VoteHimOut\u201d

— Stefan Resists Putin (@Stefan Resists Putin) 1657755444
When asked about his tweet, Jordan declined the opportunity to make amends to the victim and her family.
Ohio Republican Attorney General Yost released a statement shortly after Fuentes' arrest saying "We rejoice anytime a child rapist is taken off the streets," later adding he is "absolutely delighted that this monster has been taken off the street. If convicted, he should spend the rest of his life in prison."

However, Yost also cast doubt on the story in an attempt to discredit Democratic President Joe Biden, telling Fox News his office had not heard "a whisper" of a report about a 10-year-old rape victim.
He later told the USA TODAY Network Ohio bureau, one day before Fuentes was charged, he was "not saying it could not have happened" but that "there is not a damn scintilla of evidence."
Yost—like Jordan—has also not apologized to the victim, their family or the local authorities they maligned with their comments.