matt gaetz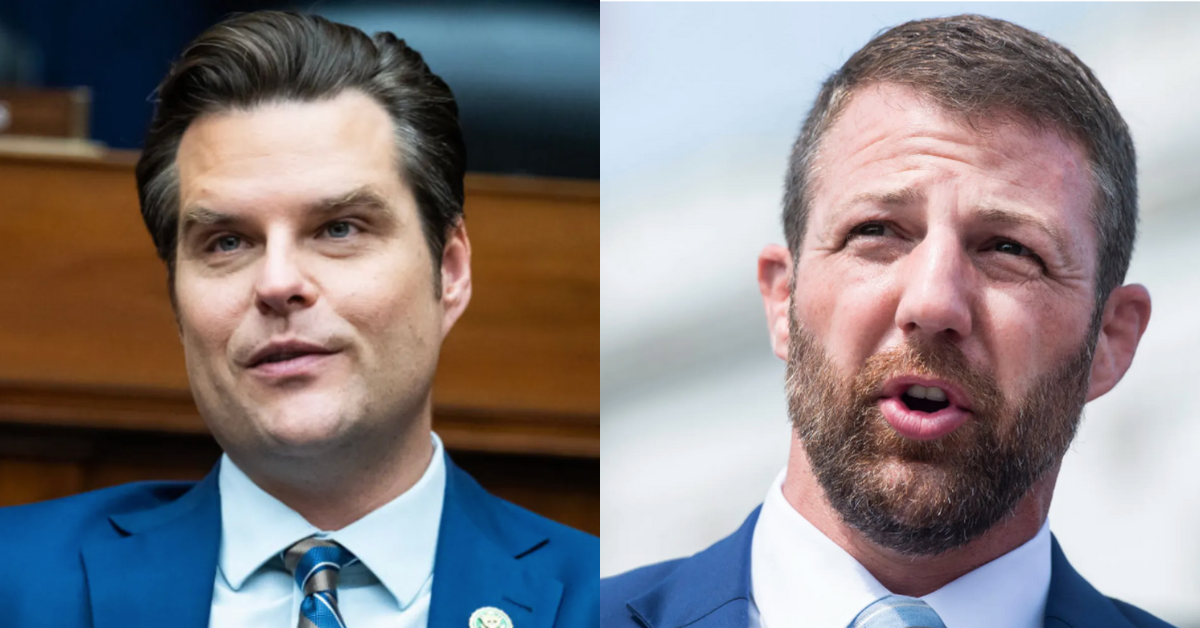 Tom Williams/CQ-Roll Call, Inc via Getty Images (left and right)
Oklahoma Republican Senator Markwayne Mullin alleged on national television that Florida Republican Representative Matt Gaetz had boasted about a peculiar bedroom routine involving erectile dysfunction (E.D.) medication and energy drinks.
The turmoil began earlier in the week when Gaetz, along with a group of like-minded Republicans, brought a motion to remove now-former House Speaker Kevin McCarthy from his position. McCarthy's ouster has left the Republican Party in disarray and caused considerable anger among supporters of the MAGA movement.
In response to Gaetz's actions and the ensuing chaos, Mullin—a McCarthy ally—made startling claims during an interview with CNN's Manu Raju outside the Capitol. Mullin asserted that Gaetz, who had previously faced allegations of sex trafficking, "would brag about how he would crush E.D. medicine and chase it with an energy drink so he could go all night."
Mullin's comments add another sordid dimension to the child sex trafficking accusations Gaetz faced that were later dropped.
You can hear what he said in the video below.

Mullin said:

"You've gotta think about this guy. This is a guy that didn't have, that the media didn't give the time of day to after he was accused of sleeping with an underage girl."
"And there's a reason why no one in the conference came and defended him—because we had all seen the videos he was showing on the House floor that all of us had walked away, of the girls he had slept with."

"He bragged about how he would crush E.D. medicine and chase it with energy drinks so he could go all night. This is obviously before he got married. And so, when that accusation came out, no one defended him."
"And then no one in the media would give him the time of the day. All of a sudden he found fame because he opposed the speaker of the House back in November. And he's always stayed there."
"And he's always stayed there. And he was never gonna leave until he got this last moment of fame by saying– by going after a motion to vacate."
Mullin's allegations were met with swift denial from Gaetz, who issued a statement read on air by anchor Anderson Cooper:
"I don't think Markwayne Mullin and I have said 20 words to each other on the House floor. This is a lie from someone who doesn't know me and who is coping with the death of the political career of his friend Kevin."
"Thoughts and prayers."
Mullin's remarks exposed Gaetz to further criticism and disgust.
In his testimony before the House Select Committee tasked with investigating the January 6 insurrection, former White House senior adviser Eric Herschmann said Gaetz requested a pardon "for any and all things"—a sign Gaetz wanted a pardon in relation to a since-dropped federal child sex trafficking investigation against him.

Federal investigators were at one point investigating Gaetz on child sex trafficking charges after it emerged he allegedly paid a 17-year-old girl and took her across state lines for sexual purposes.

Gaetz denied allegations he violated sex trafficking laws and engaged in other sexual misconduct while in office by citing the age of consent. His supporters in Congress pushed back against the investigation even while they continue to brand other politicians as "pro-pedophile."
In April 2021, Politico reported former President Donald Trump and his allies had reportedly chosen to distance themselves from Gaetz after news of the Justice Department's investigation emerged.
Trump also denied Gaetz directly asked him for a blanket pardon after The New York Timesreported Gaetz met with him and his associates.
Keep reading...Show less