Tag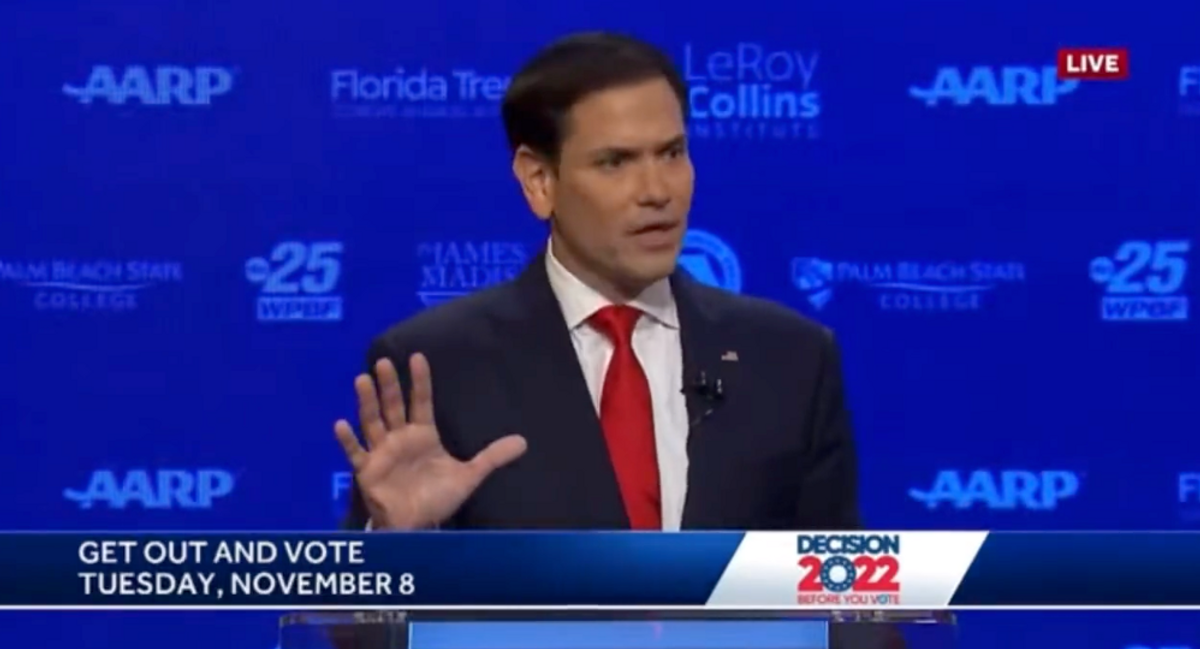 @Acyn/Twitter
Florida Republican Senator Marco Rubio took a page out of former Republican President Donald Trump's playbook to cast doubt on mail-in voting during a debate with Val Demings, his Democratic opponent who is vying for his seat in next month's midterm elections.
Rubio made the absurd claim that there is "danger" with voter drop boxes because someone might put "explosives" in them, a clearly calculated attempt to discourage people from voting by mail.
His remarks are a stark reminder of the GOP's opposition to mail-in voting, which research shows greatly increases voter turnout and helped put Democrats over the top in the 2020 general election despite Trump's lies and conspiracies about the electoral process being rife with fraud and abuse.
You can hear what Rubio said in the video below.
Rubio said:

"That's a method of voting that doesn't advantage one group over another. There's danger involved with drop boxes. People need to think about it."
"Imagine if someone decides, 'Oh, there's a drop box, I'm just going to put some explosives in it and blow it up and burn all of those ballots and now those votes don't count at all."
"With elections, there are two things that are very useful."
"Number one, the count has to be accurate. The votes have to be counted accurately."
"But the other is that the public has to believe that the elections were fair."
To make matters worse, when asked whether he would accept the results of the upcoming election, Rubio said that he would "because I'm going to win." He later said he would accept the outcome of the race because "Florida has good laws," unlike "some crazy laws like they have in Pennsylvania and these other places."
There is no evidence of anyone putting explosives in mailboxes and Rubio's assertion is a rather bold escalation of conspiracies surrounding mail-in voting that Trump and Republicans disseminated during the last election cycle.
For instance, Trump generated controversy ahead of the 2020 election when he attacked the process of mail-in voting by suggesting that people should instead send in their ballots before going to their polling places to see if their vote had been counted and then vote in person if their vote had not been tabulated.
However, no polling place works this way and in many states, the process of counting votes does not begin until polling places are officially closed on Election Day. Additionally, many states also have an online system that allows voters to check the status of their mail-in ballot and see if it's been received.
Rubio has been harshly criticized following the debate and many accused him of attempting to incite actual violence.
The debate between Rubio and Demings was contentious, with Demings accusing Rubio of distorting her record and positions on several issues.

For example, at one point Rubio attacked Demings—who has served as the Representative from Florida's 10th congressional district since 2017—by claiming that she has not passed legislation in Washington since taking office and has only managed to get post offices named after people.
Demings shut down Rubio's claim, pointing out that the buildings Rubio alluded to were in fact named after police officers who died in the line of duty.
Rubio later declared himself "the most effective Senator," a claim that lies in stark contrast to his terrible Senate attendance record.
For example, shortly after he announced his 2016 presidential campaign, The Guardian noted he missed 42 percent of his votes since declaring his candidacy. Rubio dismissed criticisms about his work ethic, saying voting "is not the only part of the Senate job."