Tag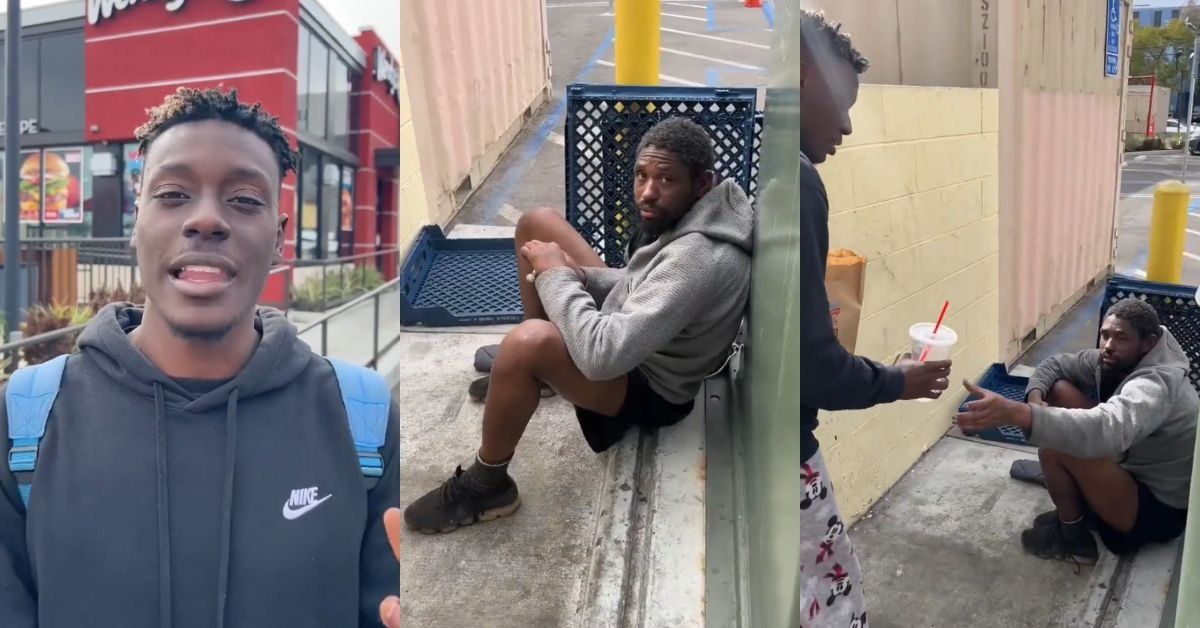 Whatsuptre/YouTube
A YouTuber incurred backlash after staging an act of kindness only to reverse it at the expense of an unhoused person in the pursuit of internet clout.
Content creator Trevon Sellers–who goes by the name Whatsuptre on YouTube–posted a video conveying a serious tone in the beginning.
He stated:
"Los Angeles, California, has the third biggest homeless population in the United States and today."
"It's my job to make sure there's one less hungry person on the streets."
He approached an individual who was crouching in a parking lot to ask if he was hungry and the person replied he was.
You can see the video here:
Sellers said:
"Alright man, I got you."
"What would you like, a Baconator, fries, and a drink, is that cool?"
Sellers learned that the man's name was Israel and he told Isreal, "God bless, I'll be right back," after giving him a fist bump.
Sellers then walked into a nearby Wendy's and placed the order for a Baconator combo. The clip cut to Sellers approaching Israel and holding out the beverage to indicate he got him a Sprite.
When Israel reached out to take it, Sellers retracted and placed the item on the ground next to him. Next, he pulled the large fries out of the paper bag, indicating to Isreal they were for him, but it was another fakeout.
Hilarious, right?
Not really.
But the bit was just starting.
Sellers took the sandwich out of the bag and held onto it as he explained to Isreal:
"I was homeless myself, so I wanna make sure you're on the right path, you know, and you're always able to get back on our feet."
As Isreal nodded in acknowledgment, Sellers told Isreal:
"I want you to enjoy this."
Sellers then unwrapped the Baconator while still standing and started to eat it in front of Israel–who realized the warm meal was never intended for him.
The clip continued showing Sellers scarfing down on the sandwich.
The camera thenzoomed in on a disappointed Isreal as an overlaying text appeared that read:
"He was so hungry."
Sellers continued reaching for the fries as Israel was forced to watch eventually lowering his head.
The clip ended with Sellers walking away after casually telling him:
"This is really good. Alright, take care, have a nice day."
After social media users slammed Sellers and called him "heartless," "cruel," and "sick," for what he did in the video, he reportedly claimed the whole thing was fake and Israel was a friend.
However, his explanation did little to pacify people online.
One person asked:
"What was the purpose of this video even if it was 'staged?'"
Another said:
"No matter how you justify this, unless that guy says otherwise you look guilty."
If he filmed this for comedy, no one was laughing.
Some hoped karma will take care of things.

Sellers–who in the past year has amassed 30,000 followers to his channel–has frequently posted videos on his channel of him harassing and pranking people for clout.
The Daily Mail claimed Sellers updated the caption to the now-deleted video on Monday, which read:
"I asked him before hand if we could make this video and he agreed to be in it."
"I gave him some money and food before we even started recording."
Influencers showing themselves engaging in acts of philanthropy is a trend on social media that has been dividing followers.
One woman was slammed after filming herself making a giant serving of instant ramen by using the back of her pickup truck as a giant serving bowl to feed the unhoused.

Whether or not it was scripted, the alleged act of goodwill left a bad taste in many viewers' mouths.