Tag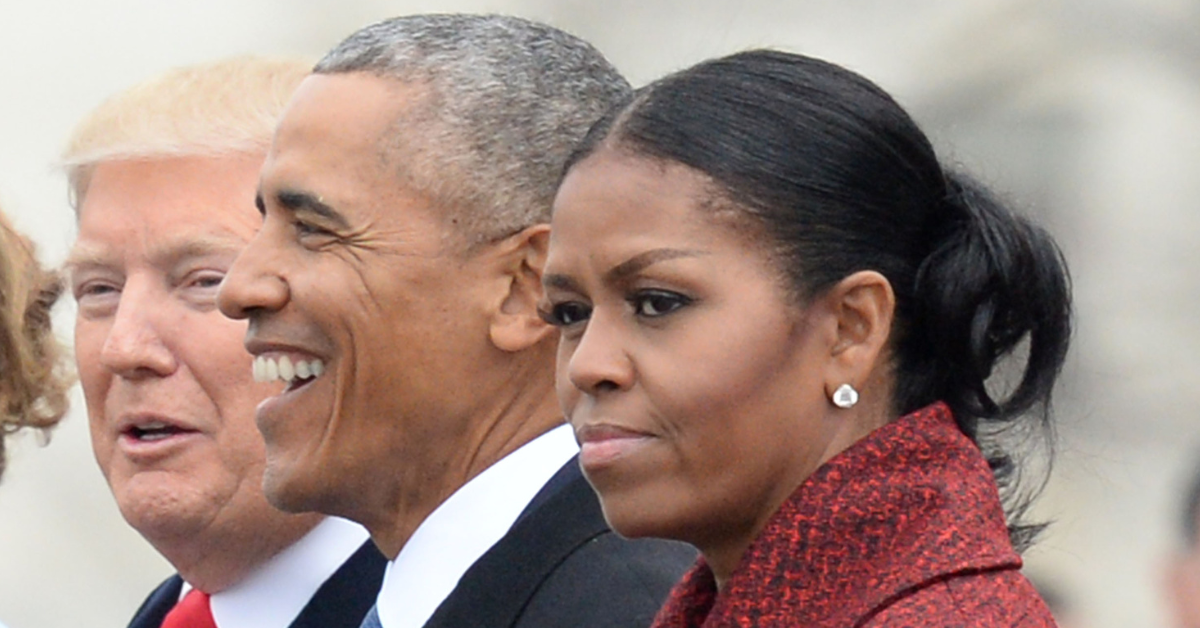 Kevin Dietsch - Pool/Getty Images
Emotions were high for former First Lady Michelle Obama on January 20, 2017—the day of former Republican President Donald Trump's inauguration.
Obama said she cried uncontrollably for 30 minutes straight when she boarded Air Force One for the final time at Joint Base Andrews.
She talked about her breakdown which can be heard in Michelle Obama: The Light Podcast.

CNN shared an audio excerpt here:
The former FLOTUS said:

"When those doors shut, I cried for 30 minutes."
"Straight, uncontrollable sobbing, because that's how much we were holding it together for eight years."
Obama also recalled how it was an emotional day for the family.
She and her husband–former Democratic President Barack Obama–lived in the White House with their two daughters Malia and Sasha for two consecutive terms.
"We were leaving the home we had been in for eight years–the only home our kids really knew."
Obama shared Malia and Sasha remembered their former home in Chicago.
The two young girls spent the majority of their lives growing up in the White House which made leaving the presidential residence even more difficult.

She said:
"We were saying goodbye to the staff and all the people who helped to raise them."
"There were tears."
Social media users admitted to feeling the same.
She also shared her observations of the inaugural ceremony of Trump and Republican Vice President Mike Pence.

"...To sit on that stage and watch the opposite of what we represented on display–there was no diversity, there was no color on that stage."
"There was no reflection of the broader sense of America."
Obama added her dismay over the succeeding administration–coupled with leaving Washington–registered on her face.

"Many people took pictures of me and they were like, 'You weren't in a good mood', and I was like, 'No, I was not'."
"But you had to hold it together, like you do for eight years."

After Democratic President Joe Biden became the 46th President, Trump skipped Biden's inauguration and boarded Marine One to to head to his Florida resort Mar-a-Lago.
The disgraced one-term President became the first living President to not attend his successor's inauguration in 152 years.