Tag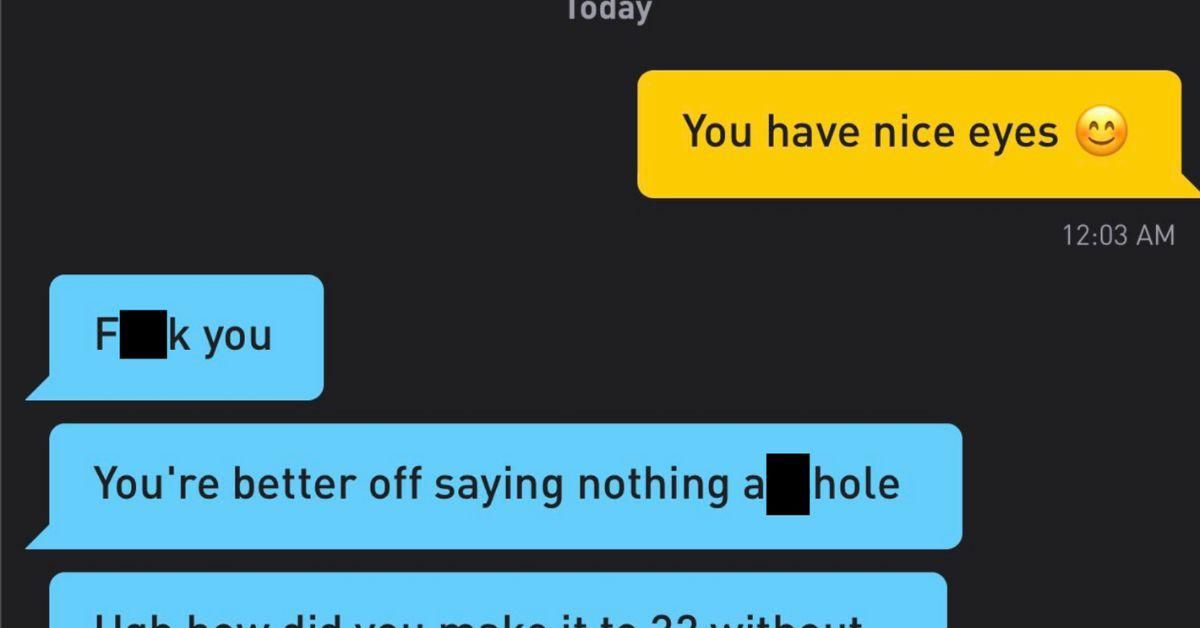 @codycotyc/Twitter
Interacting with someone on dating apps can be highly erotic, sometimes amusing and often disappointing.
Even though online dating can be a mixed bag, it doesn't deter people from looking for a night of debauchery–or something more substantial like, gasp, a relationship.
But unfortunately, there are times when navigating love online can be a toxic experience as it was for one Grindr user whose interaction with a guy ended disastrously before it even began.

Grindr user @codycotyc shared what not to do on the gay hookup app based on a personal experience.
"Don't never compliment nobody's eyes."
Because this is what happened.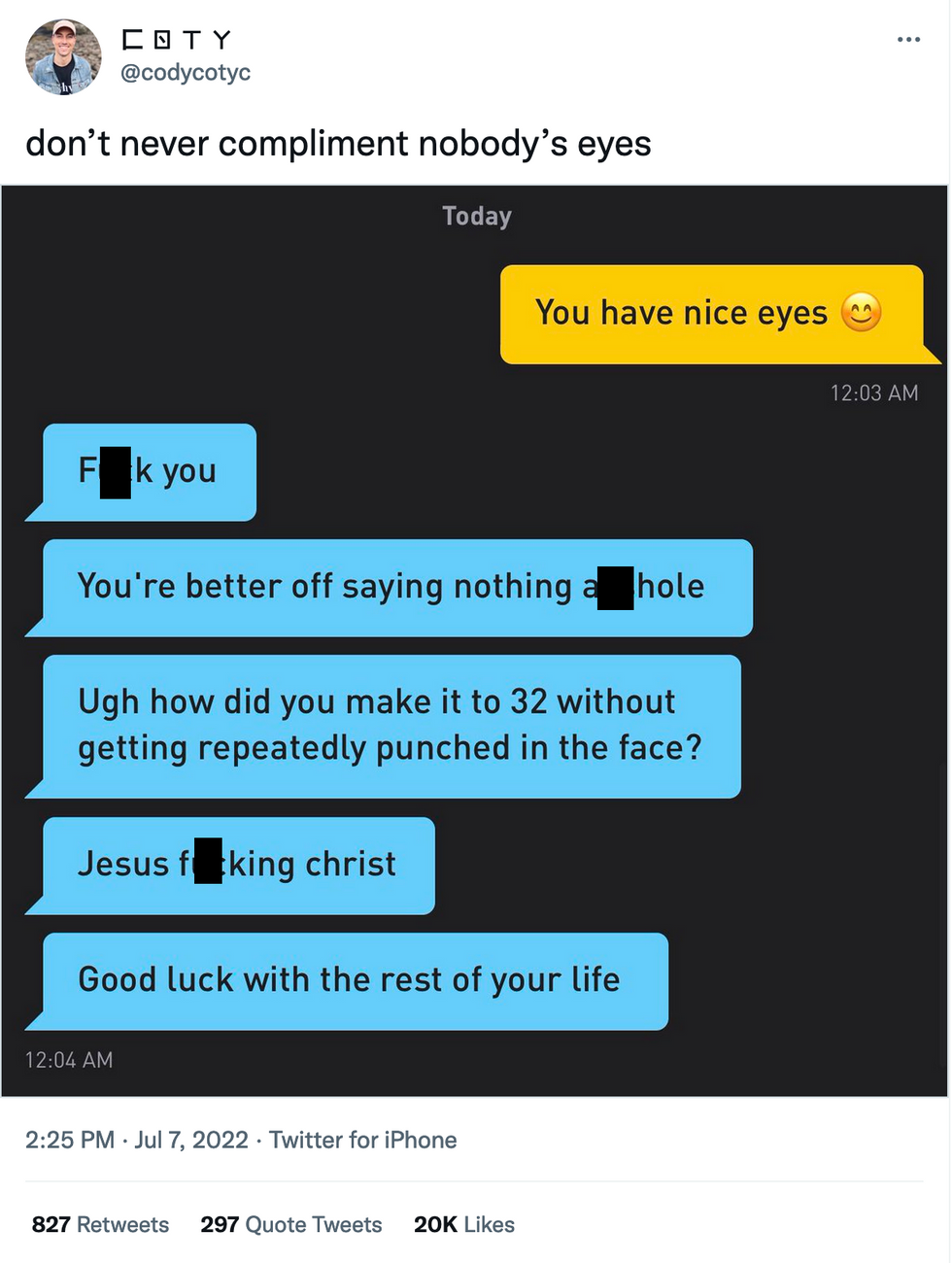 @codycotyc/Twitter
"You have nice eyes," wrote Cody.
But instead of making the recipient blush, the compliment was met with unrestrained rage.
"F'k you," wrote the anonymous user, adding, "You're better off saying nothing a**hole."
He then insulted Cody, asking him, "Ugh how did you make it to 32 without getting repeatedly punched in the face?"
He ended his rant with, "Jesus f'king christ. Good luck with the rest of your life."
Someone was clearly having a bad day.
\u201c@southwezzt and to call out my age \u2026 my REAL age \u2026 the nerve I must have hit\u201d

— \u531a \u3116 \u3112 \u311a (@\u531a \u3116 \u3112 \u311a) 1657218308
Cody was not the only one whose jaw hit the floor based on the reaction.

He seems like a real keeper. 🫤
— GATransplant75 (@NHlawman75) July 7, 2022
Wowwww…. This is exactly what's wrong with the lgbt+ community
— Tyler (@tylerds88) July 7, 2022
This is shockingly aggressive.
— Luke (@LukeLaChance) July 7, 2022
I don't get it. I LOVE when someone compliments my eyes. (And they're gorgeous deep blue eyes). At least they're not calling out the ugly parts of my body.
— Neon© (@The_Neon_Gay) July 7, 2022
This person shared their Grindr horror story.

Lol the way I got slammed today after simply saying "no thanks, I'm not interested" after being hounded with multiple messages and a "are you going to reply". I wish I managed to get a screenshot but he blocked me so fast after sending his final message 😳
— Ryan (@__rymac) July 7, 2022
Cody's experience inspired experimentation.

I'm now complimenting everyone's eyes, social experiment of the weekend.
— Matty (@mattymoments) July 7, 2022
I wonder what would have happened if you had insulted him
— 🍑🦖🦖 (@BottomsaurusRex) July 7, 2022
Theories were shared.

This is a gross overreaction on there part....but as someone who's only compliment they've ever received their whole life was, "you have pretty eyes"..I kind of get it. Like, anything else? It's not exactly a defining feature
— Flirty 30's Dan (@DanMarsh01991) July 7, 2022
So are the straights paying people to troll gay apps to create more uncertainty and self loathing?
— Bryan (@Brymerican) July 8, 2022
Did their profile say don't compliment my eyes or somethin? Or this is someone you've talked to and pissed off before? There's no way this reaction is just from that. Although it's grindr so…
— Jonathan 💭 (@ultimategeo45) July 8, 2022
Ahh, the joys of online dating.