Tag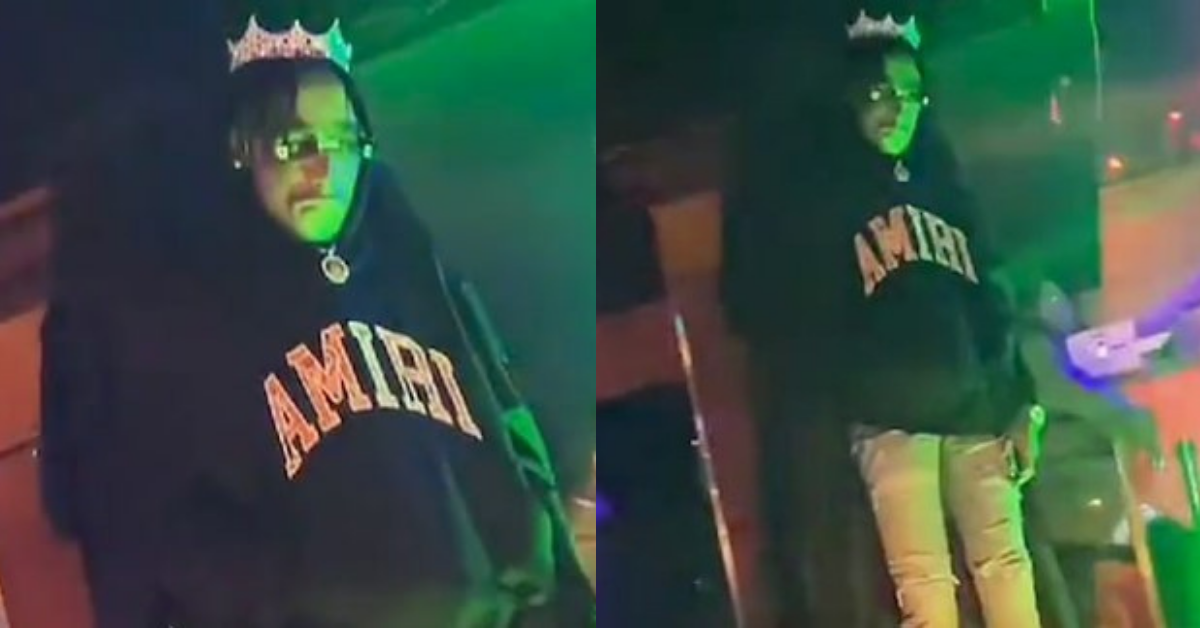 @itsopulencebaby/Twitter
Attendees at the home-going for rapper Goonew at the Washington DC area's Bliss Nightclub were in for quite the surprise.
Goonew, stage name for Markelle Antonio Morrow, died on March 18 at the age of 24 as a result of gunshot wounds at a Prince George's County, Maryland hospital.
Goonew's family believes he was the victim of an armed robbery. There is a $25,000 reward being offered by the Prince George's County Police Department for any information that might lead to the arrest of his killer(s).
The late rapper's family hosted a celebration of his life at Bliss Nightclub, which they billed as his "final show."
One imagines attendees of the celebration didn't expect Goonew to literally take to the stage.
But he did as what appeared to be his embalmed body was propped upright on the stage, with a crown placed on his head.
Rapper Black Fortune, who attended the event, share video of the wake on Instagram.
Black Fortune confirmed in an Instagram Story it was Goonew's actual body on the stage and "no wax figure" as some people speculated.
Though Black Fortune didn't think badly of the unconventional choice, going on to say:
"As long as his mother was happy that's all that matter."
Most of the attendees at the "last show" also seemed largely unfazed by Goonew's embalmed body on the stage, as Black Fortune's video captured them happily dancing as they celebrated the young rapper's life.
But as evidenced by several shocked reactions on Twitter, not everyone felt the same way.
pic.twitter.com/yMbjdKMmQd

— Backend Pay (@Backend Pay) 1649034988
y\u2019all are sick ! a funeral in a night club, that don\u2019t raise your eyebrows ? and mfs in the dmv gladly went ? being in a room with a dead body is already uncomfortable enough . this generation has no sense of sensitivity when it comes to death #Goonew

— eryka \ud83e\udd42 (@eryka \ud83e\udd42) 1649092560
Tbh goonew deserved way better in my opinion, long live him thopic.twitter.com/BdNs9fX6tB

— t3\u2764\ufe0f\u200d\ud83d\udd25 (@t3\u2764\ufe0f\u200d\ud83d\udd25) 1649027444
if y\u2019all saw that video with goonew\u2019s body y\u2019all can\u2019t tell me this society ain\u2019t already collapsed

— Sean. (@Sean.) 1649065270
It\u2019s no way y\u2019all supporting Goonew standing up in a club for a funeral . Ultimate disrespect let that man Rest In Peace the correct way!

— \u062d\u0628 \u0646\u0641\u0633\u0643\ud83d\udda4 (@\u062d\u0628 \u0646\u0641\u0633\u0643\ud83d\udda4) 1649041886
no way y\u2019all think goonew standing up at bliss is okay as a funeral. ain\u2019t no way

— \ud83d\udc10 (@\ud83d\udc10) 1649023789
Sooooooooo Yall just gone act like this is normal \ud83e\udee4 Yeah The World Ending Fasure Cause See Nawl #Goonewpic.twitter.com/yKSIxUDi0Y

— lil.meshaa (@lil.meshaa) 1649082766
Like I gotta respect everything. Is a funeral in a club unorthodox, yes. But too each their own. Goonew was a rapper. A casket just would\u2019ve been respectful.

— whatevrrr. (@whatevrrr.) 1649039637
wtf is wrong with ppl how u can but deceased body in the club in front of everyone? goonew deserved better cause this ain\u2019t itpic.twitter.com/8Yfe3HUAT7

— roy\ud83c\udd71\ufe0f \ud83e\ude78 \ud83c\udf27\ud83e\udd84 (@roy\ud83c\udd71\ufe0f \ud83e\ude78 \ud83c\udf27\ud83e\udd84) 1649069895
Bliss Nightclub issued an apology on Instagram, claiming they had no idea Goonew's body would be on display during the event.
They wrote:
"Our deepest condolences to Goonew's family, friends, and fans."
"Bliss was contacted by a local funeral home to rent out our venue for Goonew's home-going celebration."
"Bliss was never made aware of what would transpire."
"We sincerely apologize to all those who may be upset or offended."
"Please keep Goonew's family and friends in your prayers at this difficult time."
"Respectfully, Bliss DC."
Bliss Nightclub is also in the midst of an investigation regarding any possible legal consequences of having a cadaver in their club as well as confirming it was Goonew's embalmed body and not a wax figure.
After the backlash, Goonew's family spoke out.
In an interview with FOX 5's David Kaplan, Goonew's mother, Patrice Morrow stated her son's home going was done exactly how she wanted.
Morrow said:
"For all the negatives, people probably don't even know nothing about us."
"They have no idea."
"People just saying what they want to say and that's fine."
"That's perfectly fine."
"I'm pleased with how I sent my son away."
"I wish people would just let me grieve in peace."
While the choices for Goonew's home-going are unusual in modern society in the United States, they aren't unprecedented.
In a variety of global cultures, the family and friends interact closely with the body of their deceased loved one.
And in the Victorian Era to the 1920s, memorial jewelry and keepsakes that included hair or other relics from the deceased as well as elaborately staged photos known as memento mori were in vogue in North America and Europe.
The rise of funeral parlors replacing sitting with the dead and wakes held in the home and the advancements in photography shifted attitudes about the dead and death.