arnold schwarzenegger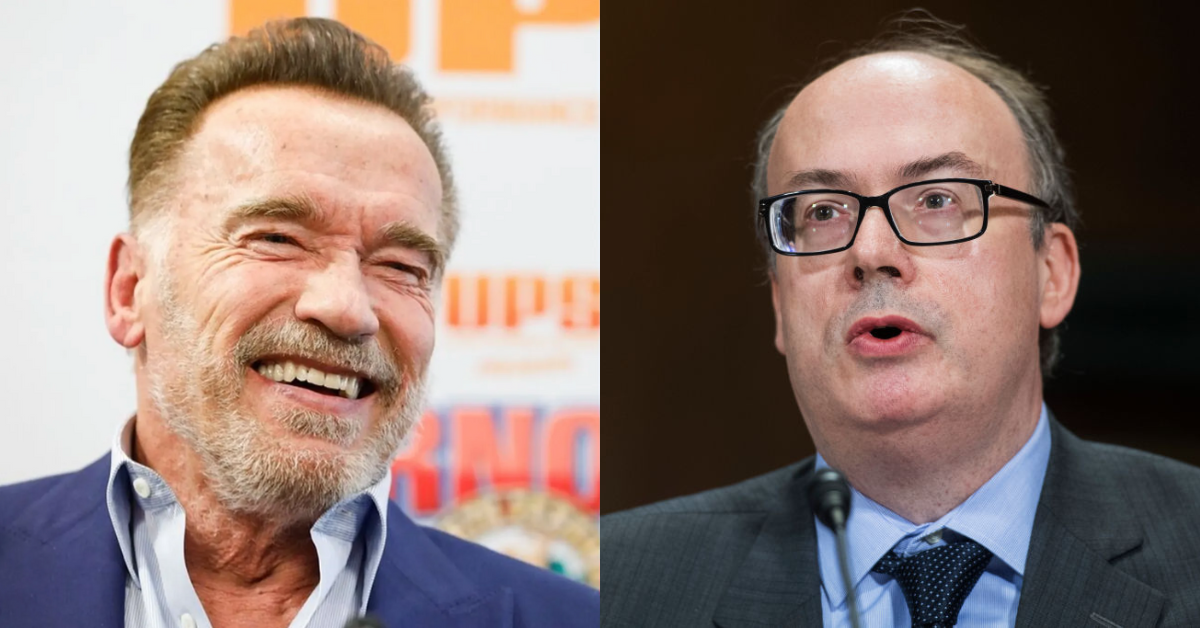 Sam Tabone/WireImage via Getty Images; Tom Williams/CQ Roll Call/Getty Images
Champion bodybuilder, movie star and former California Republican Governor Arnold Schwarzenegger took the opportunity to troll former Trump administration Assistant Attorney General Jeffrey Clark after the Supreme Court's recent ruling in Moore v. Harper.
The conservative majority SCOTUS dealt a blow to a theory central to former Republican President Donald Trump's efforts to overturn the 2020 presidential election.
The case related to the independent state legislature theory (ISL), arising from the redistricting of North Carolina's districts following the 2020 Census.
A favorable ruling would have given state legislatures carte blanche to independently set election rules, suggesting Republican-controlled legislatures might ignore election results and submit a fraudulent set of electors beholden to the GOP.
Schwarzenegger retweeted a photo of Clark handcuffed and dressed in a shirt and underwear, taken from a video of authorities raiding his home last year during their investigation into efforts to overturn the 2020 election.
Last year, Schwarzenegger remarked Clark should take some of his "tips on squatting to build up those legs" after Clark took a jab at him on Twitter.
He built on the previous post, writing:
"Hi Jeff!"
"I know the Supreme Court went my way in Moore v. Harper and not yours, but I'm still here for leg training tips!"
"You can get some free workouts and positivity here (it might help you!): https://arnoldspumpclub.com"
You can see Schwarzenegger's latest post below.

Schwarzenegger also shared his amicus brief on the case.
He shared his happiness "that the Supreme Court sided with the people and not the politicians."
In July 2022, Clark went viral.
Bodycam footage of an early morning raid on his home showed him answering the door in his underwear and being directed to step outside.
Much to Clark's embarrassment, agents with the Federal Bureau of Investigation (FBI) directed him to stand outside because they needed to "clear the house."
One agent went further, telling Clark that "as soon as we clear the house we'll get you talking to your lawyer and we'll get some pants on, OK?"
Agents offered to let the handcuffed Clark stand behind his car so his neighbors wouldn't be able to see him in his underwear and declined his request to wait in the garage.
Many cheered Schwarzenegger's response.

Clark's actions came under further scrutiny after the House Select Committee tasked with investigating the January 6 insurrection initiated public hearings into the Trump administration's efforts to overturn the results of an election Democrat Joe Biden won decisively.

Trump tried unsuccessfully to install Clark as head of the agency when acting Attorney General Jeffrey Rosen refused to lend credence to Trump's false claims of election fraud.
Clark's name also circulated among prominent conservatives who backed these efforts in the weeks before a mob's supporters attacked the United States Capitol on the false premise that the election had been stolen.
For instance, Rick Perry, the Trump administration's former Energy Secretary, contacted former White House Chief of Staff Mark Meadows twice in December 2020 to connect him with Clark, according to a collection of 2,319 text messages that Meadows received and sent between Election Day 2020 and January 20, 2021, the day Biden was inaugurated.
Keep reading...Show less