Tag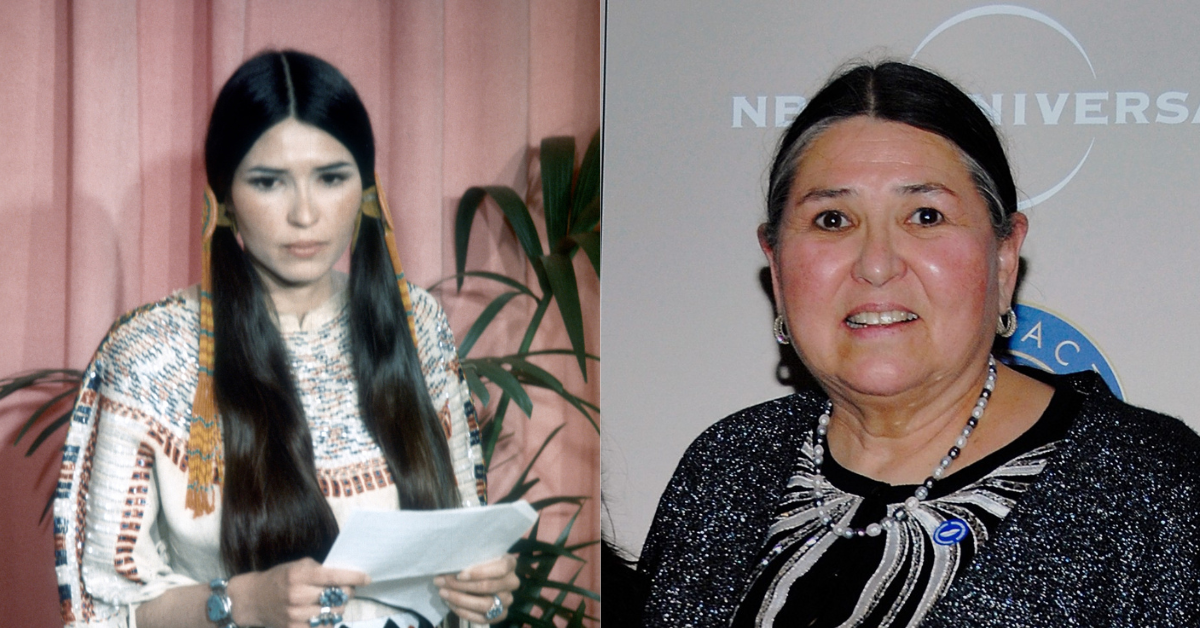 Michael Ochs Archvies/Getty Images; Beck Starr/FilmMagic/Getty Images
The Academy of Motion Picture Arts and Sciences decided to officially apologize to actress and activist Sacheen Littlefeather for her abysmal treatment at the 1973 Academy Awards Ceremony—after only 49 years.
The Academy has faced increasing backlash over the last several years for incidents of racial bias and sexism in nominations and award winners.
Littlefeather, who is Apache and Yaqui, appeared at the awards on behalf of Marlon Brando to decline his Oscar for his appearance in The Godfather.
Brando decided to decline the award in protest of the egregious treatment of Indigenous peoples in film and TV, as well as the willful misrepresentation of their cultures and traditional clothing for the entertainment of the masses.
Not only was Littlefeather booed and heckled during her speech at the awards, she was subsequently mocked by Clint Eastwood on-stage when he came to present the next award.
Producer Bird Runningwater—co-chair of the Academy's Indigenous Alliance—approached Littlefeather on the Academy's behalf.

Littlefeather joked about Runningwater's initial contact on behalf of the Academy at the beginning of this reconcilliation process:

"Bird gave me a call—on the phone, of course. He tried to send smoke signals but they wouldn't fit underneath the door."
After that initial contact, Littlefeather remained in contact with Runningwater and Academy Inclusion Advisory Committee member Heather Rae.
Of the apology, which was initially presented to her privately in June, Littlefeather said:
"I was stunned. I never thought I'd live to see the day I would be hearing this, experiencing this. When I was at the podium in 1973, I stood there alone."
When declining the award for Brando, she brought attention to the mistreatment and misrepresentation of Native peoples in film and TV, as well as to the American Indian Movement and Oglala Lakota activist occupation of the South Dakota town of Wounded Knee—which was ongoing at the time.
Matters pertaining to the occupation of Wounded Knee were under a media blackout imposed by the Department of Justice at the time, so many had likely not heard of the protest.
Just prior to mounting the stage, Littlefeather was threatened with arrest by Howard Koch if she exceeded 60 seconds on-stage for Brando's refusal message.
Brando had apparently prepared 8 pages of remarks for Littlefeather to read, but she knew she would not have time to read them.
So she improvised.
"He very regretfully cannot accept this very generous award."
"And the reasons for this being are the treatment of American Indians today by the film industry [booing/heckling by the audience begins and Littlefeather pauses to collect herself]—excuse me—and on television in movie reruns, and also with recent happenings at Wounded Knee."
You can view a clip of how Littlefeather was treated during the 1973 Oscars below:
Not shown in the above video were the threats of violence made by an inebriated John Wayne after Littlefeather's speech. He reportedly had to be restrained from mounting the stage and physically attacking her in the wings.
Boos and threats of violence during the awards ceremony weren't the only backlash Littlefeather endured for Brando's activism. In the proceeding months, her character and integrity were maligned.
In addition, Littlefeather reported the US government threatened to shut down any productions that featured Littlefeather—including talk shows.
David Rubin, who was president of the Academy at the time, wrote in the letter of apology dated June 18:
"The abuse you endured because of this statement was unwarranted and unjustified."
"The emotional burden you have lived through and the cost to your own career in our industry are irreparable."
"For too long the courage you showed has been unacknowledged."
"For this, we offer both our deepest apologies and our sincere admiration."
The general sentiment on Twitter was the Academy took it's sweet time to decide to apologize.
You can hear Brando's full statement that Littlefeather was never allowed to read from a 2018 interview on Native Trailblazers Radio below:

The full statement of apology will be read at an Academy Museum event honoring Littlefeather on September 17.
Littlefeather will also participate in a conversation with producer Runningwater during the event.
To date there has only been one Indigenous North American to an Oscar. In 1983, Cree musician, singer and songwriter Buffy Sainte Marie won the Oscar for Best Music, Original Song for An Officer and a Gentleman, for the song "Up Where We Belong."
There have only been two Native North American actors nominated for an Oscar. Tsleil-Waututh Nation, Coast Salish band actor Chief Dan George for 1970's Little Big Man and Oneida actor Graham Greene for 1991's Dance with Wolves.