For better or for worse, the United States got to know former Alaska Governor Sarah Palin when the late Senator John McCain (R-AZ) chose her as his running mate in the 2008 presidential election.
Since losing in 2008, Palin starred in a reality television series, endorsed Donald Trump in a bizarre speech, and caused hijinks in her native Alaska.
---
But on Wednesday night, Palin was back in the spotlight in a manner that no one could've predicted.
Palin was revealed to be "Bear" on The Masked Singer—a singing competition in which celebrities compete in elaborate costumes that hide their identities, giving the judges a chance to guess who they are.
Palin was eliminated after rapping "Baby Got Back" by Sir Mix-a-Lot, and the audience was shocked to learn her identity.
Watch the reveal—and the judge's guesses of her identity—below.
The judges fawned over Palin's knowledge of the lyrics, and as the credits rolled, they watched stunned as she reprised "Baby Got Back" and the world burned.
I wasn't kidding https://t.co/oYabgF77tI

— andrew kaczynski🤔 (@andrew kaczynski🤔)1583977669.0
Palin took to Twitter after the reveal...and alluded to a possible run for office again in the future?
🙈Yep... t'was me behind the #BearMask, I LOVED singing on The Masked Singer stage ~ it truly was a blast (now that… https://t.co/3UcZjear5n

— Sarah Palin (@Sarah Palin)1583988266.0
Figured I'd do it because, well, this is America! And don't you have to conquer a major reality show before big-tim… https://t.co/Mrxu2kkOli

— Sarah Palin (@Sarah Palin)1583988267.0
Seriously...what is happening?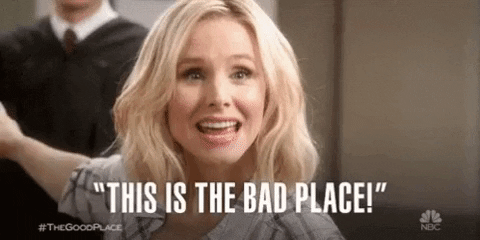 Giphy
People had a lot of feelings.
this is more confusion in 39 seconds than a medieval peasant would experience in their entire lifetime https://t.co/gVeaSgGcjI

— milo edwards (@milo edwards)1584022760.0
God please, we've had enough. It's only March. https://t.co/i9bfK37jno

— Kay (@Kay)1584032964.0
About an hour ago, Sarah Palin performed "Baby Got Back" on television, wearing a pelt that seems to be made of the… https://t.co/DPmuurdJKm

— Dan Zak (@Dan Zak)1583978280.0
Is this Hell?
I ask again, can anyone really say with CERTAINTY that we didn't all already die in a global pandemic and this is h… https://t.co/zz21puKiCO

— Ben. No More, No Less. (@Ben. No More, No Less.)1584012322.0
the world really did end in 2012 and this is hell https://t.co/UbwoUCx9Zy

— Daniel Eales (@Daniel Eales)1583978814.0
The official welcome song as we all enter Hell together https://t.co/fEkunHxSwr

— Leah Hampton (@Leah Hampton)1583979659.0
Palin did make one spot-on statement as she said goodbye to The Masked Singer:
"This is the weirdest thing I've ever done."

Yup.