Among Ryan Reynolds' 46.7 million followers, there are apparently quite a few who have never seen the classic Rankin/Bass stop motion Christmas special Santa Claus is Comin' to Town, as they were quite surprised to learn of Mrs. Claus' given name.
A recent photo of Reynolds and his wife and fellow actor Blake Lively with the North Pole duo during a trip on Essex Steam Train's Polar Express gave rise to the amazement and amusement of fans.
Reynolds and Lively have a long-running joke feud where they badly crop each other out of photos—frequently on each others' birthday.
The pair famously troll each other online fairly frequently, but it's not certain whether the latest cropping incident was actually intentional, or if Reynolds just genuinely cropped the photo badly.
This time, Reynolds didn't crop all of Lively out of their holiday photo with Mr. and Mrs. Clause—just her shoes.

Lively took issue with her husband's bad cropping job and let him know in the comments.

blakelively/Instagram
In response, Reynolds quickly admitted his egregious error and posted an edited version of the photo to his story with his face covered by a facepalm emoji sticker and the caption:

"I cropped my wife's shoes out in the photo I posted."
"It's inexcusable and I'm sorry to anyone I've hurt with this callous lack of fortitude."
"Heading to the hospital to have my brain weighed."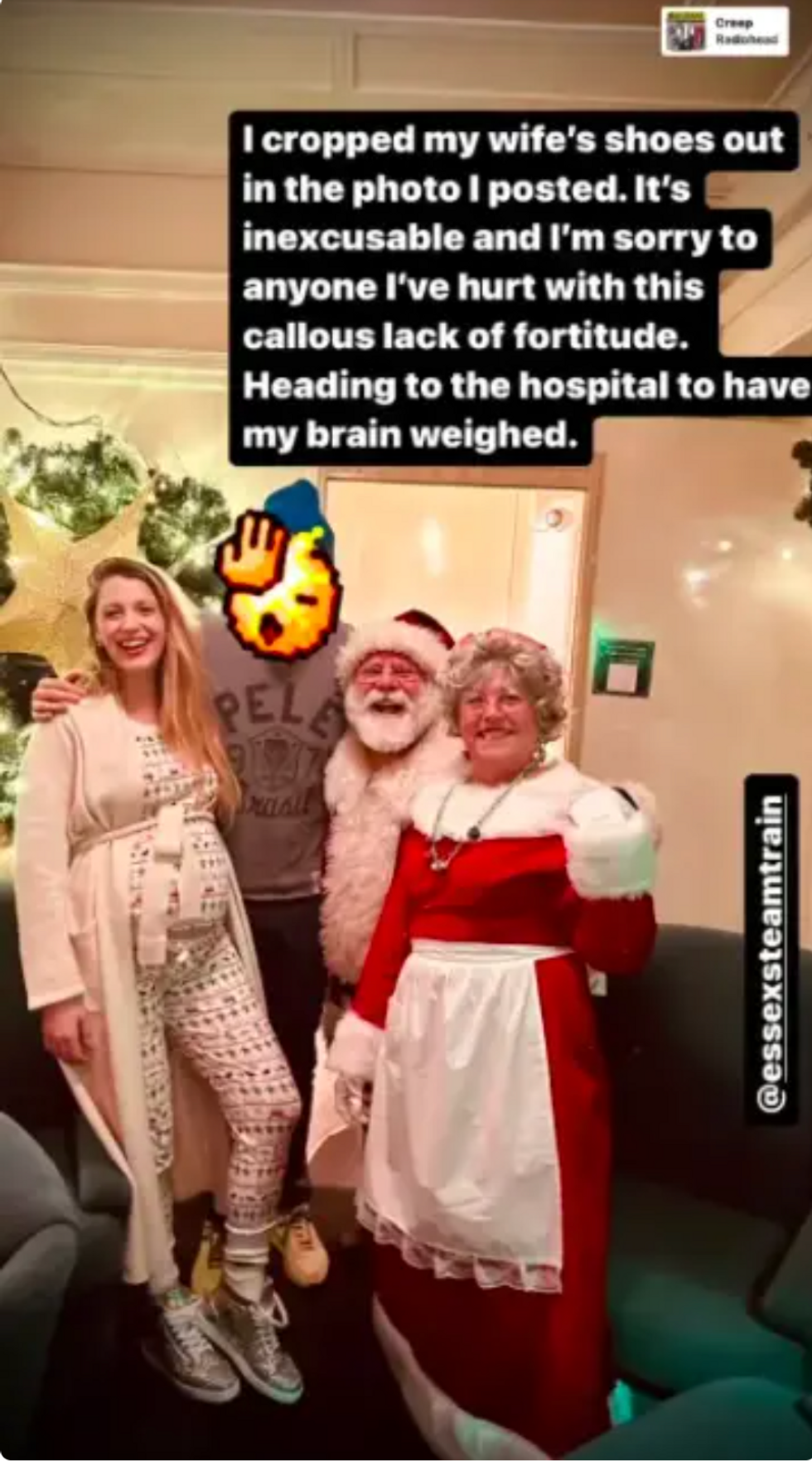 @vancityreynolds/Instagram
The thing most people were hung up on wasn't Lively and Reynolds' antics, though.
It was what was in Reynolds' caption on the photo.
"We met Jessica Claus and her husband on the Polar Express. She was everything I'd always dreamed since I was a kid. She smelled like cinnamon buns and sangria. 🎄"
Mrs. Claus' given name being Jessica really stunned a lot of people.

jessicamalatyrivera/Instagram

isabellegdavis/Instagram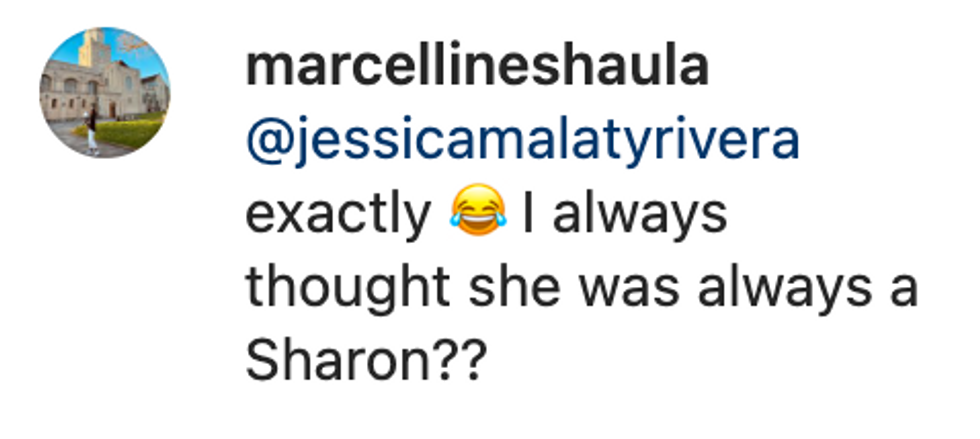 marcellineshaula/Instagram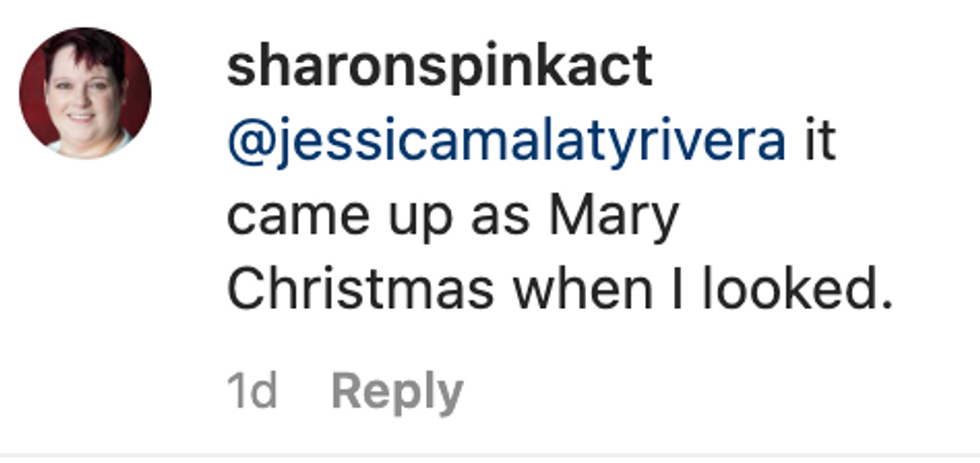 sharonspinkact/Instagram

cottontail17/Instagram
Some were already in the know, though.


jessiemalino/Instagram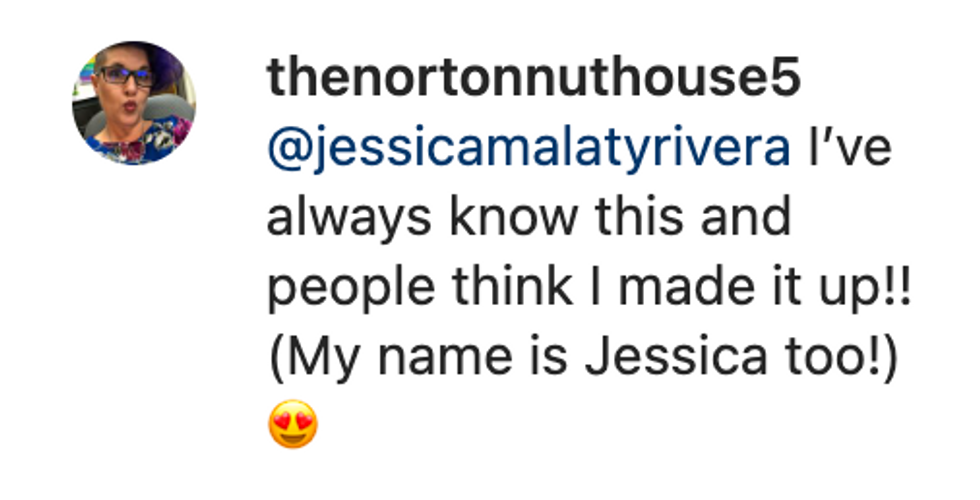 thenortonnuthouse5/Instagram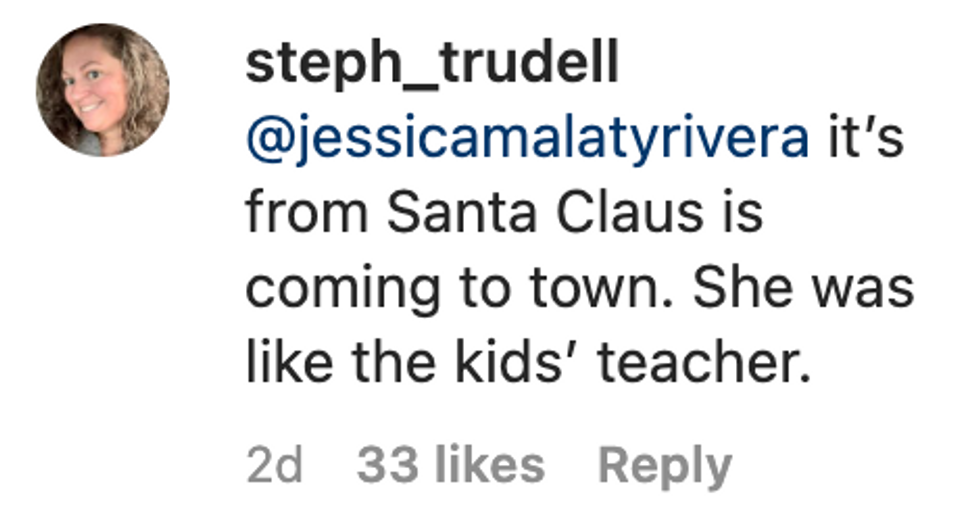 steph_trudell/Instagram
There were quite a few people who got hung up on a completely different sidetrack—the appearance of good ol' Saint Nick's chest in the photo.


nichole_run_lift_hike/Instagram

ceeahobbs/Instagram

bkgsdlia_olllllllo/Instagram

thors_10/Instagram
A few commenters had it exactly right though, the name Jessica for Mrs. Claus is from the Rankin/Bass television Christmas special Santa Claus is Coming to Town from 1970.
Put One Foot in Front of the Other - Santa Claus is Coming to Town (Lyrics) [4K HD]youtu.be
The film, narrated by postman Special Delivery (S.D.) Kluger—voiced by Fred Astaire—tells the story of a little orphaned boy who was raised by the Kringle family of toymakers and goes on to face no small amount of hardship and eventually becomes Santa Claus who is voiced by Mickey Rooney. Along the way he meets a school teacher named Jessica and the pair eventually marry—making her Mrs. Claus.
For anyone who hasn't seen the film, it's definitely worth a watch if you like slightly corny feel-good holiday movies.