As Arizona experienced record high hospitalizations for the virus, President Donald Trump's campaign packed thousands of maskless young people into a megachurch in Arizona for a 'Students for Trump' rally.

In addition to giving an address, the President introduced an array of college students and young adults who voiced their support for Trump from the podium.
One of those speakers was Reagan Escudé, who—as she spoke to a crowd of thousands after an introduction from the President of the United States—lamented that she was a victim of so-called cancel culture.
But it was the cancellation of another recognizable figure that's getting her speech attention.
Watch below.
Escudé was responding to the recent move from Quaker Oats to rename and rebrand Aunt Jemima pancake syrup. The Aunt Jemima persona—which originated from a minstrel song—has been under criticism for decades for perpetuating racist stereotypes.
She said:

"Aunt Jemima was canceled. And if you didn't know, Nancy Green—the original, first Aunt Jemima—she was a picture of the American dream. She was a freed slave who went on to be the face of the pancake syrup we love and have in our pantries today."
Nancy Green was hired in the late 1800s by the R. T. Davis Milling Company to play Aunt Jemima in radio and in-person appearances. Known for the phrase "I'se in town, honey!" advertising these appearances, Green would tell stories glorifying the old South and making pancakes in demonstrations.
Green was offered an unconfirmed "lifetime contract" and used whatever earnings she made from the Aunt Jemima character to fight poverty in her community, but despite thousands of appearances and merchandise bearing her likeness, Green was still working as a housekeeper when she died in 1923. Her grave went unmarked for over 80 years.
Quaker Oats said it wouldn't fund a monument for Green.
According to Bronzeville Historical Society President Sherry Williams:
"[Quaker's] corporate response was that Nancy Green and Aunt Jemima aren't the same — that Aunt Jemima is a fictitious character."
Nevertheless, Escudé appeared to equate Nancy Green and Aunt Jemima as one and the same.
People took issue with her reductive portrayal of Aunt Jemima and the American Dream.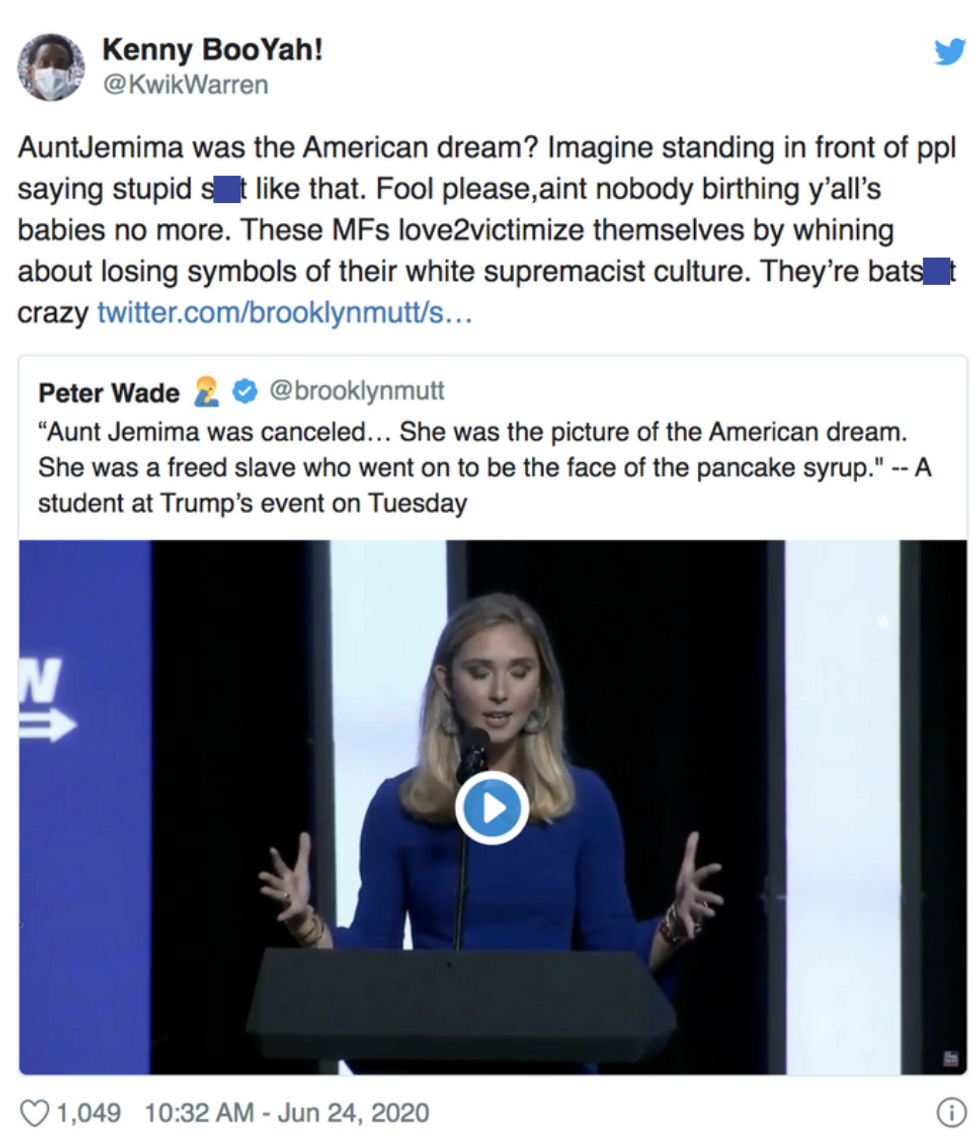 @KwikWarren/Twitter
People also insisted that Nancy Green deserved better than Escudé's idea of the American dream.
So far, Escudé doesn't appear to regret her comments.