A White ventriloquist's non-apology for a performance many considered unfunny, racist and transphobic did not go over very well.
Jerry Halliday is a queer puppeteer who was hired to perform at the Chicago gay leather bar Touché for its 45th anniversary as part of Mr. International Rubber's scheduled events.
His act featured a puppet that caricaturized a Black woman named "Sista Girl" who made jokes about loving watermelon, being on welfare and having five kids.
Halliday voiced the character by poorly imitating African-American Vernacular English (AAVE).
After causing outrage for his racist, misogynoir performance, Halliday declared he was retiring the racist part of his act and issued a non-apology. Halliday did not address his transphobia.

On Sunday, he told the online newsletter, Block Club Chicago:

"I have permanently retired the Black puppet, just like the Rolling Stones recently retired their song 'Brown Sugar' when they received similar criticism."

"I continue with my other puppets full speed ahead."

He further claimed Sista Girl was part of his act for two decades and never received complaints until now.

Halliday then cried victim and skirted around taking responsibility for his choices.

"I have been doing my show for 20 years for thousands of people of all races to standing ovations and rave reviews in the press, then suddenly a handful of people at Touché attack me while the majority there were enjoying my show."

"The one-sided attacks on my act have been greatly exaggerated and with many total fabrications."

Some social media users called Halliday's act "minstrelsy and blackface."

He frequently used expletives and told the audience members who were talking during the awkward performance to "shut the f'k up" and to leave for the bathroom to get hemorrhoids.
At one point, a White audience member shouted:
"Everyone in the crowd thinks this is a little weird for 2022."

You can watch the confrontation in the video shared by audience member Philip Smith, here.
WARNING: racism, NSFW language.

Touché ventriloquist performanceyoutu.be
Disappointingly, when Halliday asked the crowd if they wanted the man who voiced his concern to "shut up" and clap in response some of the audience members obliged.

White, cisgender gay men have long been accused of racism, misogyny and transphobia and this performance didn't help dispute that reputation.
Some audience members got up and left before the act was over–including a bartender who allegedly left his post, mid-shift–as the puppet continued making jokes about race and skin color.

Twitter user crumb dumpster shared his thoughts as well as footage from the controversial show.

WARNING: NSFW language, racism

Touché bar managers issued a statement apologizing for not having vetted the performer before booking him and addressing both the racism and transphobia Halliday incorporated into another part of his act.
They wrote:
"We apologize for not reacting and stopping the show. Racism and transphobia are wrong."
"We need to do better."
"We have and will continue to work hard to make this space more welcoming to all people regardless of their racial, ethnic, sexual or gender identities."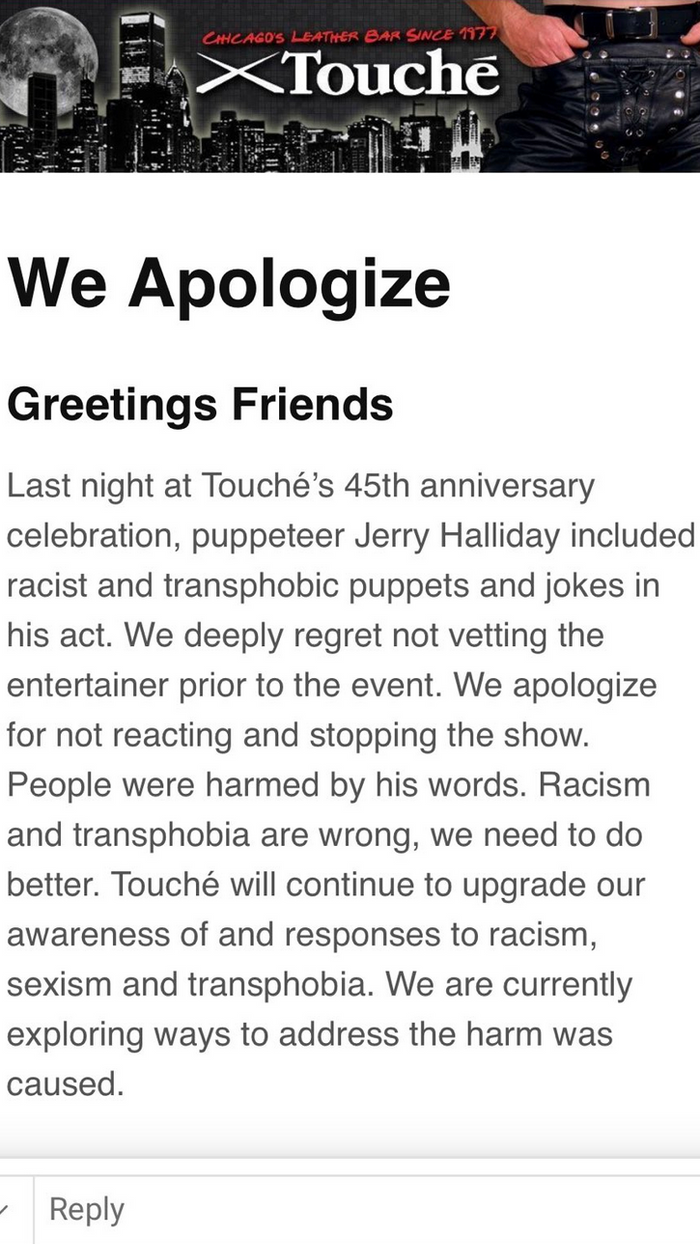 @longostino/Twitter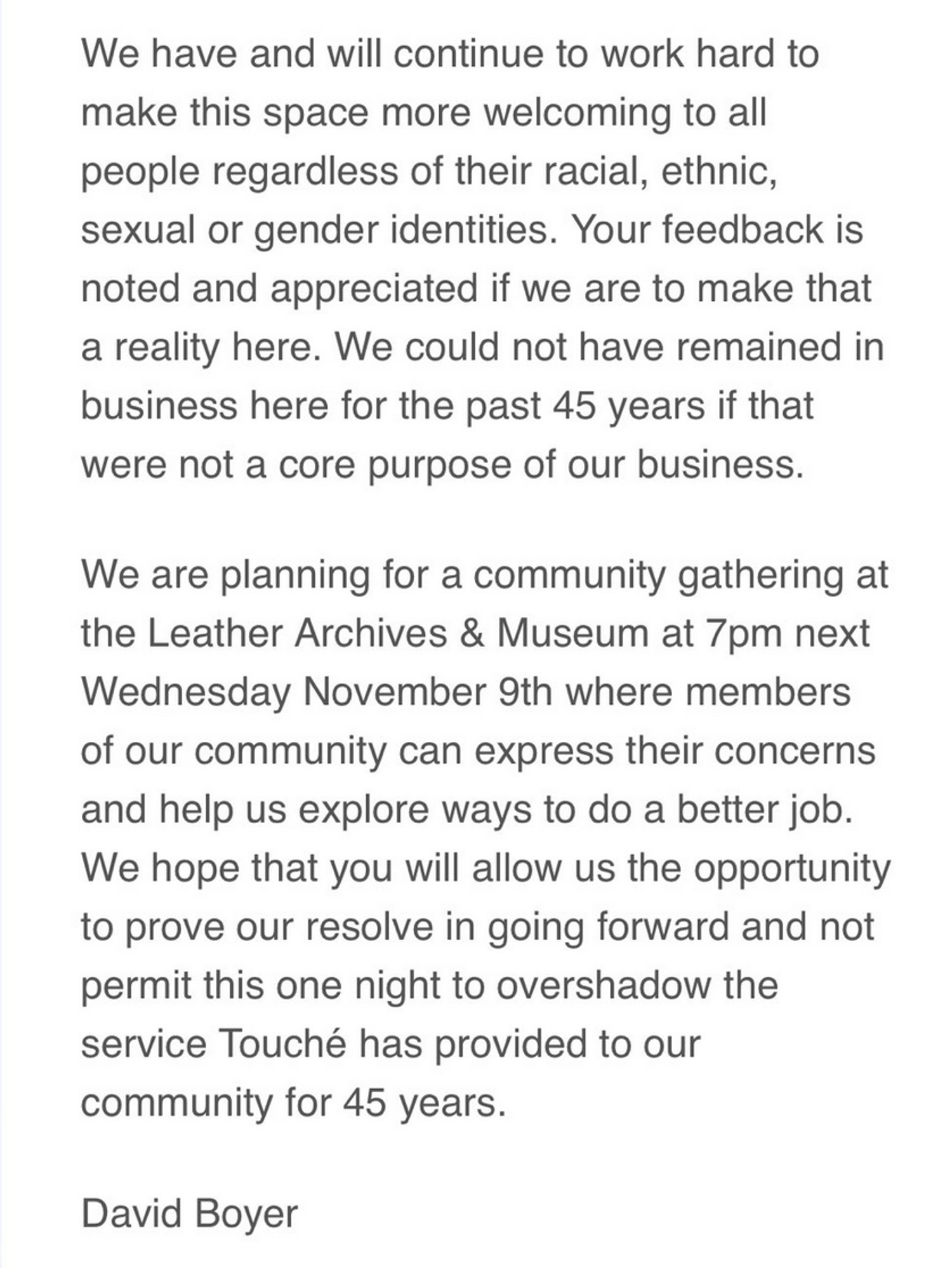 @longostino/Twitter
The bar's leaders also hosted a town hall at the Leather Archives and Museum on Wednesday night, which allowed members of the community to express their concerns.