The anniversary of the September 11 attacks conjures a plethora of emotions. Many recount the stories of where they were when they learned of the news, what went through their minds, and how the day affected an entire nation, possibly the whole world.
Sadly, many also share stories of loved ones they lost in the attacks—those who were in buildings, those who were in planes, and those who lost their lives fighting to save them.
On Monday, Casey Davidson, comedian Pete Davidson's sister, shared a heart-wrenching post dedicated to her father, who lost his life in the September 11 attacks.
She captioned the post:
"This year more than ever I wish you could be here. We miss you, we celebrate you and we remember you every day. Proud to be your caseygirl."
Pete and Casey's father was a Brooklyn firefighter who ran across the Brooklyn Bridge to the Marriott World Trade Center Hotel after the Twin Towers were hit.
He was 33 years old. Pete was 7 and Casey was 3.
Instagram users shared their love and support for both Casey and Pete:

@caseydavidson/Instagram

@caseydavidson/Instagram

@caseydavidson/Instagram

@caseydavidson/Instagram

@caseydavidson/Instagram

@caseydavidson/Instagram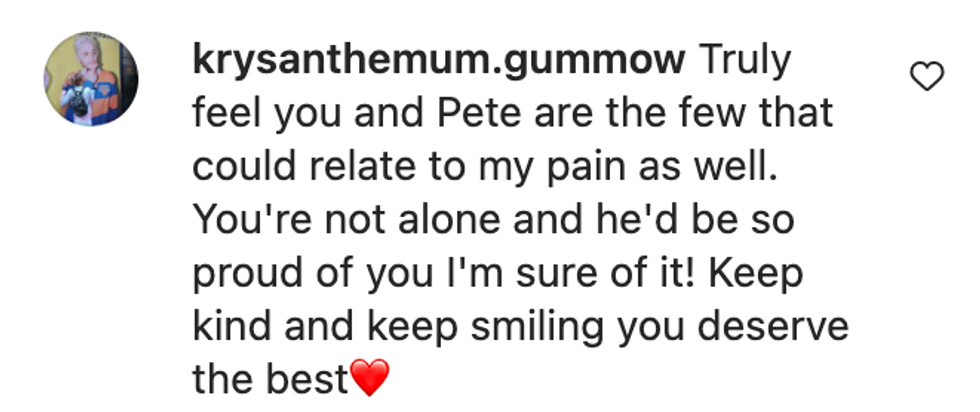 @caseydavidson/Instagram
Casey also posted about her father last year on the 20th anniversary of 9/11 with the caption:
"Hard to believe it's been 20 years since you were taken from us."
"We miss you every day and wish more than anything that you could be here with us."
"Proud to be your daughter."
"Until we meet again, my angel."
In 2018, Pete Davidson deleted his Instagram account and shared how online bullying affected his mental health:
"I've kept my mouth shut. Never mentioned any names, never said a word about anyone or anything."
"I'm trying to understand how when something happens to a guy the whole entire world just trashes him without any facts or frame of reference. Especially in today's climate where everyone loves to be offended and upset it truly is mind boggling."
"I've been getting online bullied and in public by people for 9 months. I've spoken about [borderline personality disorder] and being suicidal publicly only in the hopes that it will help bring awareness and help kids like myself who don't want to be on this earth."
"I just want you guys to know. No matter how hard the internet or anyone tries to make me kill myself. I won't."
"I'm upset I even have to say this. To all those holding me down and seeing this for what it is – I see you and I love you."
Earlier this year, he created another account but deleted it shortly afterwards.
In January, Pete Davidson shared a tribute, through the Instagram account of Dave Sirus (@Dave Sirus), thanking the late actor Bob Saget for helping him get through some "tough mental health stuff":
"I don't have social media, so I asked if Dave could share this for me."
"Just wanted to let you guys know that Bob Saget was one of the nicest men on the planet."
"When I was younger and several times throughout our friendship he helped me get through some tough mental health stuff. He stayed on the phone with my mom for hours trying to help in anyway he can-connecting us with doctors and new things we can try. He would check in on me and make sure I was okay."
"I love you Bob it was an honor to know you. Thank you for your kindness and friendship. My condolences to the family."