A newlywed who was once on course to become a Catholic priest has told how he renounced his faith to become a pagan, marrying in a traditional three day Viking wedding, complete with blood offerings and a hog roast.
---
Brought together by a shared love of the Middle Ages, Dorian Yuste, 43, a creative director for a design agency, exchanged vows with his art teacher wife, Charlee, 34, in a handfasting ceremony on 18 May 2019, conducted by a painted pagan priest at their home in San Antonio, Texas.
Shunning conventional meringue bridal gowns and wedding cakes, instead they were married in the style of the fearsome Norse Warriors, who ruled the seas between the 8th and 11th centuries, honoring their values as revivalists of ancient religions.
Dorian, who even wrote an apostasy letter – or formal renouncement of his faith – to the Pope in 2017 when he embraced paganism, said:
"We tried to make our service as true to a proper Viking marriage ceremony as possible – going back 1,000 years in time."
"There was a magic to it that we never would have got from a normal Christian wedding."
But these beliefs are a million miles away from those Dorian, who has a six-year-old daughter, Coco, from a previous relationship, grew up with.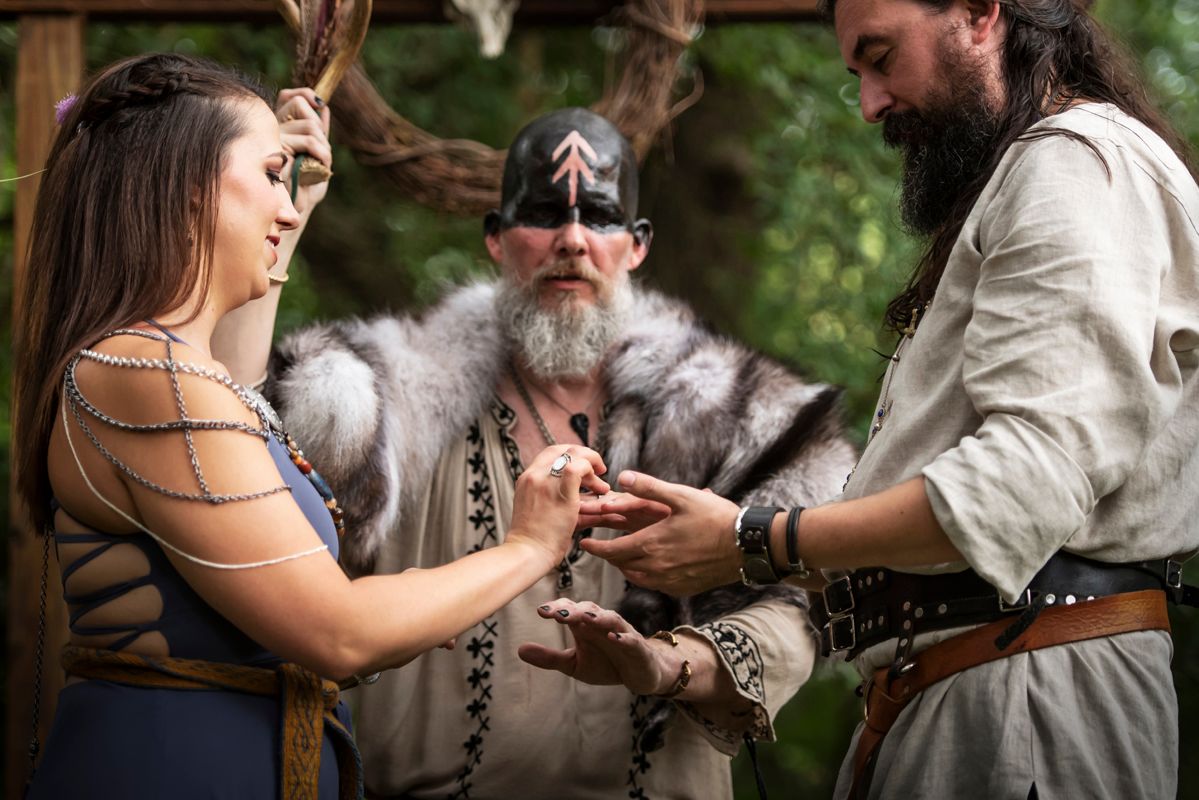 Dorian and Charlee on their wedding day PA REAL LIFE/ Joshua Butler
He explained:
"As a young man, my grandmother had wanted me to enter a seminary to become a Catholic priest – but it was never life I wanted for myself and I wrote to the Vatican a few years ago with my apostasy letter."
"When I discovered the old religion of the Vikings in 2011, through some friends who were into paganism, I felt like I'd found my people, but the idea that we are all hippies is totally wrong."
"I still love my credit card, my TV and my laptop and we spent $2,600 on all of the clothing, food and tables for our wedding – but I also appreciate the values of the pagan religion, which place an emphasis on nature and feeling at one with the planet. And that's exactly how we wanted our wedding."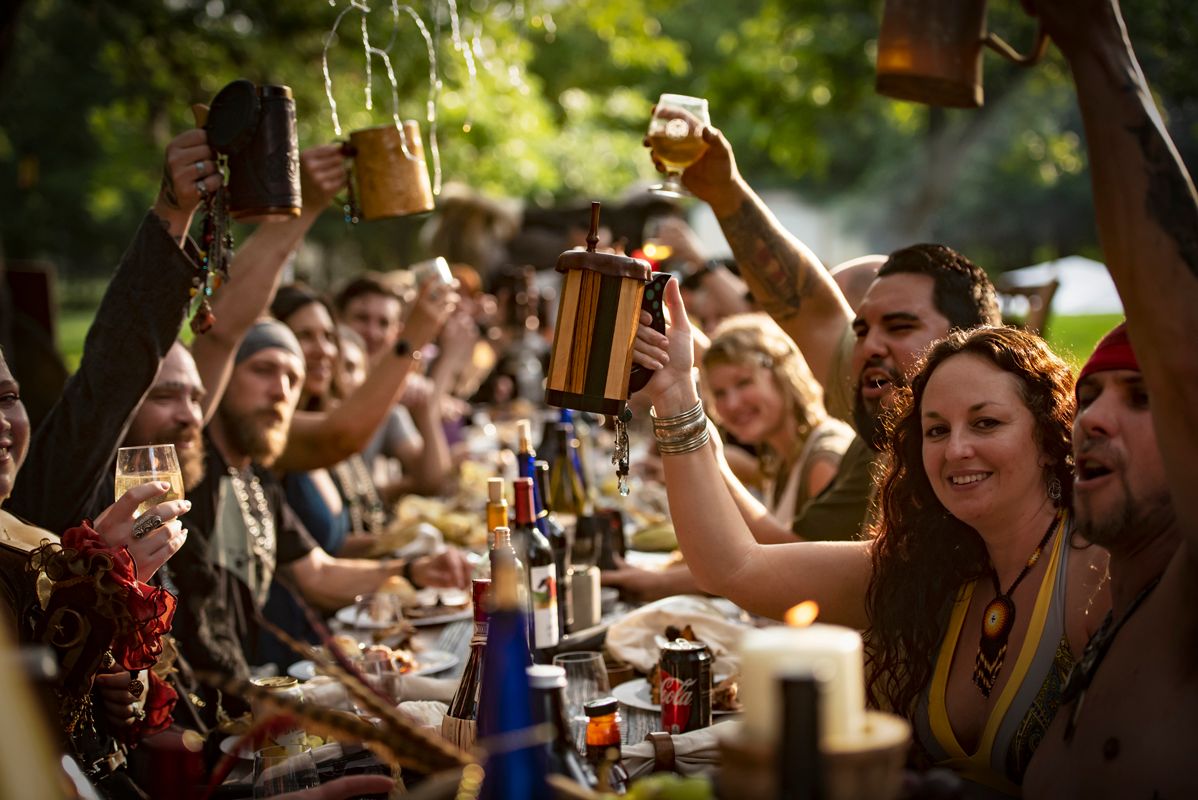 Guests at the wedding feast PA REAL LIFE/ Joshua Butler
Both regulars at medieval reenactment festivals around the country too, Dorian and Charlee met for the first time in March 2018 at the Sherwood Forest Faire in McDade, Texas, where visitors come dressed in historical outfits and enjoy spectacles including jousts and sword fighting.
Charlee, then based in Houston, Texas, who was at the event with friends, approached Dorian as she was attracted by his long flowing locks and 6ft 4in stature.
A medievalist since college, when she studied the art of the middle ages, she recalled:
"Often at these reenactments people are pretending to be someone else."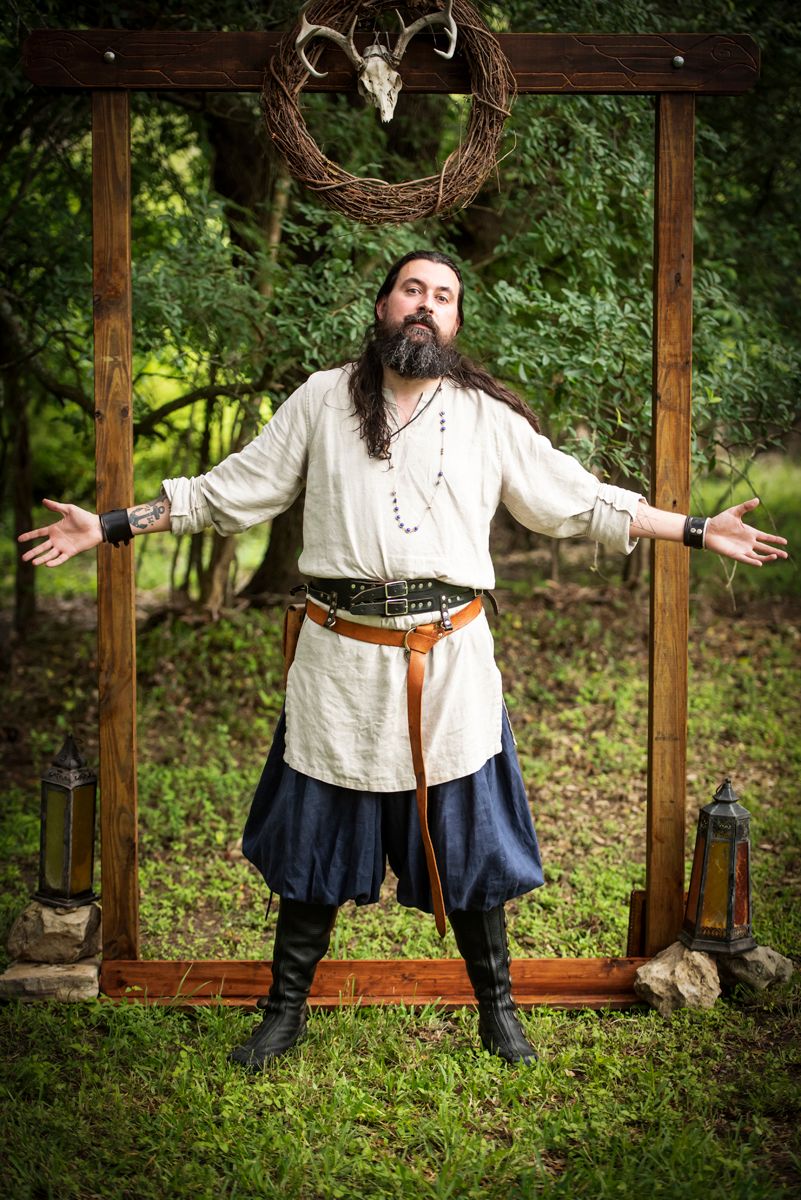 Dorian PA REAL LIFE/ Joshua Butler
She continued:
"But what really drew me to Dorian is that he was so genuine. We got on really well immediately and from that moment I knew that I wanted to be with him."
Arranging to meet again a week later, the pair were soon an item and Charlee moved into Dorian's home with her son, Harrison, two, to live with him and Coco just three weeks after the Sherwood Forest Faire.
Their decision to wed was equally speedy, with them setting a date for 18 May 2019, on the full moon, known as the Flower Moon – a symbol of growth and new life.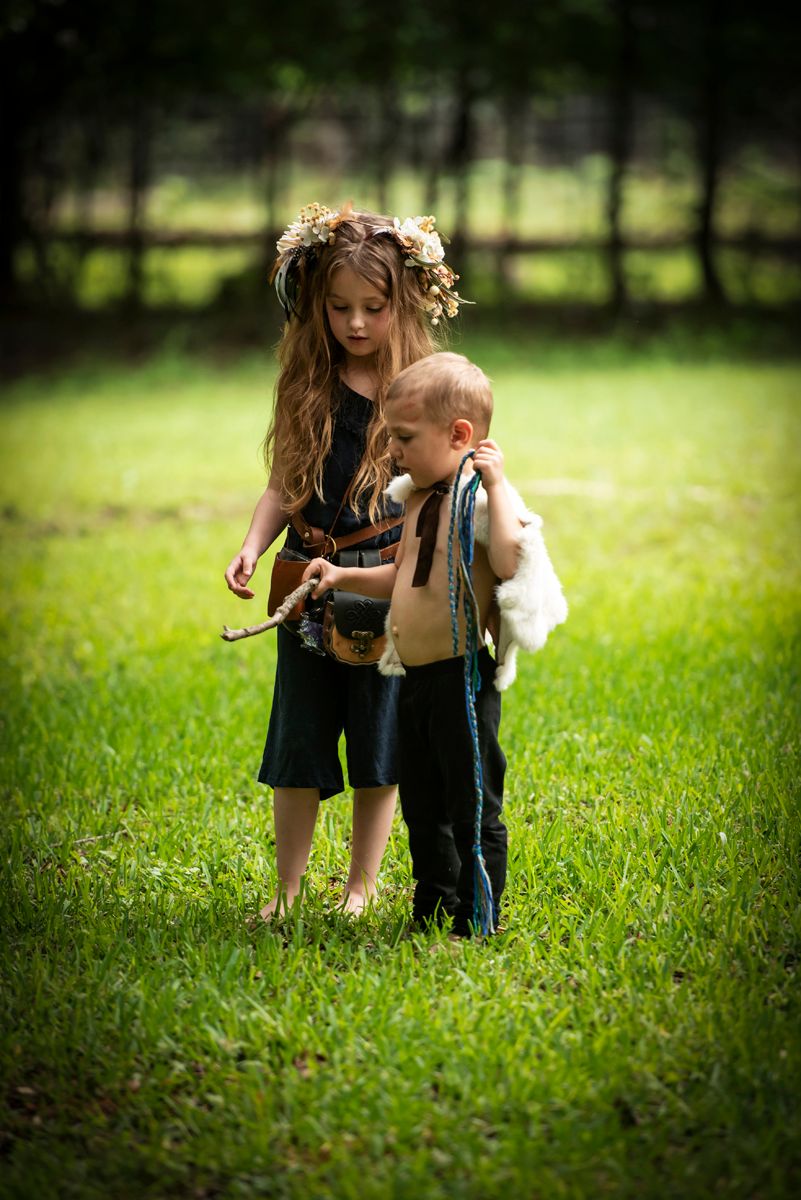 Coco and HarrisonPA REAL LIFE/ Joshua Butler
Dorian, whose pagan practice includes celebrations of the solstices and equinoxes, explained:
"We had a civil marriage in October, so that we would be married in the eyes of the law."
"But there was no question that we were going to have a Viking wedding, which would have much more of an emotional resonance than any official ceremony could do."
Hosting the wedding in the garden of their home, the couple invited their 44 guests – who mostly comprised of friends from the pagan community – over on Friday 17 May for the start of the three-day celebration, kicking things off with a meal.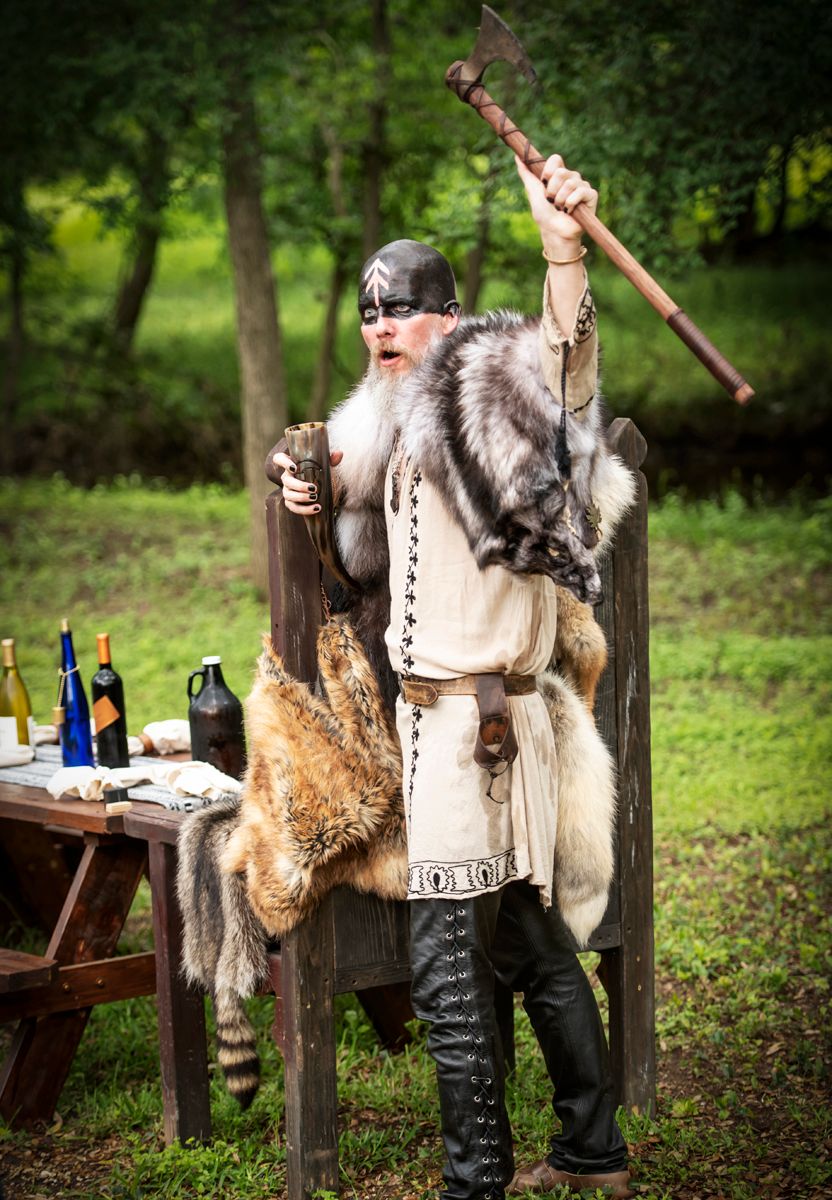 Sean FinlayPA REAL LIFE/ Joshua Butler
But the main event was reserved for the following day when Dorian, bedecked in furs, and Charlee, dressed in a simple lavender dress, along with their well-wishers, congregated at dusk by an oak tree to begin a ceremony, according to the ancient rites of the Norse pagans.
Conducted by their friends Sean Finlay, 49, and Lorraine Richardson, 52, – their priest and priestess for the day – the nuptials were initiated by an "opening of the ceremonial circle" by pouring alcohol on the ground as an offering to invite in the various Norse gods worshipped by the religion.
After singing an old Norwegian song to commemorate dead family members and friends not present, the couple exchanged vows and had their hands fasted together with rope – a pre-Christian marriage ritual that was practiced throughout northern Europe during the time of the Vikings.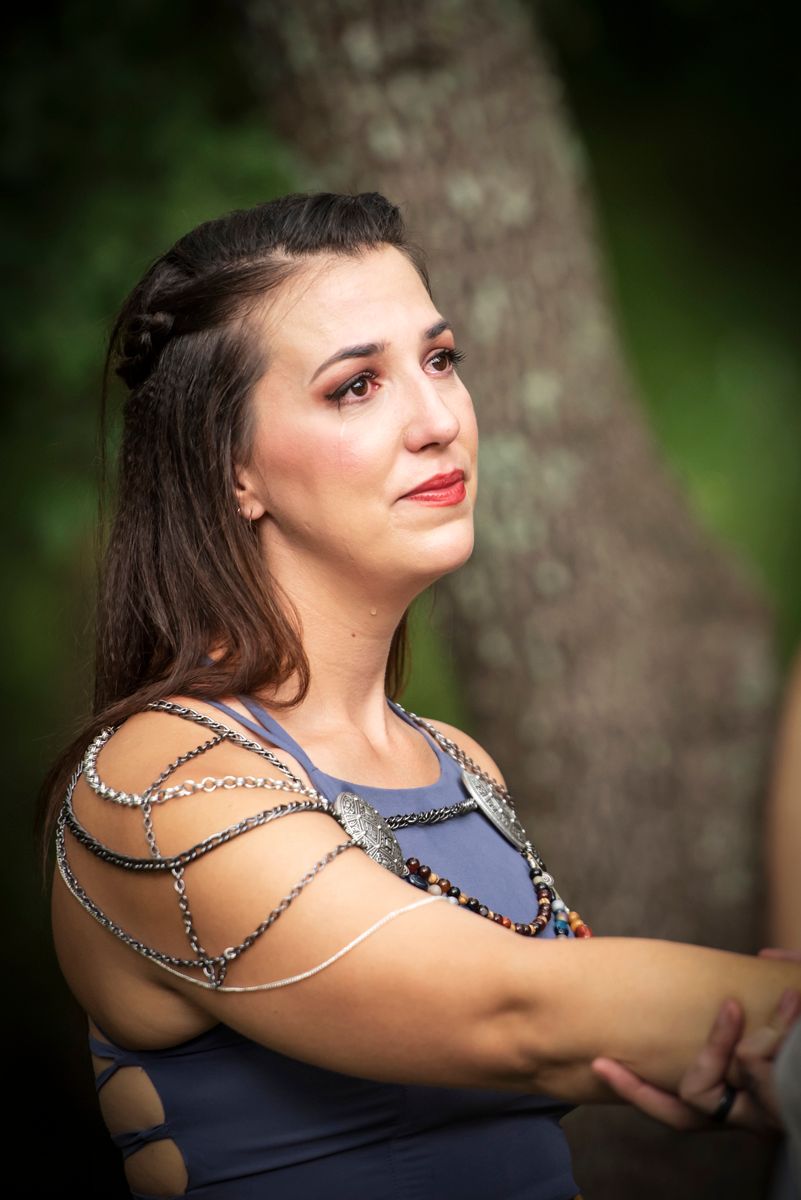 Charlee on her wedding dayPA REAL LIFE/ Joshua Butler
Lorraine, an old friend of Dorian through work, then concluded the wedding by closing the ceremonial circle.
"It was perfect," said Charlee, whose son Harrison, along with Dorian's daughter Coco, brought the couple their wedding bands at the end of the service.
The newlyweds and their guests then sat down at a specially-made long wooden table for a feast of spit roasted goat and wild boar, which the groom had himself hunted on the land around his property.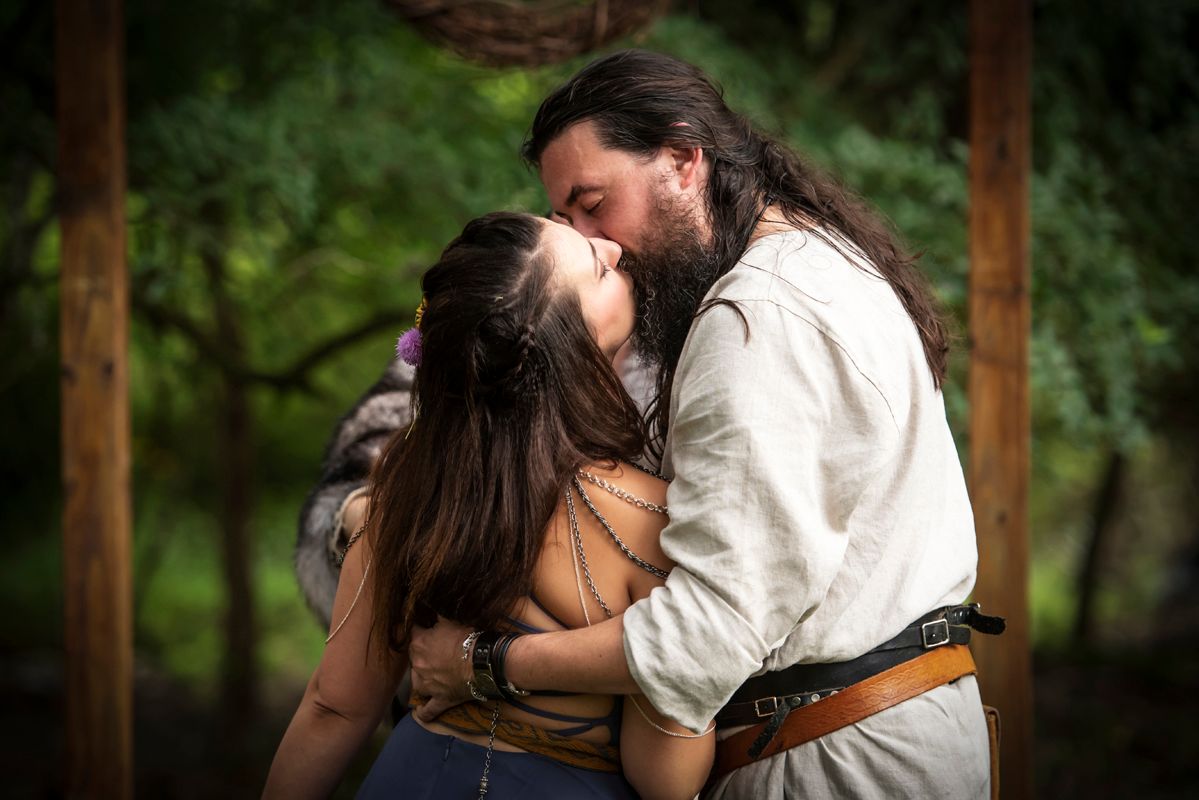 Dorian and Charlee on their wedding dayPA REAL LIFE/ Joshua Butler
Washing down the cooked meat with draughts of mead – an alcoholic drink of yore made from honey – the revelers celebrated late into the night, before resuming their pagan rituals once the full moon had risen.
Dorian recalled:
"We were all quite tipsy by the time night fell and we almost forgot."
"But someone saw the moon rising above the clouds, which reminded us that we had to do a second ceremony under the Flower Moon."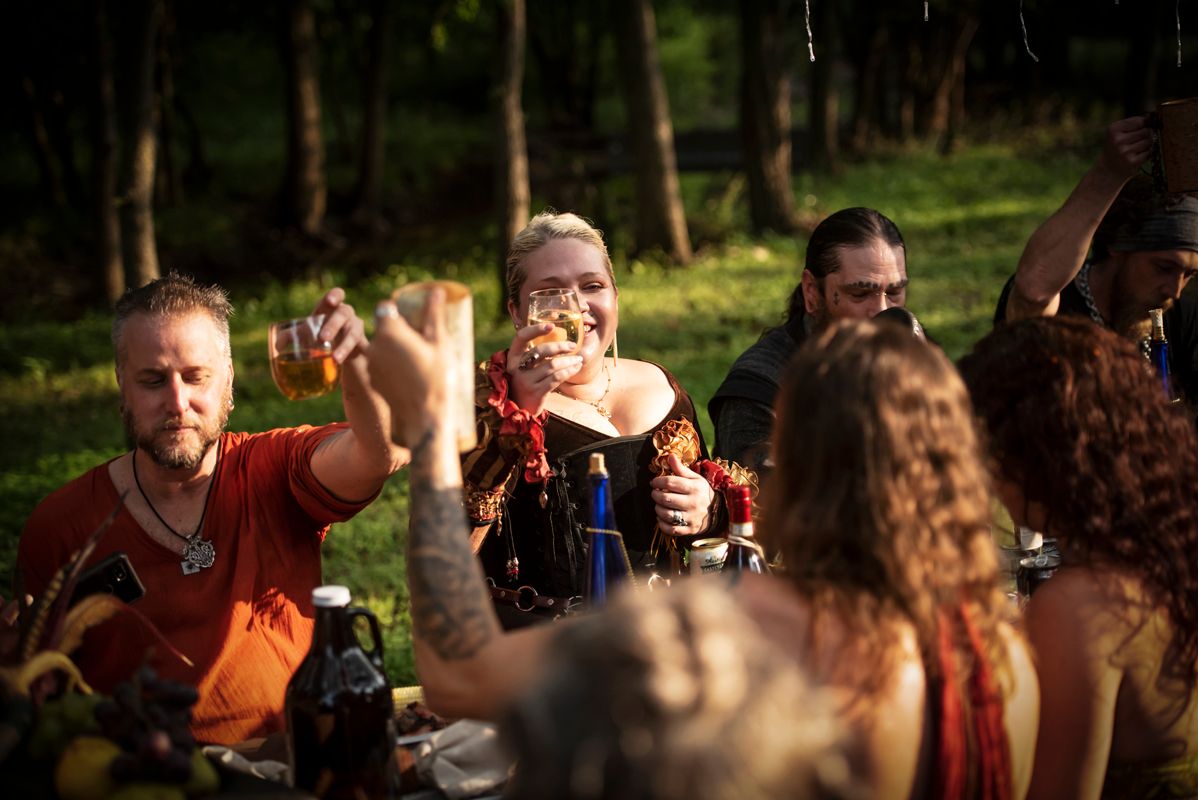 Guests at the wedding feastPA REAL LIFE/ Joshua Butler
Surrounded by a ring of fire-blazing torches, the marriage was consecrated with a blood offering.
Using a small blade, specially crafted for the occasion by a friend of Dorian's, they both made small cuts on their hands, first dripping the blood onto the ground and then clasping their wounds together, mingling their blood.
Commenting on the gory practice, Charlee laughed:
"It sounds pretty crazy, but the cuts were only small – we're not goths!"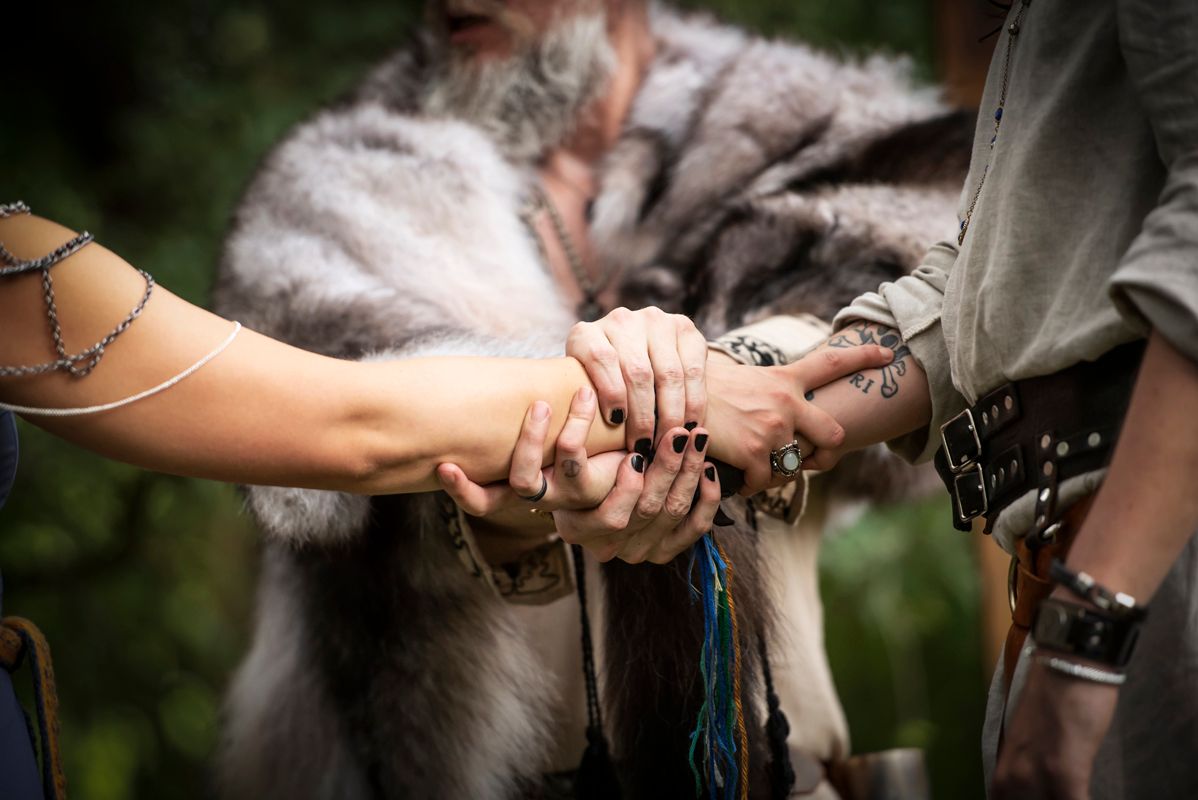 Dorian and Charlee handfastingPA REAL LIFE/ Joshua Butler
She continued:
"After that everyone went back to making merry and we sat around the fire until the small hours telling stories and enjoying each other's company."
"The next day people stayed at home with us and helped to clear up."
"It was such a lovely way to celebrate your love."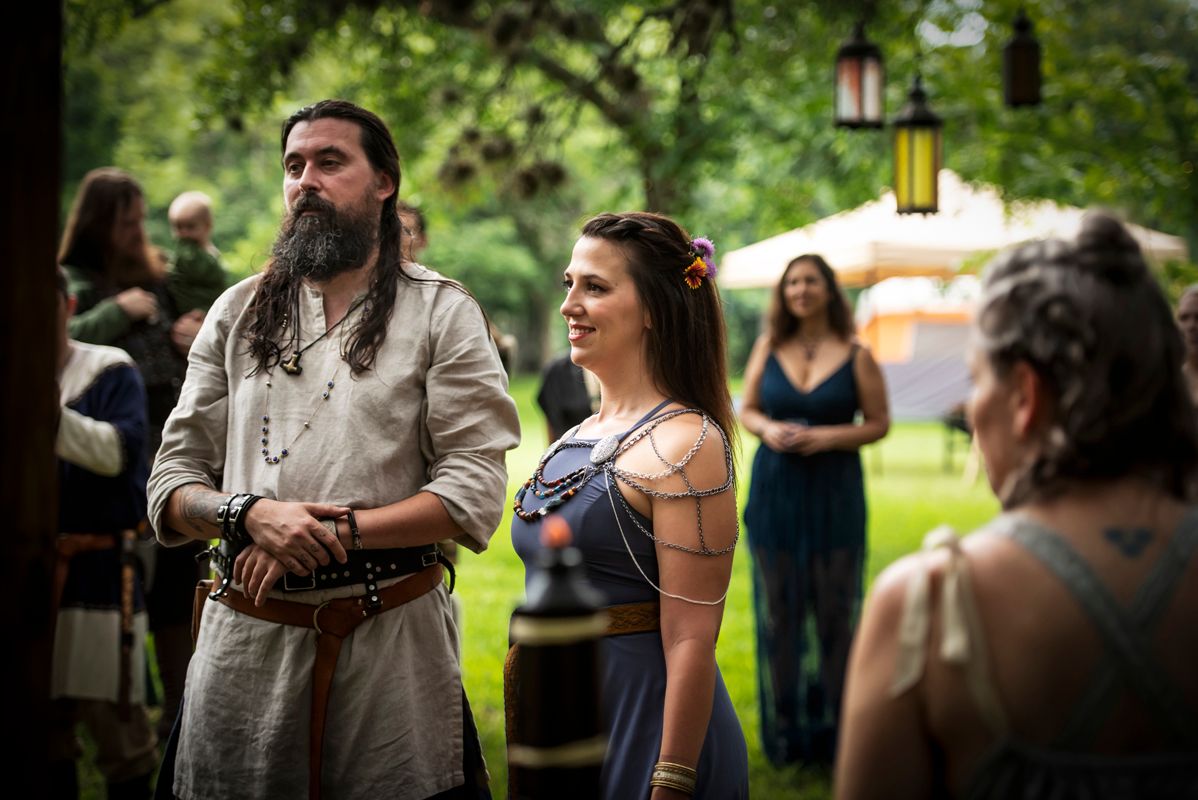 Dorian and Charlee's wedding ceremonyPA REAL LIFE/ Joshua Butler
Dorian, who is yet to receive a response from the Vatican for his apostasy letter, said the wedding has made him even more certain of his pagan principles.
He added:
"We needed no affirmation of the magic of our relationship, but having a wedding like that made me feel stronger and more confident in myself, and proved to me once that I have chosen the right path by being a Viking pagan."
"The memory of that special weekend we will both cherish forever."