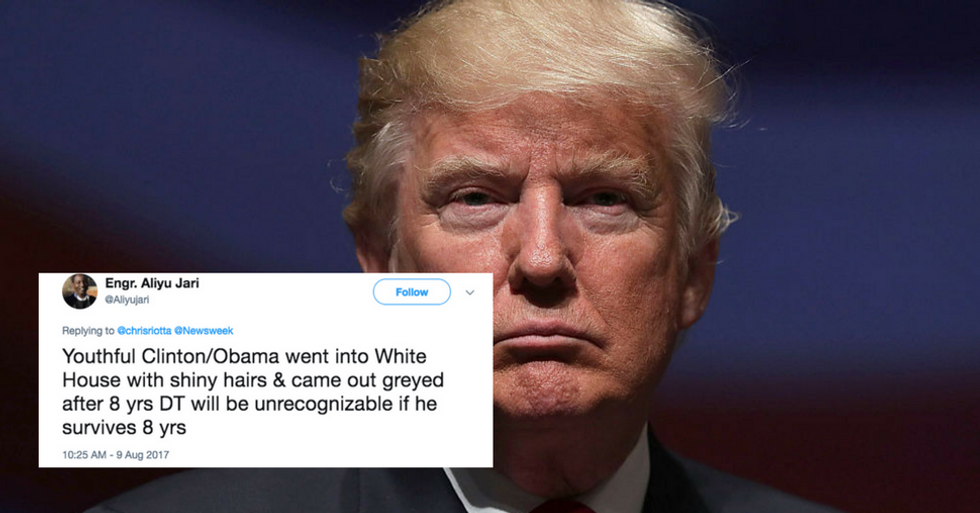 ---
S. Jay Olshansky is a professor at the University of Chicago and is an expert on the effects presidency has on aging.
He sat down with Newsweek recently to discuss how Donald Trump is likely to age during his time as POTUS if he makes it through two full terms. Because Trump entered the presidency as the oldest person ever to take the office, the effects on his health are likely to be more drastic than for others who've held the seat.
"Because Trump is 71, his risk of death is significant'y higher than if he was in office at 61 or 51, there's no question. His risk of death today is double what it would have been had he entered at 64."
Olshansky credits Trump's wealth and the incredible healthcare given to each POTUS with extending 45's life expectancy. The average man with his physical stats has a life expectancy of about 84 years. Olshansky puts Trump's at about 87.7. So, in Olshansky's opinion, Trump is likely to live long enough to serve out two terms, it's just that he'll likely look very different when he leaves office.
Olshansky does have one piece of advice for Trump, though, if he wants to survive what he presumably hopes would be two full terms:
"He'll have to lose weight if he's going to last eight years."
Olshansky worked with Newsweek and a digital aging app to predict what Trump might look like at the end of eight years in office. They factored in more than the normal aging process. Olshansky says the stress, loneliness and isolation of being POTUS have to factor into it.
But there's more.
"Anger is also a health factor. Trump does strike me as being angry a lot, which is a powerful factor in aging. Trump may be in a situation that makes him angrier than he's ever been before, that's not good for the body."
This is what Trump may look like at the end of his presidency according to Newsweek.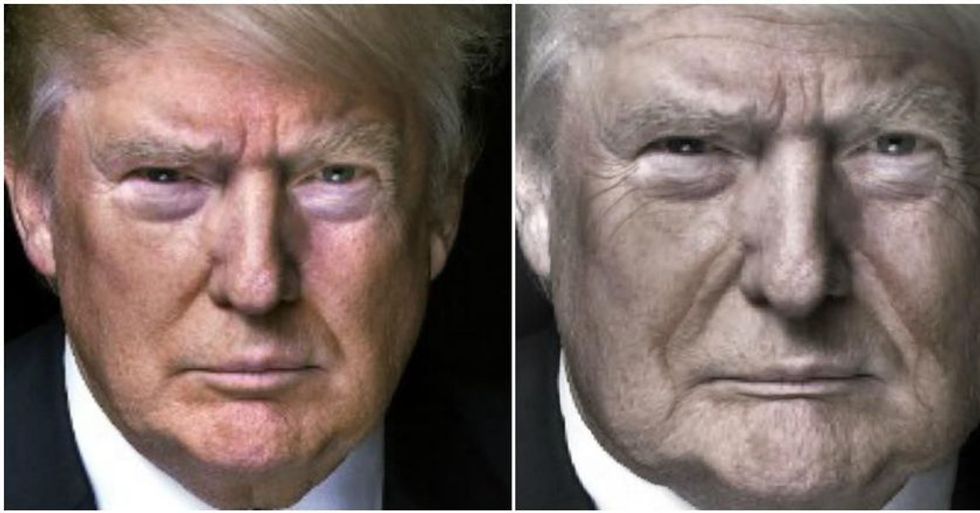 Another age progression.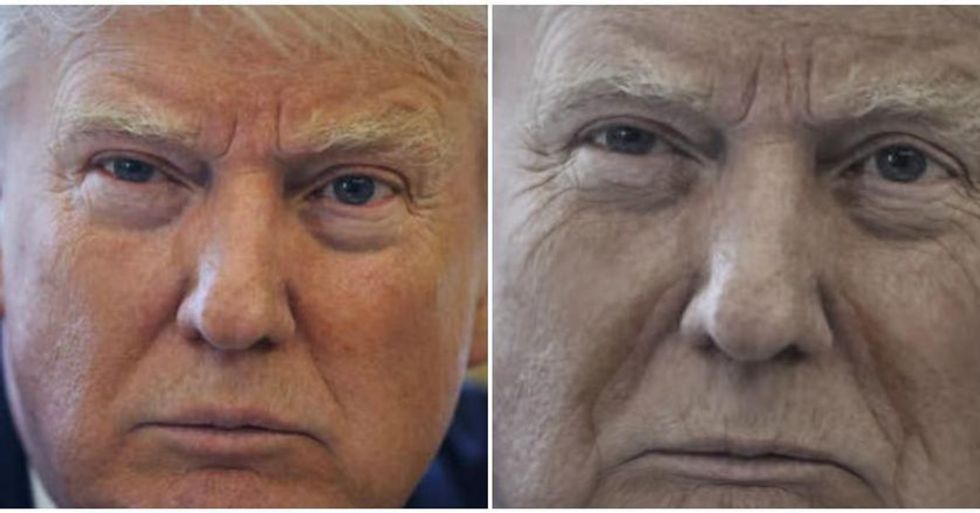 Once Twitter saw the images, the comments came pouring in.
@chrisriotta @Newsweek Youthful Clinton/Obama went into White House with shiny hairs & came out greyed after 8 yrs… https://t.co/fhsSgjRtQ3

— Engr. Aliyu Jari (@Engr. Aliyu Jari) 1502285137.0
Some took issue with the current portrait that was used for the progression.
Alyssa offered up her own age progression.
@Newsweek https://t.co/eMvszBAA3z

— Issy (@Issy) 1502287943.0
More than a few people took issue with the skin tone of the progression. Here's one.
@Newsweek I have seen no evidence that stress will lead @realDonaldTrump to cut back on bronzer

— (((NoIdon'tTakeResponsibilityAtAll))) (@(((NoIdon'tTakeResponsibilityAtAll)))) 1502289811.0
Heather wonders if this is really news.
@Newsweek Is this real journalism? Seriously u people need to retire

— Heather H. (@Heather H.) 1502288544.0
Several people were less concerned with what Trump might look like...
@Newsweek i'm more worried about what the heck we're gonna look like.

— Terry Jones (@Terry Jones) 1502288972.0
@Newsweek more importantly, how much will his presidency age Americans

— Jim Hawai'i (@Jim Hawai'i) 1502288460.0
Googlybear offered up this age progression that pretty much can't be topped.
@Newsweek https://t.co/pje91TMvfB

— Wisdom (@Wisdom) 1502289011.0
Please SHARE this with your friends and family.