A new mom on TikTok went viral when she shared what caused her breast milk to turn pink.
Jo Johnson (@jojohnsonoverby) shared a 30 second video showing two bags of breast milk one off-white and one pink.
Johnson shared with her 1.2 million followers:
"Nobody told me that whenever I had a baby, that if I chose to breastfeed, my milk would come in an array of colors."
She held up a bag of off-white milk:
"Exhibit A. The color you'd expect, right?"
Johnson joked in the caption the other bag looked like strawberry milk:
"Exhibit B. And why is it pink?"
"It's blood."
"Baby can drink it though."
"So, it's up to you whether you do it or not."
@jojohnsonoverby

Strawberry milk brought to you by an aggressive clog 🥲 #newmom #breastfeeding #pumping
The video has reached 13.3 million views and gotten 1.9 million likes.
Of the over 13 thousand comments, some had hilarious jokes about the breast milk.

@darlenesb1/TikTok

@day.___.dreamer/TikTok

@xgingersnap/TikTok

@annapiland/TikTok

@arissamercer/TikTok
Some moms shared what surprising colors their milked turned during breast feeding.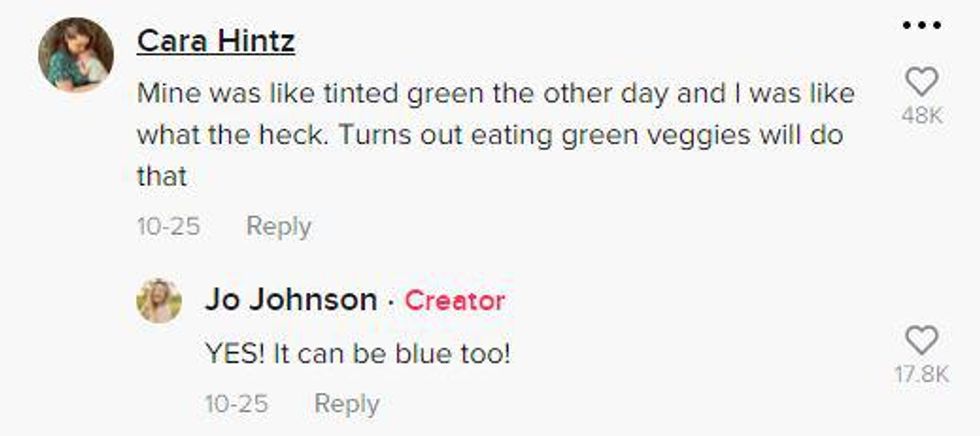 @cara_lynne92/TikTok; @jojohnsonoverby/TikTok

@dumpsterfiremomma10/TikTok
Other commenters realized collectively just how little we really know about pregnancy and motherhood.

@y0itsice/TikTok

@victoriablood25/TikTok

@baylee_sweet/TikTok

@callaghansquestions/TikTok
Buzzfeed got to the bottom of why breast milk would turn out pink by asking OBGYN and reproductive endocrinology and infertility fellow Dr. Emily Jacobs.
Jacobs said:
"The most common reason for blood-tinged breastmilk is damaged nipples from breastfeeding, like cracks or blisters."
She continued:
"It is OK, and preferable, to continue breastfeeding in this situation, so as not to get clogged ducts."
"Individuals may try icing [their] nipples in between sessions and applying nipple cream after feeds."
"Alternatively, blood-tinged breast milk may be a sign of a breast infection called mastitis."
"This is typically accompanied by a red, painful breast and flu-like symptoms, including high fever and myalgia."
"If someone is concerned they may have mastitis, they should call their doctor, as they may need antibiotics."
It's fascinating to learn more about the human body.
Thank goodness we have the internet, but it's unfortunate we have to learn about this through TikTok instead of a health class.