Among all the yearly traditions sidelined by the ongoing pandemic, high school and college graduation ceremonies were among the first to go last Spring.
But at least by now, December's college graduation ceremonies have had time to innovate and make up for the loss of pomp and circumstance, right?
Well, not exactly, if Minnesota State University Mankato is any indication.
In lieu of a ceremony, the university sent all of its December graduates tiny bags of confetti. Recent graduate Elliott Kunerth's TikTok video of the big reveal has people all over the internet laughing.
Kunerth's video showed him looking forlorn as he opens the university's gift, with a caption overlaid that said:
"So my college graduation was canceled because of COVID but it's okay because they sent me a dime bag of confetti instead."
Kunerth then tossed the tiny handful.
The confetti was in the university's colors of purple, yellow and white. It even came with an instruction label telling the user to "toss the confetti with one swift underhand throw."

Kunerth did just that, but there's so little of the confetti the whole thing was over practically instantaneously, making for the most anti-climactic celebration possible.
Speaking to BuzzFeed News, Kunerth said the whole thing was on brand for this deeply weird and frequently disappointing year.
"I thought it was pretty much the epitome of how 2020 is going."
And—as with so many things in 2020—Kunerth couldn't help but chuckle at the absurdity of it all.
"I definitely got a kick out of expecting a big celebration for my college graduation and instead receiving a bag of confetti to throw in the air while I'm at home in lockdown."
Hey, laugh to keep from crying, right?
Kunerth knew he had to make a TikTok of the confetti toss to help his fellow graduates.

"I figured other college students who are also graduating during the pandemic would get a kick out of it."

TikTokers were definitely tickled by the whole thing.


@dailydoseofdann/TikTok

@brock_lobster/TikTok

@uneducatedbeast/TikTok

@mariarabaino/TikTok

@imfeelinsketchy/TikTok

@imperfectinspiration/TikTok

@bakemydaymimo/TikTok

@shut_up_about_the_sun/TikTok

@ms_frazzled/TikTok

@wrennx/TikTok
According to Minnesota State University Mankato, students also received a diploma cover, a graduation program and "other small gifts."
So at least the confetti didn't do all the heavy lifting!

Congratulations to Elliott Kunerth and all the recent graduates.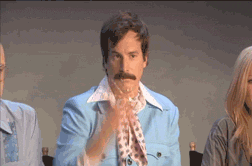 Giphy