The current global crisis prompted people around the globe to social distance or even self-quarantine, leaving many out of work with no access to basic commodities like toilet paper or even food staples.

The virus began aggressively spreading from person to person around the world killing thousands without a vaccine or proven effective treatment.
---
In addition to the panic—with many cities in lockdown—there is severe frustration over photos and videos of packed bars, restaurants, beaches and parks.
A highly visible portion of the younger adult demographic—age 18-29—has been ignoring social distancing protocols and congregating in large groups at beaches and parks with the mindset of being immune to the pathogen.

But no one seems more peeved than actor Michael Rapaport.
In response to many Hollywood personalities giving pandemic service announcements urging social media users to stay indoors to help contain the spread of infection, the Atypical actor detonated a flurry of F-bombs to help get his point across in a viral video post.
"Get your little, dirty, f'king grubby, selfish, YOLO f'king dumb tattooed faces in the f'king house."
"I'm not doing it, i'm not asking please. I'm telling m'therf'kers stay your little punk dirty sh*t stained a** inside."
He even directed parents to step up and stop being so nice.

"Parents, go outside grab your f'king kids by the neck if you have sons. Grab your daughters by the f'king wedgy panty area and grab them inside."
Rapaport continued by mocking the old "do you know where your children are?" curfew PSA and answered:

"They're out giving m'therf'kers diseases and catching diseases. This nice guy sh*t? It's done. Get your f'king kids in the f'king house."
If viewers saw the actor's sons outside, he offered them permission to give them a message from him.
"If anybody sees my kids outside hanging out ... you can tell them 'your father said we can kick you in the f'king neck.'"
You can watch his rage unleashed in the clip below (WARNING-NSFW language).
The current number of confirmed cases is 531,799. The death toll as of this writing is at 24,071.

Before beaches were ordered to shutdown in Florida, the state's GOP Governor Ron DeSantis was slammed for his inaction as thousands of vacationers swarmed the sunny shores for spring break as if there was no pandemic.
One young spring breaker infuriated social media users after an infamous video of him claiming that—if he gets the virus, he gets the virus—circulated online. The young man later apologized for his actions.
He wasn't alone in his cocky endeavor to party in public and risk catching the disease. Many others like him are still refusing to stay indoors and are disobeying social distancing orders.

This lead to some states having to close parks.
A parent who had a tough time getting their message across to their kids used Rappaport's video.


@1flapdown77/Twitter
Others who couldn't agree more used GIFs and memes to express their solidarity.


@irenevin3/Twitter
A fan of his Netflix show Atypical got an honorable mention as an incentive to stay home and binge.
Others had no problem invoking Rapaport's fiery tone.

@curateegg/Twitter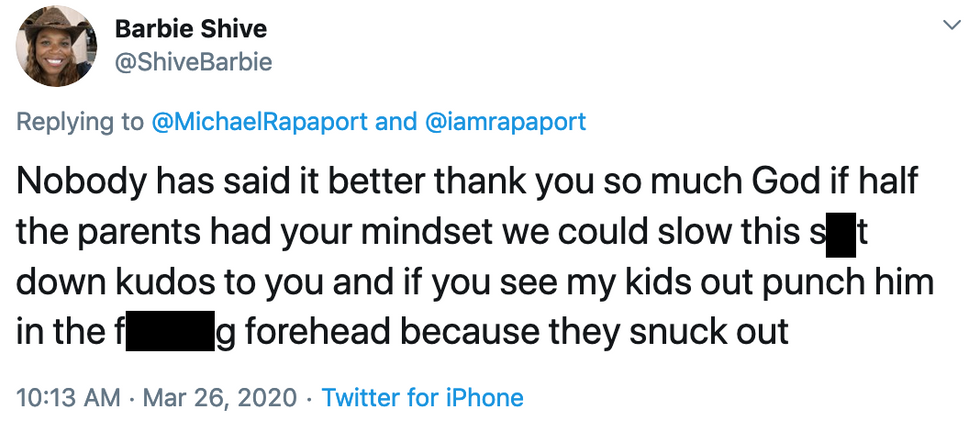 @ShiveBarbie/Twitter

@_freedomrock3/Twitter
Rapapaport is not messing around.

And when it comes to the pandemic plaguing our planet, you shouldn't take chances, either.
Stay inside as much as possible, wash your hands often if you do have to make a supply run and wipe down anything that gets touched before bringing it into your home.