As some Americans celebrated U.S. Independence Day on the night of July 4, a wooden statue of Melania Trump was set ablaze on the other side of the globe in Slovenia, Melania's home country, Reuters reported.
The statue was commissioned by Berlin-based U.S. artist Brad Downey and completed in 2019. It was made by local Slovenian folk artist Ales "Maxi" Zupevc, who used a chainsaw to carve a likeness of the first lady out of a living linden tree.
When it was first unveiled, some considered it a prank because of Downey's own work, but the artist who carved it and the artist who commissioned it always maintained it was not. Downey specifically sought an artist born in the same area and year as Melania Trump.
Zupevc—a pipe layer by trade and a woodworker by hobby—grew up near the FLOTUS' hometown of Sevnica, Slovenia. The two were born in the same hospital about a month apart.
The sculpture featured Melania donning the blue ensemble she wore to her husband's inauguration in January 2017.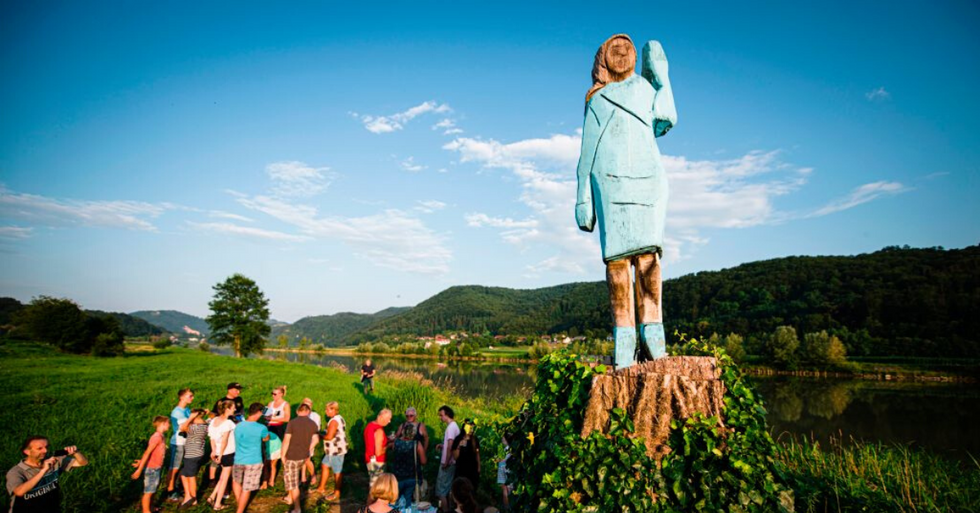 JURE MAKOVEC/AFP via Getty Images
Downey informed Reuters that he "wants to know why they did it." He went on to explain his original hopes for the statue—to highlight Melania's place as an immigrant married to a President who is so actively opposed to immigration.

Downey added that the statue was immediately removed on July 5, the following day.
Police spokeswoman Alenka Denik did not offer any additional details.
"The investigation in this case has not been completed yet so we cannot reveal details due to the interest of further procedures."
The sculpture's destruction came amid Donald Trump's ongoing opposition to the removal of several Confederate monuments and icons across the United States in recent months.
The sculpture—which grabbed headlines upon completion for its questionable likeness to Melania—has become a hot topic all over again.

One person even captured the moments of the sculpture's life after the big burn.
It is unclear just how many conversations the sculpture actually prompted about Melania's status as an immigrant married to someone like Donald Trump.
But if there were any going on, they were no doubt quickly sidelined by the statues destruction and incendiary remarks by the President himself around the holiday.