A University of Missouri student is rightly facing backlash from the student community for a blatantly and violently racist social media post made shortly after the shooting murder of 3 Black football players at the University of Virginia.
Miller's statement wasn't mild in any sense of the word, and the student backlash makes perfect sense—she advocated for more violence against Black students.
She posted a photo of her face while lying in bed with the caption:
"If they would have killed 4 more [n-words] we would have had the whole week off."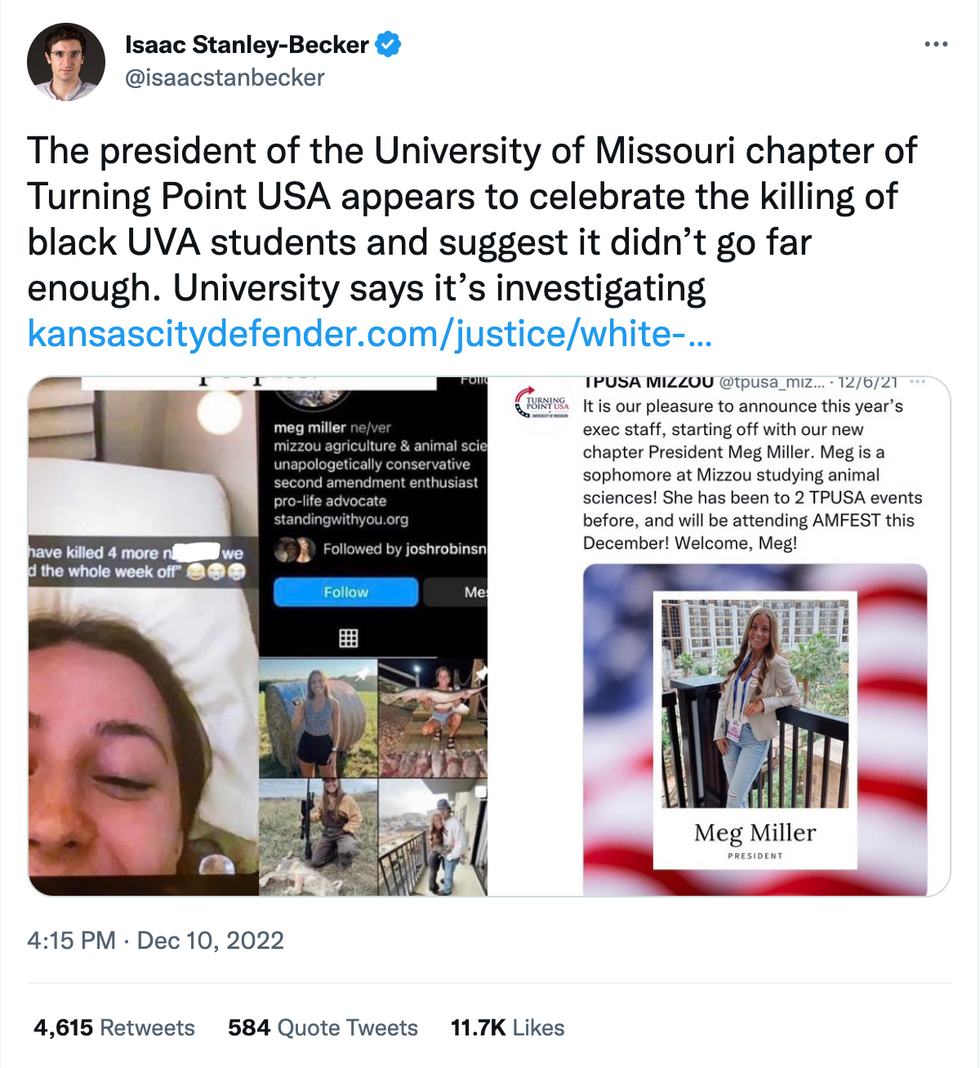 @isaacstanbecker/Twitter
Miller was, until recently, the chapter president of the local Turning Point USA (TPUSA) group. According to the Anti-Defamation League, TPUSA is "linked to a variety of extremists."
The organization is at least partly responsible for spreading the "Great Replacement" conspiracy theory—the assertion there is some grand plan for people of color to somehow replace White people—which featured heavily in the manifesto of the person responsible for killing 10 Black people in a grocery store in Buffalo, New York earlier this year.
According to Turning Point USA, Miller quit their organization suddenly without informing them about her incredibly racist statement.
"This individual quit the club without explanation last week and didn't report the incident to any field staff, nor have any chapter members from the school been able to contact her since."
"In fact, the national organization is only finding out about this now."
They further claimed:
"This kind of language has no place at TPUSA, and we support her decision to remove herself from all involvement with that local chapter."
Miller may have dropped all involvement with TPUSA, but students at her university are calling for her expulsion for her racist post.
The Kansas City Defender—according to their website a "nonprofit digital startup producing news, digital tools and public services for Black people across the midwest"—spoke with Black student leaders about how Miller's comment affected their community.
Kaylyn Walker the Vice Chair of Social Justice for the Missouri Student Association—the university's undergraduate student government—and Senator with the Legion for Black Collegians commented on the situation
They said:
"The Black Mizzou [University of Missouri] community is very close and we have a groupchat."
"The screenshot was sent in the groupchat by one of our members."
"Everyone immediately went into action saying who is this girl, what can we do, this is horrific."
"Eventually we found her Instagram, went to her snapchat. When she saw we were flooding to her Instagram she went private and started blocking people."
The university didn't really respond to students voicing their concerns though.
So students chose to take things online.
"People who had reached out to our administration were all getting the same auto-generated response. We were upset that we weren't getting actual responses from an actual human being administrator."
"That's why we went to Twitter to start tagging faculty because we could tell this wasn't being taken as seriously as it should be."
"Obviously the first emotion we felt was anger."
"We were of course angry she said it, but even more outraged at how the administration is handling it."
Twitter users were rightly horrified by Miller's comment.
Miller's social media presence is quite problematic outside of the one specific comment as well.

Various photos show her posing with rifles, dead animals she presumably hunted and none other than Kyle Rittenhouse—the man who shot and killed 2 men in Kenosha, Wisconsin and wounded another during protests that arose after the police shooting of Jacob Blake.
In addition, she referred to herself as a "Pro-Life Advocate" in her Instagram bio, despite openly advocating for the murder of Black students.
When reached out to for comment by Kansas City Defender, the University of Missouri did not respond.
They did release a statement, though:
"University of Missouri officials have been alerted to reports of a racist post by an MU student. The information was referred to the MU Office of Institutional Equity."
Mun Choi, president of the University of Missouri, said:
"This language is reprehensible, and we condemn any language and actions that are racist, discriminatory and hateful to our community."
The official statement concluded:
"Following the review, the university will take appropriate action."
It remains to be seen what the university will determine the "appropriate action" to be, but students aren't surprised by their response to threats of potential violence.
Walker said:
"This happens everyday on our campus. People feel unsafe, unvalued, unloved. We are all banding together."
"This is a reoccurring thing, none of us have gotten any response whatsoever from the administration."
"Nothing from an actual person. Those auto-generated responses are the only updates we've gotten so far."
The university's Black students aren't willing to just let it go, though.
They deserve to feel safe—and actually be safe—on their campus.
"Whatever it requires, protests, town halls, strikes, we are going to do whatever it takes to make the campus safer for people of color."