If you a kid in the late '80s or early-to-mid '90s, and were lucky enough to have cable (or a friend who did), then Marc Summers was probably a huge part of your childhood.
---
The former Nickelodeon star and Double Dare host, now 66, recently sat down for an interview with People magazine to reflect on his career, and opened up about his struggles with Obsessive Compulsive Disorder as well as his two brushes with death.
Double Dare's Marc Summers — Who Beat OCD and Escaped Death Twice — Reflects on His Long Career https://t.co/8XBtAJqyID

— People (@People) 1512568400.0
Being known for getting doused in "slime" on a daily basis wasn't easy for Summers, who claims that he would hurry to change his clothes as soon at filming ended. What he didn't know until he was diagnosed live on his Lifetime talk show in 1995 was that he had a crippling case of OCD.
'Double Dare' host Marc Summers has OCD and sometimes struggled with all of the mess on set.

— OMGFacts (@OMGFacts) 1511812937.0
The very public revelation took its toll, halting his career in its tracks, as Summers explains: "Most people weren't aware what OCD was back in the late '90s." He even lost a job hosting Hollywood Squares due to the lack of understanding. "People were not given the tools to learn what it was," he laments.
But in some ways, his OCD gave him an incredible drive and focus. By 2001, he was given a chance to host Unwrapped on the Food Network, which has gone on to be the network's longest-running program thus far.
He credits himself as a bit of a "pioneer" for OCD, pointing to Howie Mandel's ability to open admit his own struggles with OCD and germaphobia as evidence.
There are several famous people with OCD like @howiemandel and Marc Summers

— OCD (@OCD) 1490805196.0
Summers' life took a drastic turn in 2009, when he required surgery to remove 17.5 inches of his small intestine after experiencing stomach pain. After the surgery, he woke up and, "being a stand-up comic, I sort of joked with the doctor, 'Do I have cancer?' And he says, 'As a matter of fact, you do.'"
He was originally misdiagnosed with mantle cell lymphoma and given six months to live before another oncologist determined that is was actually chronic lymphocytic leukemia. But during the four-month period between diagnoses, his family thought he was dying.
"The whole story about your life flashes in front of you," he says. He recalls phoning his wife from his taxi and saying, "'I'm not going to see the kids get married. I'm not going to see our grandchildren. I'm going to be dead.'"
#News "'Double Dare' host Marc Summers recalls health battles, losing 'Hollywood Squares' job" via #FOXNEWS |… https://t.co/z6t1Jb7G7K

— Jorge Luis Lopez Esq (@Jorge Luis Lopez Esq) 1512590234.0
"I was a mess. I was confused. I didn't know what the hell was going on," he explains.
After a tough 2-year battle with the illness, he came out on the other side only to have a taxi he was in hydroplane and crash into a highway median in 2012, breaking every bone in his face in the process.
The accident led to memory loss, which Summers feared would affect his career should he host another show.
"It was really frightening," he says of the nine-month recovery, which ultimately forced him to embrace the fact that "there's no time like the present."
THANK YOU, @people, for an incredible article and for the great nod to our film. We are all so proud of… https://t.co/tyPRVULSgA

— On Your Marc (@On Your Marc) 1512571022.0
The revelation has led him to create an autobiographical one-man play, which is chronicled in the new documentary On Your Marc. And now, after three years of cognitive therapy, Summers says his OCD is "80 percent cured."
"It's like retraining your mind not to have the intrusive thoughts and not to do the repetitive actions," he explains.
And luckily, there's no slime to deal with anymore.
Kudos to Summers for sharing his incredible journey:
@people Amazing story.

— Jessica Swisher (@Jessica Swisher) 1512569873.0
@people Now THAT is an amazing story. Much love Marc Summers!

— Heidi Hendrix (@Heidi Hendrix) 1512583858.0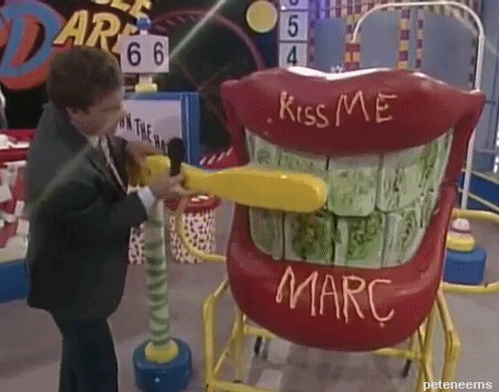 Please SHARE this with your friends and family.