Former Scientologist and actress Leah Remini shared some disturbing claims regarding the whereabouts of Shelly Miscavige, the allegedly missing wife of Scientology leader, David Miscavige.
Remini, who has been a vocal critic of the Church of Scientology since leaving the church, has been looking for Miscavige since she vanished from the public in 2007.
Remini has dedicated entire episodes of her A&E show, Leah Remini: Scientology and the Aftermath, to her investigation and has been openly vocal about her personal mission to find her friend.
One of the more unsettling details in Remini's series of tweets is her recollection of interacting with former 34-year Los Angeles Police Department veteran Cory Palka, who was in charge of the Hollywood division where Remini filed her missing persons report regarding the disappearance of Miscavige.
Palka is currently under investigation for colluding with top CBS executives–namely its former CEO Les Moonves–in fighting a sexual assault charge against him from a former CBS employee.
Remini's lengthy thread started with:

"Many of you know about Shelly Miscavige, the wife of Scientology's leader David Miscavige, who has been missing for over 15 years. Well, I have got a hell of an update for you…"
"In 2013, after I left Scientology, I filed a missing person's report with the LAPD on Shelly," Remini began. "By the time I filed the report, it had been nearly eight years since I had seen or heard from Shelly."
She began talking about meeting Palka and questioning his relationship with the religious movement.

Remini thought the glaring observation of Miscavige's absence from Tom Cruise's 2006 wedding to Katie Holmes, in a Scientologist ceremony, was a huge red flag.

When Remini inquired about where Miscavige was that day, she was aggressively discouraged from asking further questions.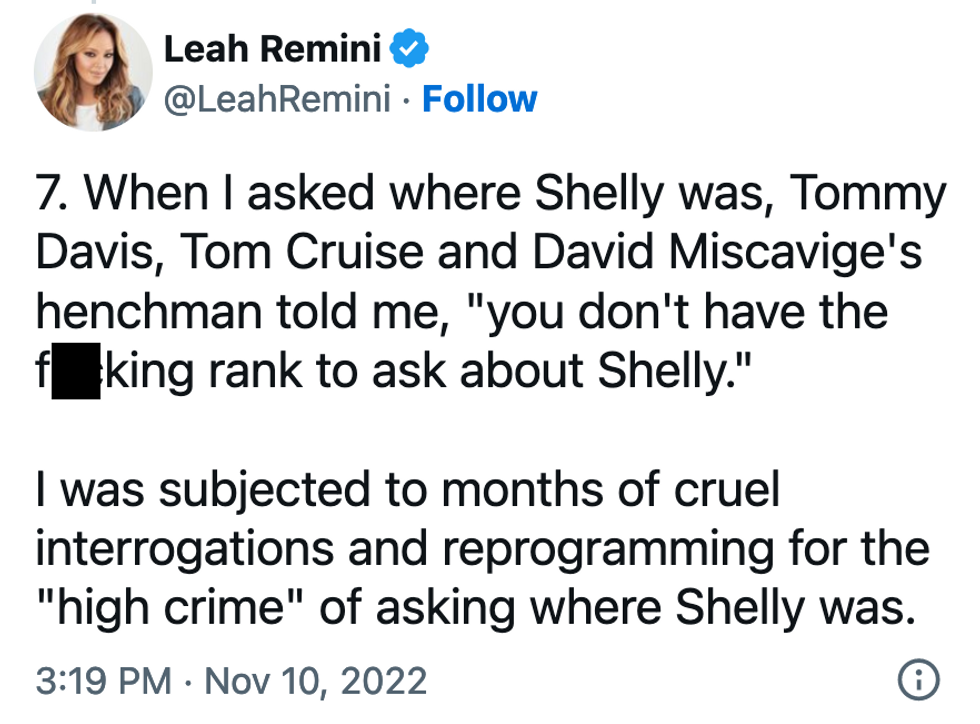 @LeahRemini/Twitter
After losing contact with Miscavige and receiving no help in finding her, Remini took matters into her own hands.
"My letters to Shelley had all gone unanswered. I couldn't reach her by phone either."
"So when I left Scientology, my first goal was to try and find Shelly."
That was when she filed a missing person report "through a friend I knew at the LAPD."

Remini paid $50K in attorneys fees filing various requests, but she said her requests for information from the LAPD were shut down.
"I still don't know anything about the circumstances of this investigation," she said.
She claimed Scientology has always done a good job at "ingratiating itself with law enforcement despite being experts in obstructing justice."
"Scientology hires off-duty LAPD cops as security and donates to LAPD charities."
"All while instructing their members never to help any criminal investigations involving Scientologists and making it a high crime within Scientology to report Scientologists to law enforcement."
When Remini met Palka concerning Miscavige, she allegedly saw a letter on his desk thanking him "for all his help with Scientology matters and inviting him to come and have lunch, as a guest, at the Celebrity Center."
She shared screenshots of the email correspondence between Palka and Scientology obtained by journalist, Tony Ortega to show how "friendly" the then-Commanding Officer's relationship with the Church was.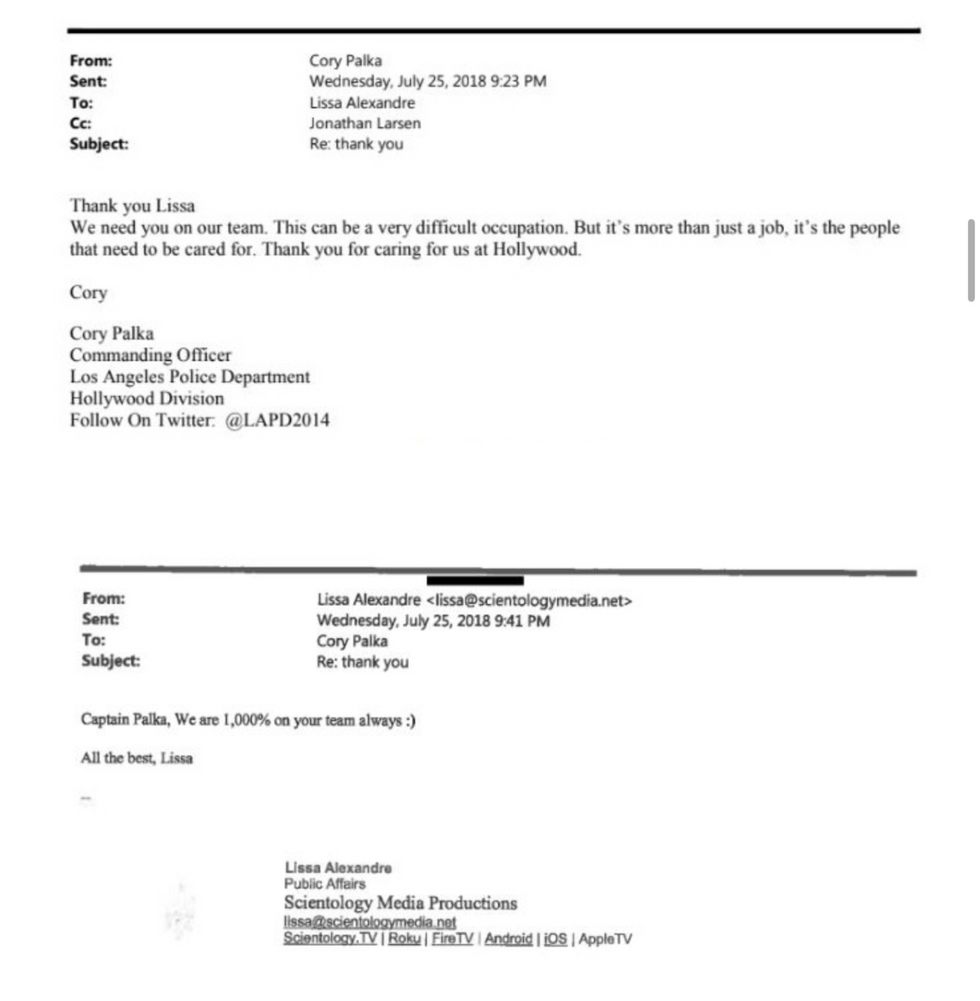 @LeahRemini/Twitter
In the email below, Palka appears to offer to introduce the Church to the Detroit Chief of Police.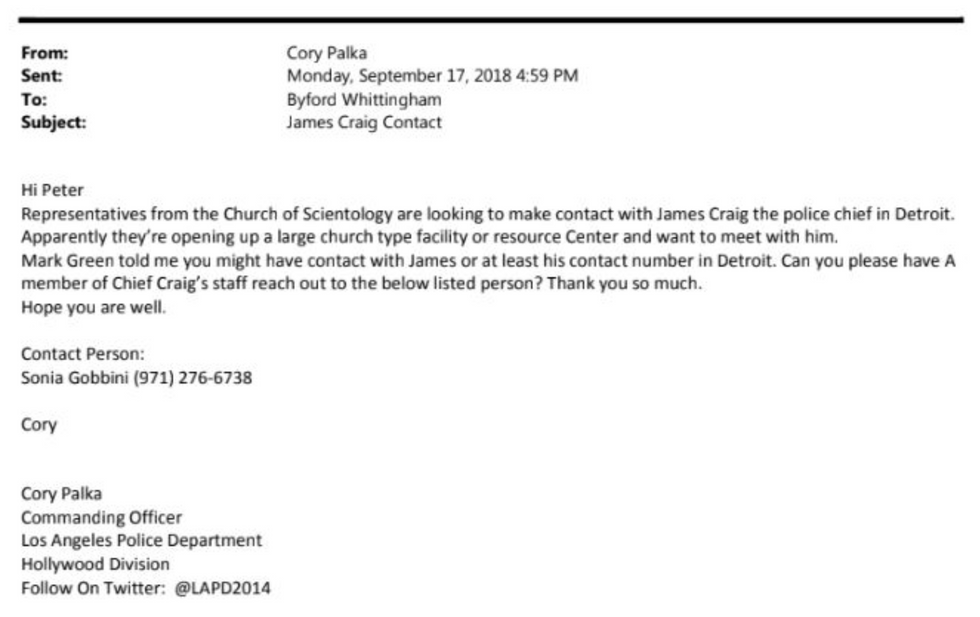 @LeahRemini/Twitter
Additionally, LAPD Lieutenant Andre Dawson–who was put in charge of Remini's report–spoke about matters of human trafficking at a Scientology event.
"You can't make it up," Remini exclaimed.
Remini demanded an investigation looking into the relationship between Palka and the Church, and she requested the LAPD to sever all ties with Scientology and refuse to accept their funds.
She concluded the thread with:

"WHERE IS SHELLY???"
Twitter expressed their concerns and also supported Remini's determination to uncover the truth.
The State of New York reached a settlement in which Moonves and Paramount Global agreed to pay CBS shareholders a combined total of $24.5 million to settle claims of insider trading and sexual misconduct.
As part of that agreement, Palka was identified as the LAPD captain who enabled insider trading.

It also came to light that in 2018, Palka had "secretly leaked confidential police reports and other documents with CBS SVP of talent relations Ian Metrose, who then shared it with Moonves and other CBS execs."
New York Attorney General Letitia James disclosed that the late former Chief Communications Officer Gil Schwartz was authorized to sell nearly $8.5 million of CBS stock ahead of the public disclosure of the sexual conduct allegations against Moonves.
James' office said CBS executives and Palka had "worked for months to keep the assault allegations from becoming public."

In 2013, a Scientology spokesperson told People Remini filing the missing person report was "nothing more than [a] publicity stunt for Ms. Remini, cooked up with unemployed anti-zealots."
The spokesperson also stated Miscavige was "not a public figure" and the Church asked that her "privacy be respected."

On Saturday, the LAPD stated despite allegations of wrongdoing against Palka, the Miscavige investigation was completed properly, noting after the report was filed in 2014, officers "personally made contact with [Miscavige] and her attorney."