When Vogue asked Lady Gaga 73 questions for their popular segment during an interview at her palatial Los Angeles home, the A Star Is Born actress and musician was more than game to answer every single one of them.

The "Bad Romance" singer opened up to the publication about her thoughts on the new film in which she plays struggling artist, Ally.
---
She also shared her inspirations, fondest memories and her fashion choices, all in under ten minutes.
Her co-star Bradley Cooper plays her love interest, Jackson Maine, while also serving as the film's director.

When asked about her on-screen love, Gaga gave Cooper high marks by commenting that he "is an incredible actor, incredible director and absolutely incredible friend all the way around. I'm so excited for people to see his talent."
Gaga follows in the footsteps of Janet Gaynor (1937), Judy Garland (1954) and Barbra Streisand (1976), all of whom played the same tortured female leads in former versions of the film. This is the third remake of the popular 1937 melodrama, but only the last three versions were musically focused. In the original version, Gaynor plays a struggling actress.
The songstress and actress told Vogue she wants her fans "to take away the beautiful love story, the undertones of family dynamic with alcoholism and codependency."
She continued answering questions in rapid-fire succession:
What was her best nostalgic memory living in New York? - When she was 21.
What's her default Karaoke pick? – "The Prayer" duet sung by Celine Dion and Andrea Bocelli.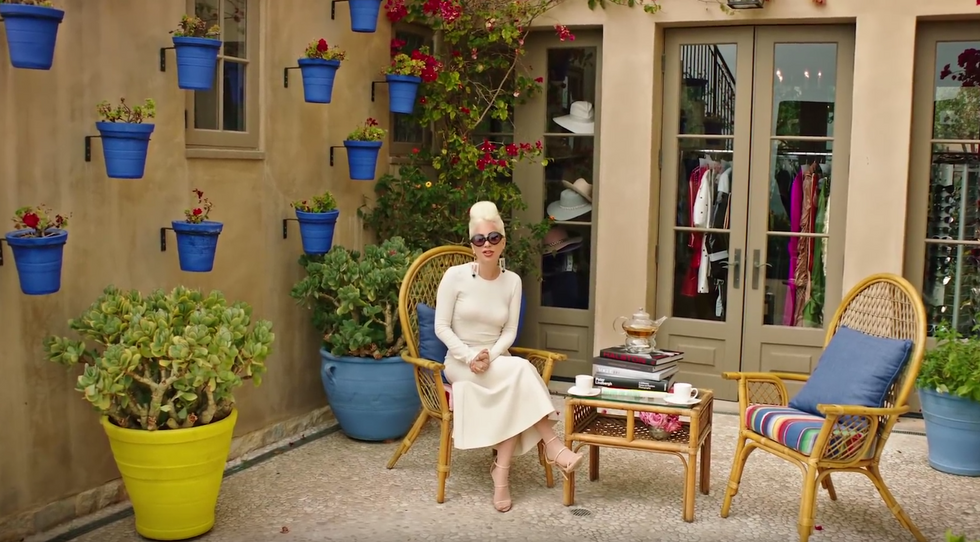 Lady Gaga being interviewed in her Los Angeles home.(Vogue/YouTube)
And speaking of duets, Gaga admitted she loved singing duets with Tony Bennett and Elton John. She also expressed interest in working with Stevie Wonder someday.

Although she was candid throughout her interview, Gaga was evasive on one count. When Vogue asked if Madame Monster could reveal a hidden talent, she simply responded - "no."

A Star Is Born is set for a U.S. release on October 5, 2018.

You can watch the full Vogue interview in which Lady Gaga answers all 73 questions in the YouTube clip below.