Kylie Jenner was slammed after the 24-year-old business mogul's private jet was exposed for taking flights to local destinations as short as three minutes.
The reportedly most followed woman on the internet and The Kardashians reality TV star has frequently–along with her uber-wealthy family–been the subject of much derision for flaunting her ostentatiously privileged lifestyle.

On a recent episode of The Kardashians, she and her mother, Kris Jenner, were filmed at the grocery store, loading up their cart, and checking out with overtly cheerful enthusiasm, making viewers uncomfortable over their reaction to the mundanity of their everyday normal activity.
One Twitter user wrote in response at the time:

"I love that Kylie and Kendall are so out of touch with reality, to the point where they have to have a day to do 'normal things' like grocery store in person."
Another commented:
"[I] thought the 'day of normal errands' with Kris and Kylie would be cute but it's SO GROSS. We know they're out of touch, we don't need to see just how out of touch."
Recently, Kylie posted an Instagram photo over the weekend of herself and her beau–American rapper, Travis Scott–embracing while standing between two private jets.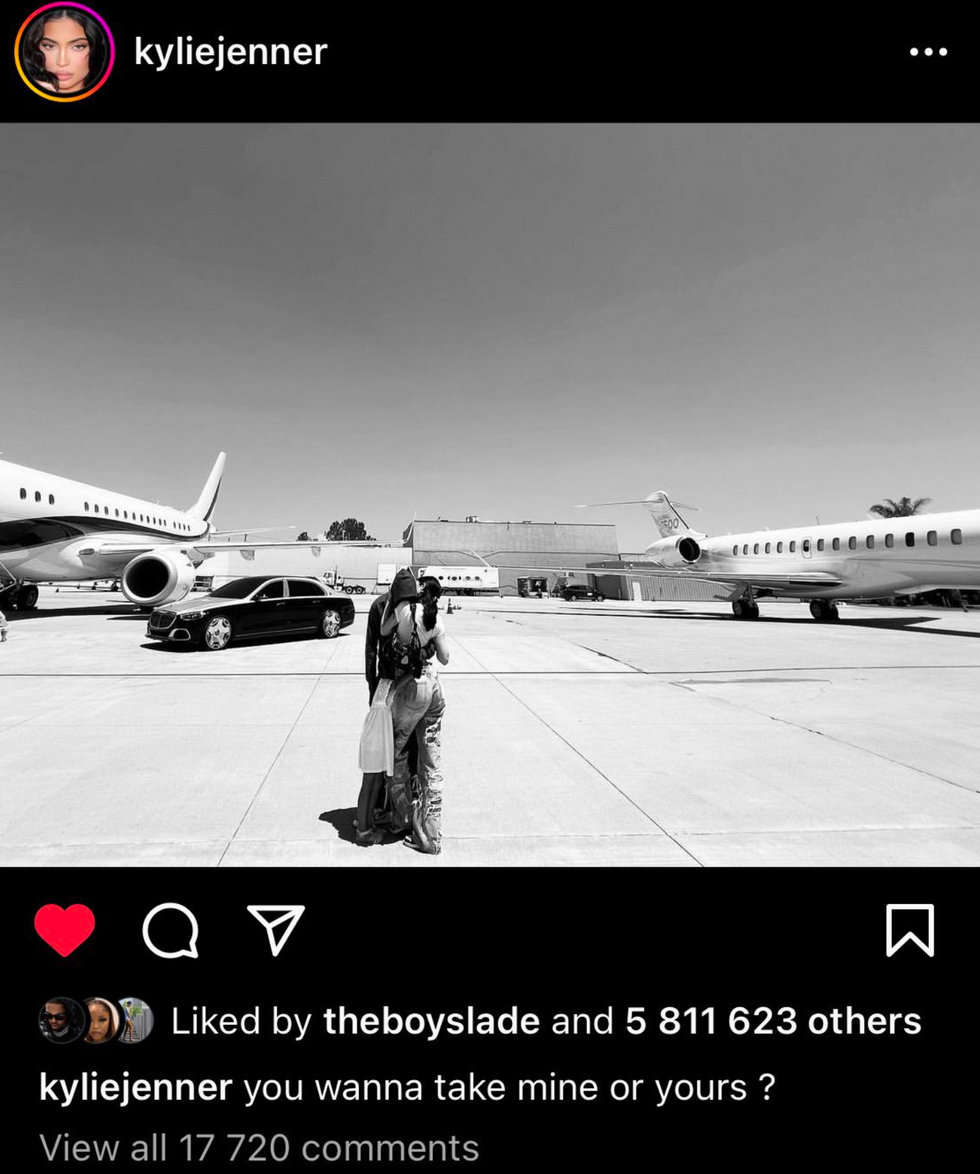 @francesbean_/Twitter
Her caption, "You wanna take mine or yours?" in the photo sparked backlash, with many calling her post "out of touch."
Kylie purchased her $72.8 million jet, Kylie Air, right when the COVID-19 pandemic hit.

She was accused of being a "full time climate criminal" and having an "absolute disregard for the planet" as the greenhouse gas emission from jets–about two tons of CO2 in just one hour–are known to contribute to global warming.
Kylie was further lambasted after it was revealed her jet has flown from Camarillo, California to Van Nuys, California in three minutes.
People pointed out the distance from Camarillo to Van Nuys could be reached by a 40-minute drive.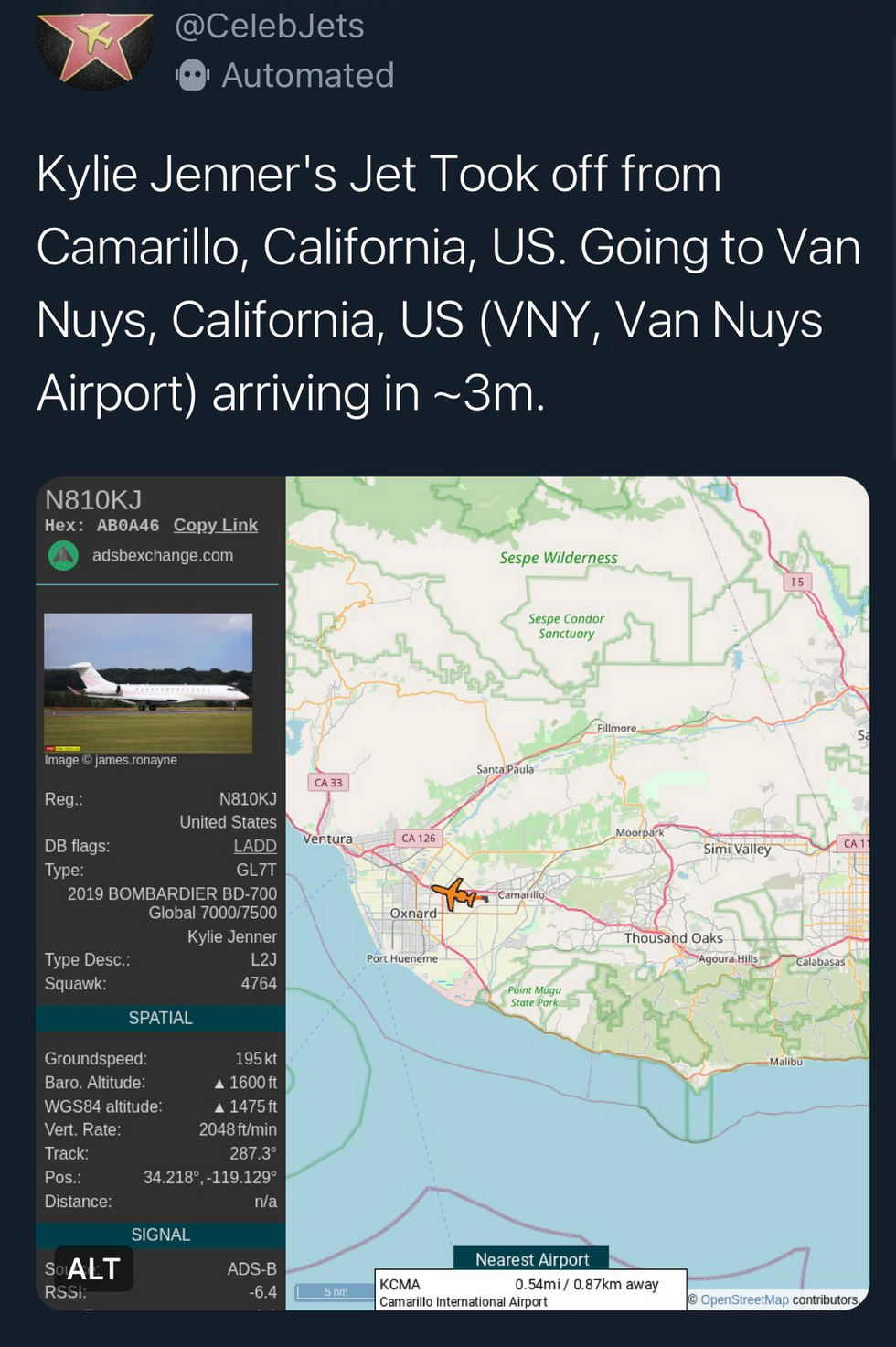 @emily_murnane/Twitter
While it has not been confirmed if the owner of Kylie Cosmetics was actually on that flight, further delving into flight records revealed Kylie Air made frequent jaunts to local destinations–each clocking in at a flight time of under 15 minutes.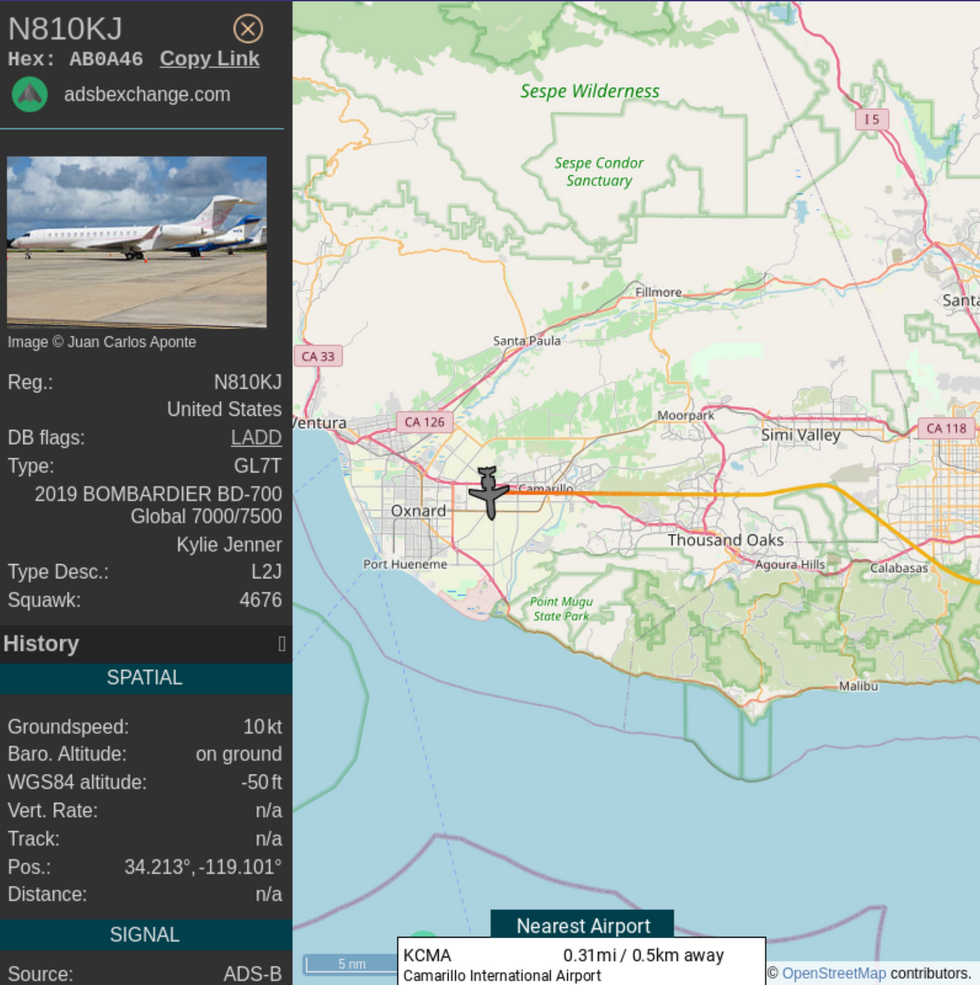 @CelebJets/Twitter
Those who were appalled commented on the injustices of having to make small sacrifices in their daily lives for the greater good, while unconcerned celebrities seem to be turning a blind eye.
In May 2021, Transport & Environment reported that:
"Private jets are 5 to 14 times more polluting than commercial planes (per passenger), and 50 times more polluting than trains, a gap which will grow as private jet users move towards aircraft which are bigger and more polluting than their commercial alternatives."
People continued criticizing Kylie for her inability to read the room at a time when people around the world are struggling to survive on a daily basis with rising costs of everyday essentials.
Kylie is not the only sibling in the Kardashian clan to own a jet.
Her sister, Kim, revealed on an episode of The Kardashians the new renovations done to her private jet, Kim Air.
She said on the show:

"It's so pretty. I never dreamed I would own a plane. I wanted it to feel like an extension of me and an extension of my home."
"The best, most exciting part of the plane is it's all cashmere — ceiling, pillows, headrests."