A new Matrix film is currently in the works, according to director and former stuntman Chad Stahelski.
And Keanu Reeves might be back as Neo once again.
---
Yes, you're in the real world.
A fourth Matrix film is currently being developed by Warner Brothers, as revealed recently by John Wick 3 director and former Matrix stuntman, Chad Stahelski.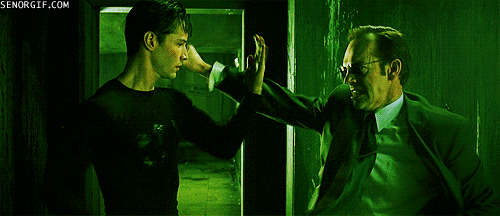 GIPHY
According to Stahelski, it will have the same spirit as the 1998 film. Having been Keanu Reeves' stuntman in all three original movies, he's ready to jump back into the series and enter the Matrix once again.

"I'm super happy that the Wachowskis are not just doing a Matrix, but they're expanding what we all loved," Stahelski told Yahoo Movies UK.
"And if it's anywhere near the level of what they've already done, it wouldn't take more than a call to go, 'Hey, we want you to be a stunt guy' and I would probably go and get hit by a car."
I'll admit, I'm torn about the news of a new Matrix movie. I love the original but not the other two. Maybe I need a rewatch.

— Sergio Pereira (@Sergio Pereira) 1557590926.0
All I want for Christmas is a new movie from the Wachowskis. I don't even care if it's another MATRIX, just let them do *anything*.

— What Remains of K. Sosa (@What Remains of K. Sosa) 1557578442.0
Lets be clear - three Matrix movies - one classic and two very ropey sequels. So I'm hoping this new one evens up the odds.

— World of Film and TV (@World of Film and TV) 1557569368.0
Matrix fans are already hoping that this new installment, which has been confirmed to be canon to the other films, will be better than the last two sequels.

I don't know about you, but I'm excited for this new Matrix project. The original is still one of the best science… https://t.co/1PBa8f5xlx

— Clark Moreau (@Clark Moreau) 1557603264.0
Ooh, the Wachowskis are behind the new Matrix legacy film? Sign me up then.

— Scott Stamper (@Scott Stamper) 1557496335.0
One of the most important questions, however, is whether or not Keanu Reeves will return to play Neo, Matrix's iconic lead role.
"That would be a gift," Reeves said in an interview with Yahoo.
"I wouldn't say no to that. Yeah."
While some may be opposed to the idea of remakes and sequels, it is always exciting to see a new chapter of a beloved series hit the big screen.

Reeves said:
"I think when you get to revisit a story and continue to tell a story, you're bringing in the past and the work that you've done."
"So for me, it's about placing the emotional state of where you are into who the character is. How do they feel? How do they think? And then putting on the suit, if the costume really becomes the exterior that you fill in."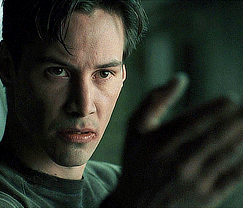 GIPHY
It is unclear whether or not Lana and Lilly Wachowski, the creators of the Matrix series, will be involved.
The first 3 Matrix films are available here.
Either way, a new Matrix is bound to be controversial in the eyes of fans.
If the new Matrix movie rumor is true, consider me interested.

— Nicolas (@Nicolas) 1557581919.0
The world needs a new matrix movie but we don't deserve it.

— James Raymond (@James Raymond) 1557542981.0
Reeves' and Stahelski's new film John Wick: Chapter 3- Parabellum will hit theaters on May 17th.