Canadian Prime Minister Justin Trudeau is often praised for his affable charm; however, his reception in India for his first official trip was under scrutiny due to a series of unintended blunders.
First, he was perceived to have been snubbed by the Indian Prime Minister Narendra Modi, who didn't greet the Canadian leader and his family upon arrival on February 20. This was in stark contrast to when Modi immediately embraced the Israeli Prime Minister Benjamin Netanyahu with his signature bear hug upon his arrival to Delhi last month.
And then, there were judgements made on the variety of Trudeau's ostentatious attire throughout his trip.
---
Trudeau, his wife Sophie Grégoire, and their three children were critiqued on social media for being a little excessive with their lavish and "over-the-top" outfits, including multicolored sherwanis that are better suited for traditional weddings or within the confines of a Bollywood movie set.
Justin Trudeau's week-long trip to India has gone from bad to worse https://t.co/kunIKU4S9L https://t.co/xGmMqHqrk1

— CNN International (@CNN International) 1519316992.0
At a meeting with top entertainment industry officials, Trudeau was draped in a sparkling gold-embroidered garment in Mumbai as he mingled with Bollywood stars like Shah Rukh Khan, who in contrast wore a more muted black suit.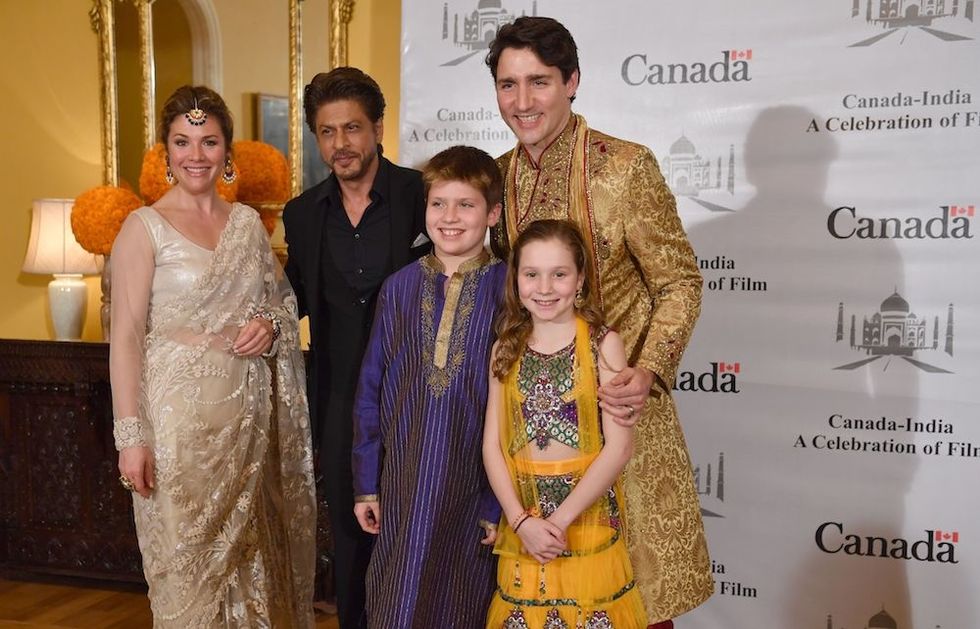 So much razzle-dazzle.(INDRANIL MUKHERJEE/AFP/Getty Images)
Everyone else representing India's film industry attended the convivial affair dressed in non-traditional garb.

Tonight, we celebrated stronger cultural and business ties between our two countries. Great to meet @iamsrk and to… https://t.co/YQqHZ9plfM

— Bardish Chagger (@Bardish Chagger) 1519180525.0
I'm sure upstaging other Indian luminaries was not Trudeau's original intent.

@JustinTrudeau @iamsrk Man you look more #Bollywood than @iamsrk himself in this pic 😎

— Sa`ad Mohamed 🇵🇰 سعد محمد بن ظفر (@Sa`ad Mohamed 🇵🇰 سعد محمد بن ظفر) 1519201494.0
@nationalpost They look like idiots dressed like that while everyone around them is in business casual.

— Andrew Ayotte (@Andrew Ayotte) 1519393025.0
"It's mostly worn by a groom on his wedding day," said Ruqayya Saed, owner of Apna Collection, which is a traditional Indian clothing company. In a more forgiving tone compared to other critics, Saed said, It is too formal, but . . . if he was comfortable (in it), that's good."
With every landmark stop on their tour, the press captured photos of the Trudeau family in various traditional outfits for every occasion, and often with their hands together in namatste reverence.
Justin Trudeau's India visit deemed a 'slow-moving train wreck' amid claims he was 'snubbed' https://t.co/JCOdeLNc6R

— CNBC (@CNBC) 1519263677.0
But, the locals got the point the first time around.
Vivek Dehejia, an economics professor at Carleton University in Ottawa, thought the family's outfits were excessive. He told Canada's Global News, "I understand on day one having to wear the traditional clothes, but now it's getting too much."
Six things that have gone wrong (so far) on Justin Trudeau's trip to India https://t.co/j5u10zfnZZ https://t.co/nS0g0yBfZQ

— National Post (@National Post) 1519392509.0
Indian politician Omar Abdullah schooled the Canadian leader, saying, "We Indians don't dress like this every day sir, not even in Bollywood." He tweeted snapshots from other events where the family visited decked out in a loud cultural nod to the country.
Is it just me or is this choreographed cuteness all just a bit much now? Also FYI we Indians don't dress like this… https://t.co/BZpdZVeLEo

— Omar Abdullah (@Omar Abdullah) 1519199301.0
Visiting the Sabarmati Ashram in Gujarat. Everyone's in Kurtas (everyday outfits) with festive garlands around thei… https://t.co/uT6fxikIcE

— Josh K. Elliott (@Josh K. Elliott) 1519310165.0
No room for quirky socks here. Trudeau's wearing juttis #TrudeauInIndia https://t.co/KCQvCrynPw

— Josh K. Elliott (@Josh K. Elliott) 1519310170.0
Trudeau was accused of cultural appropriation.
@JustinTrudeau Why aren't the #SocialJusticeWarriors not crying "cultural appropriation"? Right, it's #Trudeau doing it.

— Mister Lewis C (@Mister Lewis C) 1519278571.0
But a Trudeau loyalist came to his defense.
I don't understand why people are dragging Justin Trudeau for wearing desi clothing while visiting India? His inten… https://t.co/MYFj5x6x9A

— pani puri priyyyaaaa (@pani puri priyyyaaaa) 1519272784.0
@priyaalovee Totally agree - Props to Canadian PM for embracing Indian Culture #oneworld #downtoearth #oneness

— Charlie Singh (@Charlie Singh) 1519339860.0
The beleaguered Canadian Prime Minister, however, finally met with Narendra Modi in Delhi after the absent welcome reception earlier on Saturday. But it took until the sixth day of Trudeau's visit for the Indian Prime Minister to welcome him.
Canadian PM Justin Trudeau gets PM Modi's bear hug, on day 6 of India visit Read more: https://t.co/uT6W2effKe LI… https://t.co/TfaRKaTyT6

— NDTV (@NDTV) 1519362392.0
The two met for bilateral talks on Friday afternoon. During a discussion on expanding trade links with India, Trudeau described the country as "a natural partner and a trusted friend for commercial cooperation."
Modi echoed the sentiment by responding, "India has attached a high importance to pursuing its strategic partnership with Canada. Our ties are based on democracy, pluralism, the supremacy of law and the mutual interaction."
Trudeau ditched the cultural attire for his press conference with Modi, which seemed to suit the Canadian leader just fine.

India's business community is showing huge confidence in Canadian talent because setting up shop in Canada makes se… https://t.co/1FWsebwVUs

— Justin Trudeau (@Justin Trudeau) 1519321957.0
@JustinTrudeau @narendramodi Thank you for putting on a suit.

— DerwickRiel (@DerwickRiel) 1519398794.0