30 Rock might've aired its final episode back in 2013, but the legacy of the oh-so-eccentric Jenna Maroney lives on.
---
Twitter User and Playbill Managing News Editor Ryan McPhee has cooked up an interesting theory about the fan-favorite bubbly, blonde and all of the predictions she has made which have come true since the television series ended.

You can read them all here.
Since 30 Rock ended, we've had: - A Broadway adaptation of a Grisham novel - A Janis biopic that failed to get of… https://t.co/InrmuCH81t

— Ryan McPhee (@Ryan McPhee) 1548292420.0
In short, Jenna Maroney was a psychic.

Allow us to explain.

One of the most famous episodes of the show is the 10th episode of the first season, where Jenna releases an independent film called The Rural Juror.
During the episode, it is explained that the movie is based on a novel by Kevin Grisham, fictional brother of real-life novelist, activist, attorney, and politician John Grisham.
Jenna goes on to perform a song from the film on-stage...

uproxx.files.wordpress.com
...and then, in 2013, a Grisham did see his novel transformed into a production on Broadway. John Grisham's debut novel and one of his bestselling legal thrillers, A Time to Kill, saw a stage adaptation at the John Golden Theatre.

Example two.

Fast-forward to the 18th episode of season three, and Jenna is producing yet another movie, this time a biopic on Janis Joplin called Jackie Jormp-Jomp, which ultimately failed to take off.
Well folks, guess what happened years later in 2018?
Yes, a failed biopic about singer-songwriter and female rock star extraordinaire, Janis Joplin!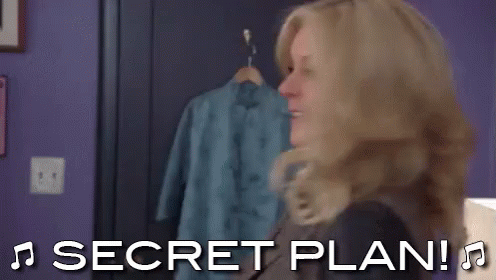 media1.tenor.com
The biopic starring award-winning actress Amy Adams, Get it While You Can, was axed in 2017 after almost seven years of attempting to bring the film to life. Wild!

Still not convinced?

She featured a nordic werewolf on an unforgettable sketch dubbed "Werewolf Bar Mitzvah" on the fictional SNL style show, TGS with Tracy Jordan during season two.
What type of animal was featured in the highly-anticipated superhero sequelThor: Ragnarok in 2017? Yes, a nordic werewolf named Fenrir!
Finally we can't forget about Mystic Pizza.

Mystic Pizza was a (real-life) popular rom-com in the '80s, starring Julia Roberts, Lili Taylor, and Annabeth Gish.
In the second season of 30 Rock, Jenna credits her summer weight gain to her role in Mystic Pizza: The Musical.
Now, in 2019, it has been announced that the romantic comedy is actually going to be adapted into a musical! On Broadway! Can you believe it?

So we rest our case here.
Jenna Maroney was psychic!

Angel: I, I, I— Jenna, a prophet: https://t.co/HNJjIRQVg7

— Ryan McPhee (@Ryan McPhee) 1548356784.0
Thank you for shedding a light on this important information, Ryan.
Jenna Maroney the Prophet!
@rdmcphee Listen up, fives. A prophet is speaking!

— MKB (@MKB) 1548357113.0
People were blown away and beyond impressed.
How could you not be?
This is almost on-par with the predictions made by The Simpsons, people!
@rdmcphee @divarobbie Omg. This is incredible

— Matt Doyle (@Matt Doyle) 1548298241.0
@rdmcphee @MrNishKumar This has made my day ❤️

— Louise Hulland (@Louise Hulland) 1548333704.0
And when you think about it, this would make the writers of the show, like Tina Fey and Donald Glover, real prophets.
Right?
Right.
@rdmcphee that would make Tina Fey her oracle. the true Cassandra of American pop culture

— Carl Ring (@Carl Ring) 1548431312.0
@rdmcphee the most revolutionary show of our time these writers were prophets tina fey was a prophet

— carmen (@carmen) 1548384768.0
@rdmcphee Just more proof @donaldglover is a time traveler.

— Layla (@Layla) 1548430752.0
Some are satisfied and others are demanding Rural Juror on Broadway specifically.

Who knows?
Given these predictions and outcomes, anything can happen.
@rdmcphee @MrNishKumar But where is the Rural Juror?

— Nick Dineen (@Nick Dineen) 1548334665.0
@rdmcphee @lilcarnitas Give me a stage version of The Rural Juror or give me death!

— Kimberly Skoda (@Kimberly Skoda) 1548371359.0