A lawsuit has been filed against several Illinois police officers for holding a young, Black athlete at gunpoint after mistaking him for a criminal.
---
19-year-old Jaylan Butler, a swimmer for Eastern Illinois University, was on his way back to campus on his team's bus after a competition in South Dakota.
I'm deeply troubled by what I've read about how Jaylan Butler, an African-American athlete at EIU, was mistreated b… https://t.co/dYfEIXe9Br

— Governor JB Pritzker (@Governor JB Pritzker) 1581642998.0
Outraged this happened to Jaylan. But sadly, we know experiences like his happens every day in America. We need str… https://t.co/Qq4dsEkrHV

— Kamala Harris (@Kamala Harris) 1582040178.0
When the bus pulled over at a rest stop, Butler posed for a picture in front of a "Buckle up, it's the law!" sign to post on the team's social media.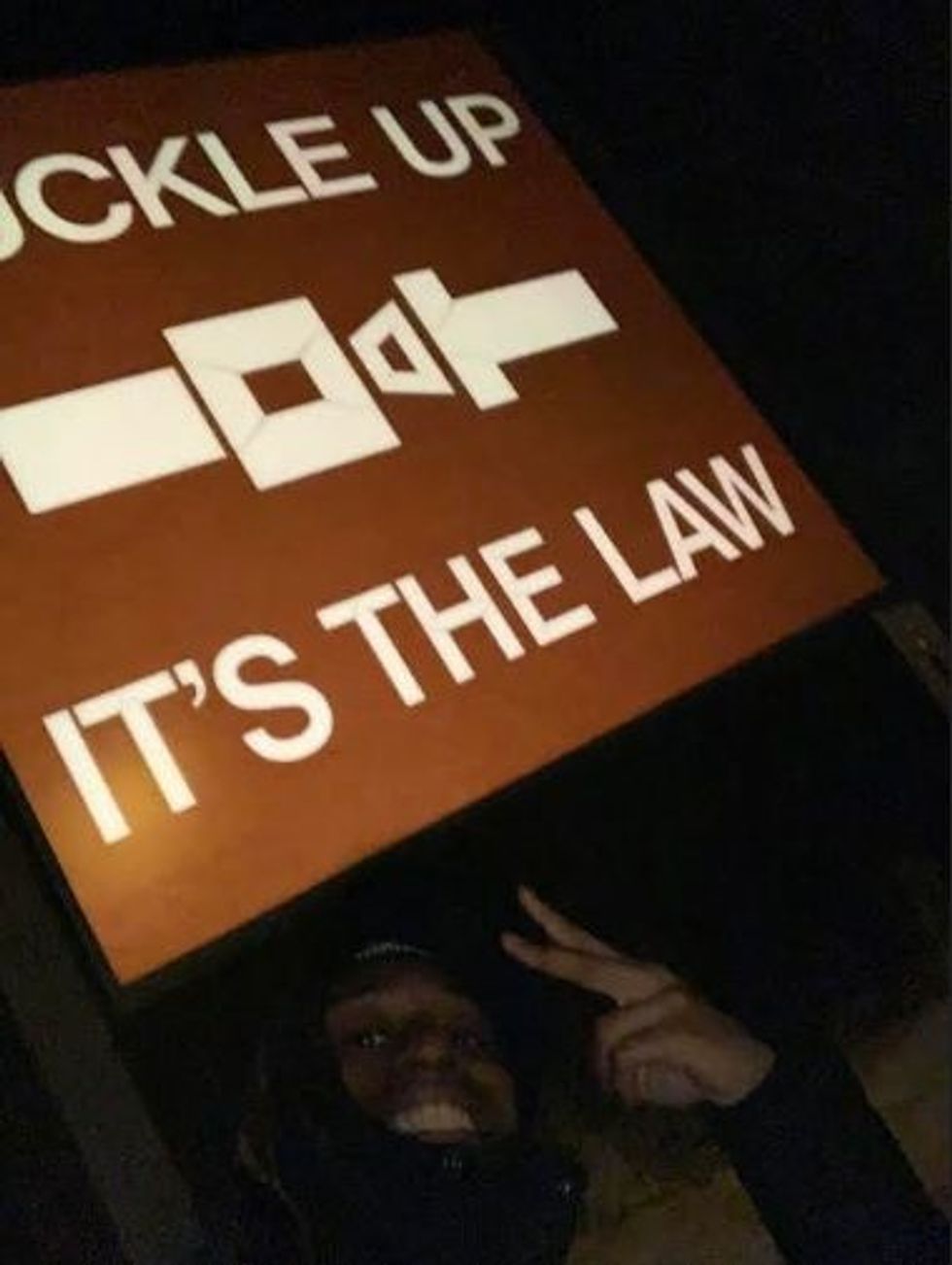 Jaylan Butler/ACLU Of Illinois
While standing by the sign, Butler was swarmed by police cars with spotlights aimed at him.
Officers leapt from the vehicles and aimed their guns at him.
@shomaristone @gimli0413 @NBCNews I can't imagine the impact that these cops terrorizing this young man will have o… https://t.co/e9VwUkkGAc

— MizFrizz ❄ (@MizFrizz ❄) 1581775645.0
In his lawsuit, Butler described his response:

"Butler has always known that he could be targeted by police officers because he is Black. Mr. Butler's father taught him at a young age how to maximize his chances of surviving an encounter with law enforcement—stop instantly, put your hands up, drop anything you are holding and drop to your knees."
Butler said the officers shouted at him:
"Get down! Don't f*cking move!"
@shomaristone @KenobiCheated @NBCNews I hope he's successful in his lawsuit and those officers need to be fired!

— RobinVotesBlue (@RobinVotesBlue) 1581803656.0
The police then held Butler face down in the snow, pressing down on his neck and back, while he was handcuffed with his hands behind his back.
Butler made no move to resist, but one officer held a loaded gun to his head, saying:

"If you keep moving, I'm going to blow your f*cking head off."
Butler's coach and White teammates attempted to explain to the police that Butler had been on the bus with them all evening and so could not be the suspect who allegedly shot at a vehicle on the highway nearby.
His name is Jaylan Butler & he's a student-athlete at Eastern Illinois U. He went to take a bathroom break on a roa… https://t.co/wkd83tGoYs

— Simar Ahluwalia (@Simar Ahluwalia) 1581887355.0
The officers seemed to figure out fairly quickly Butler was not their man, with one officer allegedly even calling in the encounter as a "false alarm" to dispatch.
They did not release Butler at that point, however.

The police proceeded to frisk Butler—who was still handcuffed—and searched his pockets. They then placed him in the back of a squad car for several minutes before removing him after demanding his identification before sending him back to his all White teammates and coaches.
No other members of the team were handcuffed, searched, questioned or forced to produce ID.
"As I took the picture, there was a line of police officers ... they came to a screeching stop in front of me," But… https://t.co/qeJpCYNgxT

— Brittnee Anderson (@Brittnee Anderson) 1581602313.0
The officers did not properly document the incident.
They also refused to provide their reason for cuffing or detaining Butler or and would not give their badge numbers to Butler when asked for them.

@MarkMaxwellTV As a 23 year veteran police officer I am appalled and disgusted that this type of behavior is still… https://t.co/vjhzUCTCJI

— Jerome Hinojos (@Jerome Hinojos) 1581615918.0
The American Civil Liberties Union has now become involved with Butler's lawsuit.
Ed Yohnka, the ACLU's Illinois spokesperson, commented:

"We have a law in Illinois that requires police to record these interactions, to make a record of them when they stop a car, when they stop a person, etc."
"That was just ignored in this instance. We put these accountability measures in place as a state, as a community. I think it's really critical that we also insist that police follow them."
Most have no idea how terrifying this is! Most dont care either that's the sad part. Prayers for Jaylan Butler. HE… https://t.co/Xwmwwr3Pu6

— 10 (@10) 1581887781.0
The lawsuit for excessive detention and excessive force as well as other things was filed against six officers:
"East Moline Police Officer Travis Staes, Hampton Police Officer Ethan Bush, Rock Island County Sheriff's Deputies Jack Asquini and Pena (no first name provided for the second deputy) and two unknown law enforcement officers identified only as John Does."

East Moline Police Chief Jeff Ramsey defended his officers in a statement.
"The lawsuit filed by Mr. Butler portrays a version of events that is inconsistent with the version of events we have uncovered in our initial review. I am confident the allegations against Officer Staes are without merit."
Following the incident, Butler's mental health has suffered. He's had trouble focusing on his coursework as a biological studies major at EIU and has begun seeing a therapist to address his mental state.
Yohnka pointed out:
"Even when he followed all of the instructions, this was the way he was treated. This didn't end in tragedy but somebody got harmed significantly. ... There has to be accountability."