Sometimes you're just not feeling it. Or you are too busy with work and life, and all of a sudden you realize it's October 31. Or maybe you are in active rebellion against the cultural expectation of dressing up in a Halloween costume, be it scary, or funny and cute, or sexy. You are not alone.
---
Using the #IDontDressUpBecause hashtag, these people are taking a stand, before their peers and the world, against dressing up for Halloween. And they are proud.
Some prefer dressing down instead of up. Loving the error message.
#IDontDressUpBecause I dress down instead https://t.co/D3Bam0WU1w

— CookieMan (@CookieMan)1509449907.0
Some complain that it is too cold at the end of October to be out in the night while wearing that skin tight superhero costume - Though not this year, as October saw record-breaking highs across the nation. Thank you, global warming!
#IDontDressUpBecause it's too cold. Halloween should be in August. https://t.co/PrlUnupHds

— K. Alice (@K. Alice)1509448788.0
While others complain that wigs can be expensive, and they've already exhausted their wig budget.
#IDontDressUpBecause I already exhausted my wig budget. https://t.co/XvJNDtXFXp

— Dont Think So (@Dont Think So)1509447656.0
There's also the legit reason that your friends might not recognize you. And then you'll find out how they really feel about you. Actually, that is a great idea!
#IDontDressUpBecause I'm afraid people won't recognize me https://t.co/AaSPtDWiWH

— Doogie Yowza (@Doogie Yowza)1509451738.0
Some people just don't have the time, as they are too busy with their "costume" roles the other 364 days out of the year.
#IDontDressUpBecause my costume everyday naturally is a Mombie.. https://t.co/6RkXDm95Cp

— Jmarie (@Jmarie)1509447720.0
Then of course there are those who prefer dressing up their children... I mean, their PETS!
#IDontDressUpBecause it's more fun to dress up my cats instead. https://t.co/xWkJ1zB5k5

— Rachel (@Rachel)1509447729.0
There are those, more self-aware and confident, who don't feel the need to dress up because they know they are already strange, unusual, and fabulous!
#IDontDressUpBecause I'm already fabulous. https://t.co/uL5cOv0Ckb

— Nev Crocker (@Nev Crocker)1509447759.0
#IDontDressUpBecause I'm strange and unusual enough... https://t.co/YzNttEx6gG

— Nolene Dougan (@Nolene Dougan)1509447745.0
And finally, we have John Morgan keeping it real: "I don't want to put that much effort in for small candy bars. I'll just go buy one."
#IDontDressUpBecause I don't want to put that much effort in for small candy bars. I'll just go buy one.

— John Morgan (@John Morgan)1509447672.0
But if you are having a change of heart, or experiencing more than a twinge of FOMO that you cannot bury deep, deep in your soul, then the Lifestyle section of The Telegraph has a few suggestions to help those who loathe dressing up.
What to wear for Halloween if you don't like dressing up
Wear all black. You can never go wrong with black, be it clothes or makeup.

Wear something velvet to conjure up thoughts of witches, magicians, and tarot cards.

Amp up the glamour with jewelry and accessories, and you have instant fabulous vampire.

Add a little sparkle for that immortal look, or if you prefer the Twilight kind of vampire.
As for myself... I'm going as a muggle.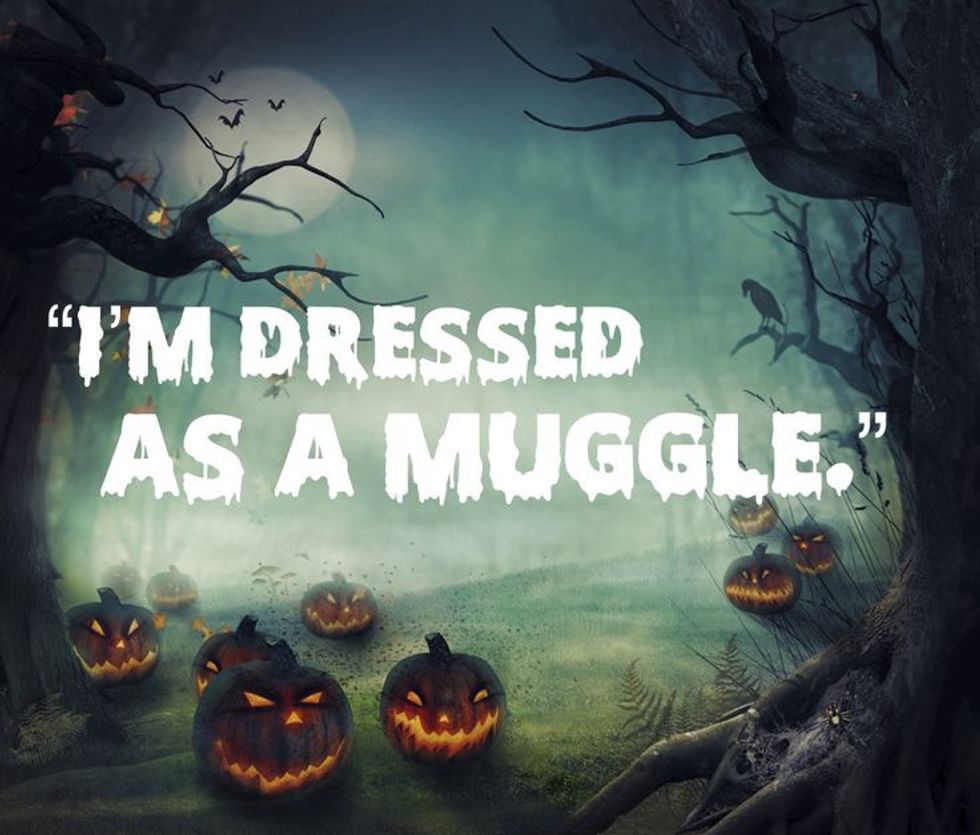 SHARE this with your friends and family.