Chrissy Teigen and John Legend are very public figures and have used their platform to advocate for progressive stances. They even tried to remove a lot of stigma around pregnancy and were very open with complications Teigen experienced while expecting.
This is why they were incredibly open when the unimaginable happened and they lost the child, despite the pain the situation caused them.
It was a very vulnerable thing to do, but one that hopefully made others who've experienced the same tragedy feel a little less alone.

However, that same vulnerability was attacked by a candidate for the U.S. House of Representatives in California.
Errol Webber decided this was the perfect time to shame Teigen and Legend for their views on pro-choice legislation.
While most comments about Teigen and Legend were sympathetic and offered condolences, the comment above from Errol Webber asks the couple to rethink their position on abortion. Again, this is right after they lost their pregnancy to a miscarriage.
Webber is currently running to represent CA-37 in the House. He is a big Trump supporter and is struggling to gain any traction against Democratic incumbent Karen Bass.
This may have been why he felt it necessary to cause controversy.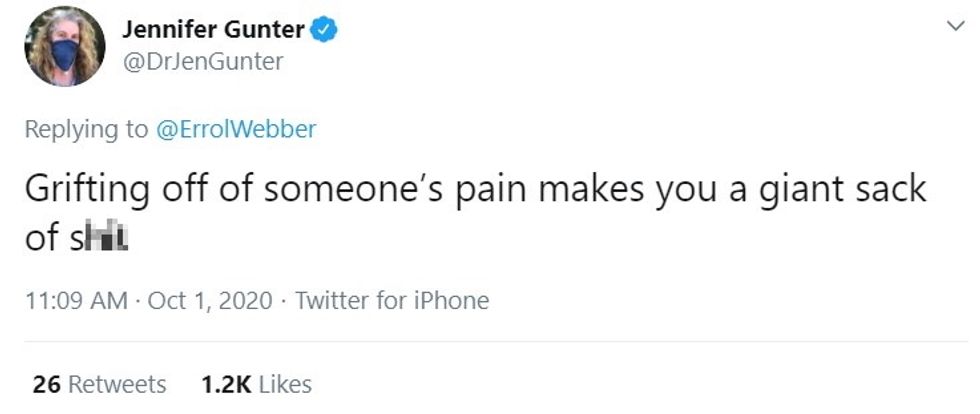 DrJenGunter / Twitter
Webber wasn't the only one making comments in poor taste after a tragedy. Conservative personalities Diamond and Silk questioned Teigen's photo, and sports journalist Jason Whitlock felt the moment might have been better kept private.
However, bereavement photography is a legitimate service offered and can help families deal with the grief of the loss of a baby. Additionally, Teigen had been very purposefully open with her issues with this pregnancy, and this was the unfortunate end.
Sharing it can provide closure for both people who've experienced this, as well as for Teigen herself.
Which is why this noble moment shouldn't be used to score cheap political points.
Our hearts and thoughts go out to Teigen and Legend as they deal with this tragedy. If anything can bring them some semblance of peace during this time, we hope they find it.
Meanwhile, if you're in California's 37th district, you're probably already voting for Karen Bass, but you might see about supporting her campaign anyway. She likely doesn't need the help to win against her opponent, especially since he likes running his mouth on Twitter, but participating in our democracy is a good habit all the same.