Gabbie Hanna is a Los Angeles based internet personality who just blew her followers' minds.
Like many influencers, she shared a bunch of photos of herself having a blast and looking adorable at Coachella. But Gabbie had a trick up her sleeve.
---
After a few days, she updated her comment on each of her photos with:
"OOPS i faked it all! go check out the video on how i pretended to go to Coachella up now! 🖤"
Her 3.8 million followers were left shocked.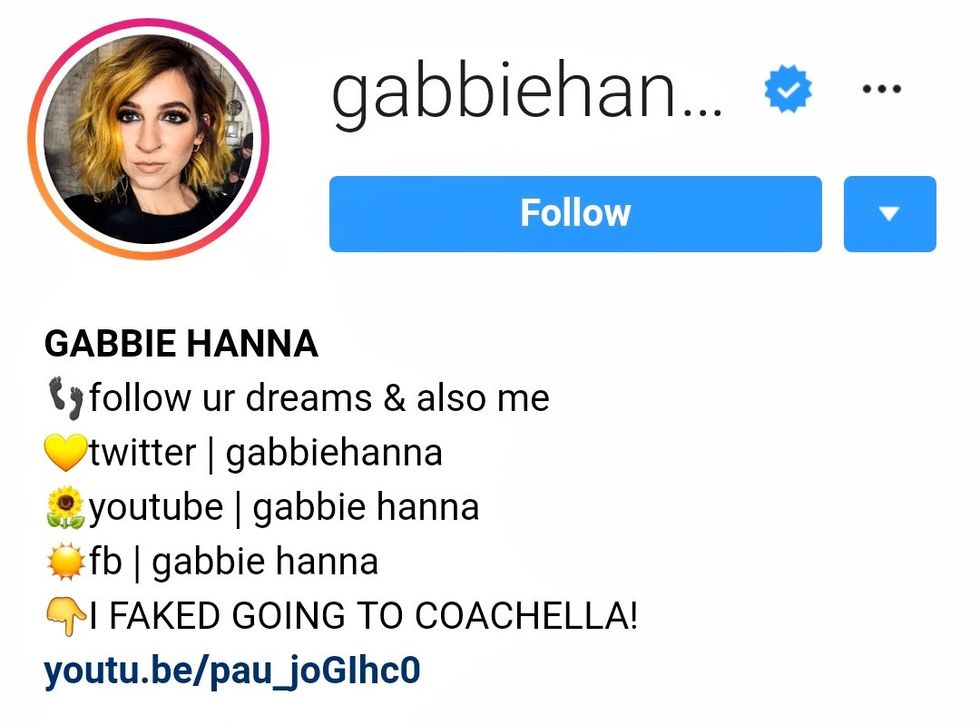 @gabbiehanna/Instagram
Why would she trick them like that?

It turns out, Gabbie had a really good reason. Before we get into that, though, let's take a look at some of the pictures she shared.
Gabbie had been inundated with followers and social media influencers asking her if she was going to Coachella. It got her thinking... why was Coachella so important?
The more she thought about it, the more she realized it was about status. Lots of internet stars spent the whole festival posing for pictures and not actually enjoying the music.
Not to mention it's prohibitively expensive for most people.
Gabbie shared some thoughts:
"It feels like a lot of work for something you're not enjoying and it can take weeks of preparation and thousands of dollars."
Then Gabbie got the news that really set her over the edge.
Some of the influencers she knew admitted to taking extra outfits with them to spend their time doing more shoots so they can make it look like they went for both weekends instead of just one.
She hatched a plan.
If other internet personalities were going out of their way to deceive their followers about Coachella, she would too. But she would be honest with them about it.
She wanted her followers to know that social media can be full of lies, so she was going to show them exactly how she did it.
Here's her video on the matter:
I Faked Going To Coachella...youtu.be
Throughout the video she goes step by step showing how she faked each shot. She shows where she took her original shots and exactly how they were photoshopped.

Gabbie even credits her photographer and photoshop artists in the updated comment on her images!
She came clean with the video as well as this Instagram post:
Her followers were totally into it once she showed them exactly how she did it.

Gabbie explained exactly what she hopes her followers learn from her little prank:
"People look at people on Instagram and social media, and they think, 'wow their life is impossibly perfect' but that body, that vacation, that car – so much of it's fake."


Update: A previous version of this article mistakenly reported that Hanna was from Australia. She is from Pennsylvania and based in Los Angeles. The article has been updated to reflect this.