Security footage at a big box store showed an employee making a horrific discovery after business hours when she went into the backroom to drop off merchandise apparently designated as returns and exchanges.
As TikToker Sierra Galvez–a.k.a. @squintsybengchen–pushed a shopping cart with the items past a pile of boxes in what appeared to be the warehouse portion of the store, she heard a noise.
When she went to investigate the source of the sound, she discovered she was not alone.
Galvez found herself locking eyes with an individual who was not a coworker pulling a prank by hiding behind boxes.
"I can't imagine anything scarier than this night for me," she wrote in the clip's caption.
A video clip of the security footage went viral with over 10 million views.
It is unclear where Galvez was working, but the incident appeared to be place at a large retail chain.

She recalled her unsettling encounter in detail for a follow-up video.
"I heard a noise, and it sounded like paper or cardboard falling," she said.

"I kind of joke around that this place is haunted, so I'm freaking out because we always hear noises back there."
"I saw a stack of signs tipped over and, instantly, I'm like, there's something wrong, they're not supposed to be tipped over."
When she saw a "black lump" among the boxes, she internally chuckled, thinking it was some sort of animal, like a cat.
"I didn't expect to see a hand next to the 'black lump.' So I'm like, 'what is going on?'"
Galvez said as she slowly followed her gaze upward, she saw a man's face, half obscured, staring at her "dead in the eyes."
"That will forever haunt my eyes. The stare," she said.
In response to a TikToker's concern, Galvez said of the man:
"He went in there as a customer and hid in the back, and I at least passed him 2 times without noticing."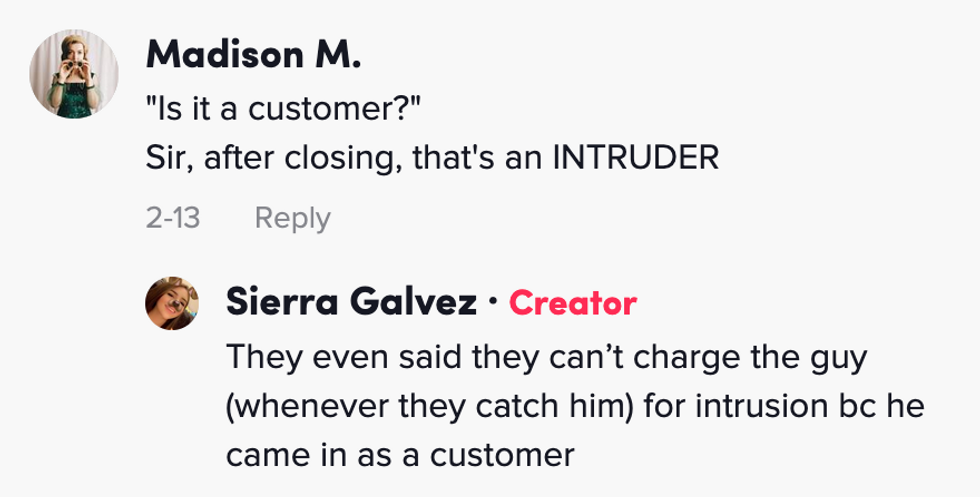 @squintsybengchen/TikTok

@squintsybengchen/TikTok

@squintsybengchen/TikTok

@squintsybengchen/TikTok
In another clip showing the continuation of the CCTV footage, a visibly unnerved Galvez flees the scene, leaving behind the shopping cart.


@squintsybengchen/TikTok
Moments later, a man emerges from the row of boxes, retrieves an item from one of the stocked shelves and absconds with it.
Galvez said as soon as she saw the man, she paged her manager to inform him of the hidden customer in the store's warehouse.

In the event the intruder had a weapon, she said she reached into her back pocket for the pocket knife she carries around as an employee, but realized it would not have served a purpose in her situation in case things went awry because it was a manual, retractable knife.
Galvez said she ran in a way that would make it difficult for her to be in the line of fire in case the man had a gun, but as she turned a corner, she stumbled, leaving her with swollen knees.
She eventually found a place to hide and waited for help to arrive.

@squintsybengchen/TikTok
Police told her the man couldn't be charged for intrusion because he was technically a store customer, as he had already been in the facility during store operating hours.
"Intrusion" is legally defined as a situation when an organization or person "intentionally invades the private affairs" of someone else.
A store like the one where Galvez is employed is considered private property with public access during business hours, so if an individual walked into the store during store hours, they are technically not intruding.
Thankfully, Galvez came out of the harrowing situation to share her story.