On August 7, Elon Musk broke the internet when he dropped this bombshell of a tweet:
Announcing Tesla was going private was huge news that sent its stock skyrocketing and investors scrambling. There's just one problem: that funding, which you may remember Musk claiming had been "secured," may not be so "secured." As soon as the internet found out, the phrase was given the meme treatment.
---
Perhaps the most notable burn came from Urban Dictionary, a comedy "dictionary" that defines slang terms in hilariously honest ways. As of now, the definition for "funding secured" reads:
Me to my new girl: 'Taking you to Hawaii this winter. Funding secured,'" followed by the hashtags #money #funds #budget #broke #bankrupt.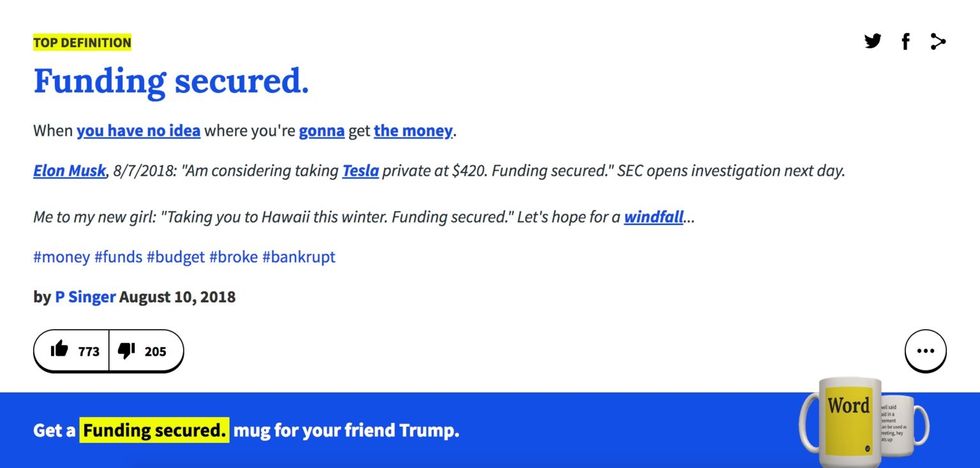 Urban Dictionary
But the good folks at Urban Dictionary weren't the only ones to pile on Musk's over-confident tweet. Twitter's funding was also secured!
Some non-human companies even got in on the joke!
Considering taking this joke viral. Funding secured.
Musk has continued to insist taking his company private is a viable option, later tweeting:
But, despite Musk's bravado, the "funding secured" tweet has put him and Tesla in serious legal jeopardy. Since his "announcement," which reportedly blind-sighted several members of the Tesla board, four separate lawsuits alleging securities fraud have been filed by investors. Basically, if Musk claimed he had funding secured when he did not, he's manipulating investors illegally.
Musk and Tesla are now the subject of an investigation by the Securities and Exchange Commission, which is focusing in on whether Musk's tweet may have been an intentional effort to hurt short-sellers (investors who sell stock they've borrowed from a third party, only to buy it back at a lower price and return it to the owner while pocketing the difference), whom Musk has decried in the past.
It seems Musk will go to some pretty extreme lengths to escape the nefarious short-sellers—perhaps even lie about having funding secured to take his company private. The SEC investigation into Musk will continue as lawsuits proceed. As pressure mounts on Musk to recuse himself from Tesla going public, he's announced he will not be doing that. Musk will also be staying on as CEO of the company, unless of course he's brought down by some sort of legal action.