An Airbnb user was threatened by an agitated apartment host who demanded that they remove their four out of five-star rating or "the fun begins."
While patrons on various service apps are not obligated to leave reviews detailing their experiences, it is a customary practice to let future customers know what to expect–whether the experience was positive or unacceptable on a five-star scale.
Airbnb–the vacation rental service–is one such app in which both the customer and homeowner mutually rate each other in the hopes of earning a polished reputation for repeat business.
Unfortunately, there are times when a less than stellar review can lead to an unsettling outcome as it did for Professor Dr. Alex Moore.
Moore tweeted at Airbnb asking for help in the interest of their and the public's safety.
"Can you explain to me and everyone else why the host who sent me this message is still active on your platform?" they asked, adding, "This person is clearly a threat and should not be allowed to host guests."
Moore shared a screenshot of the unnerving request from the host, who wrote:
"I have your picture, your name and your number."
"You have 48 hours to remove your review or I'm hiring a private investigator to obtain your address and then the fun begins."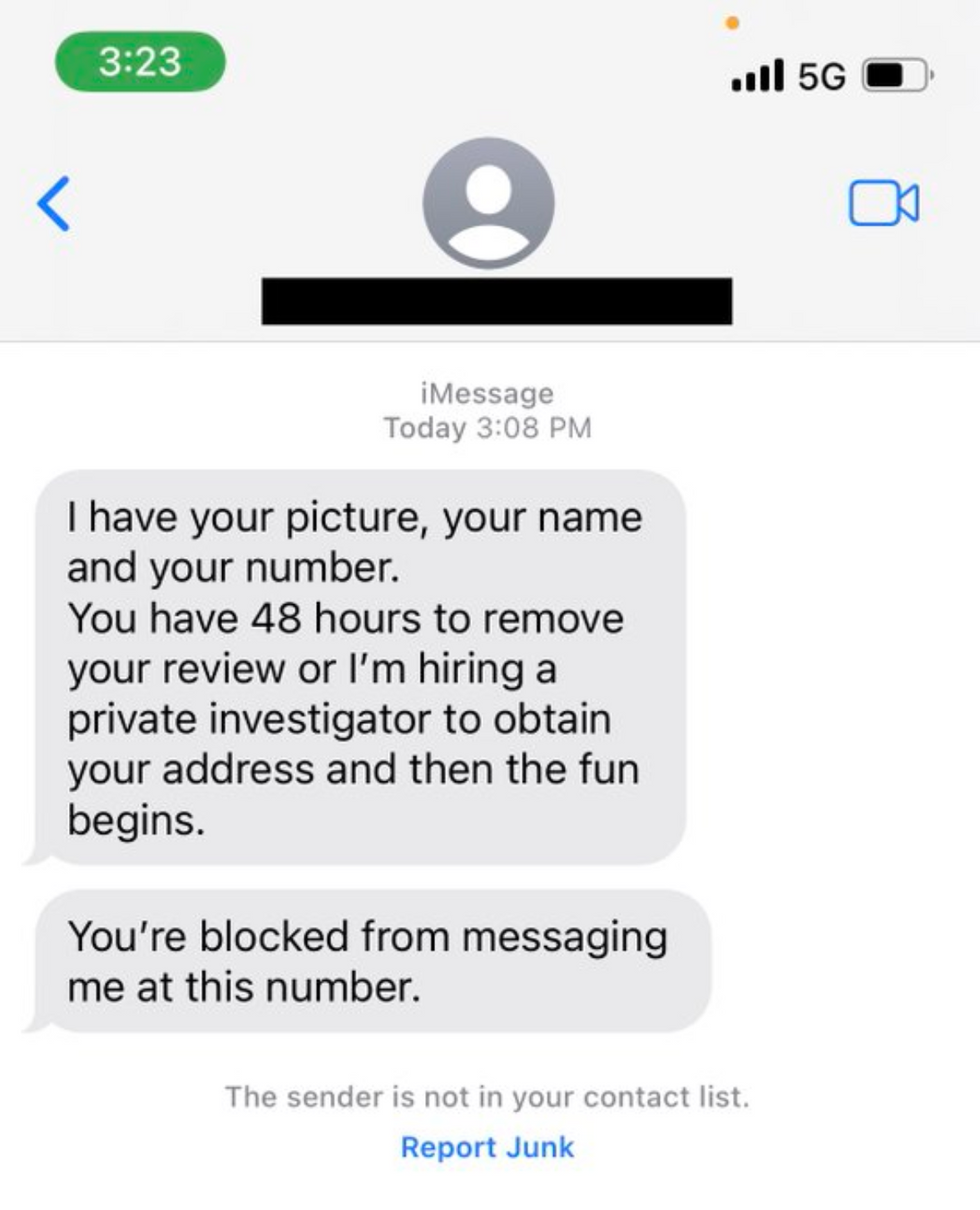 @Dr_AlexM/Twitter
The host additionally informed Moore they were blocked from responding directly to the number.
Moore said they left a 4/5 review "with a positive message" that allegedly "brought [the host's] average rating down from a 5 to a 4.95" based on the 20-review count from previous renters.

@Dr_AlexM/Twitter
While users were sympathetic to her situation, some offered insight into the consequences of a review that is not a 100% positive rating.
Regardless, receiving less than a 5-star review does not warrant bullying, as many users pointed out.
Former Airbnb customers shared their unpleasant experiences using the service.
Moore contacted the police after seeing the listing was still active.
Airbnb apologized for the situation and informed Moore they would be directed to the appropriate department to take action.
When they received a similar response from Airbnb support the next day, Moore advised them to "take meaningful action as soon as possible."
They received hopeful news the next day.
"It's confirmed that his listing has been taken down!" Moore shared.
"I will continue to follow up with @AirbnbHelp regarding next steps."
"Thank you all again for amplifying this and sharing your stories to help keep others safe. Muting this and restricting comments for my sanity. Stay safe!"
They posted a final update with a screenshot of Airbnb's message indicating the company took proper action.
Moore had one thing left to say after declaring the thread will no longer be updated.

"For anyone traveling to Vancouver and in need of affordable accommodations - avoid this host."
So if you need lodging in Vancouver, it may behoove you to steer clear of this listing based on the host's alleged indiscretion.

And that's doctor's orders.