The 77th annual Golden Globes nominations were announced on Monday.
But despite favorable buzz and box office success, female directors were once again snubbed by the Hollywood Foreign Press Administration.
---
Male directors dominated the category for best director, including Bong Joon Ho ( Parasite), Sam Mendes (1917), Quentin Tarantino (Once Upon a Time in Hollywood), Martin Scorsese (The Irishman) and Todd Phillips (Joker).
Female screenwriters were also shut out and artists of color in all categories were few and far between.
There are no women directors nominated for #GoldenGlobes this year — and no women screenwriters. Artists of color a… https://t.co/QZPUkLZLm6

— NPR (@NPR) 1575904924.0
On social media, Honey Boy director Alma Har'el – whom many film-goers and critics alike expected to earn a nomination – called out her disappointment, tweeting:

"do not look for justice in the awards system."
Good morning to everyone that's writing me about the #goldenglobes I feel you but know this. I was on the inside… https://t.co/7PvNj8GWpz

— Alma Har'el🌪 (@Alma Har'el🌪) 1575902098.0
However, Hollywood Foreign Press Association president Lorenzo Soria defended the list of nominations in the category.

According to Variety, Soria insisted that the nominations are determined by non-gender based criteria.
"What happened is that we don't vote by gender. We vote by film and accomplishment."
His statement got rephrased on Twitter.
@Variety We vote by film... directed by men. Fixed.

— Simone Cromer 🎬 (@Simone Cromer 🎬) 1575914264.0
@Variety If that's true then you aren't watching the female directed films cause if you did you'd know that some of… https://t.co/OYpa8Jm1hV

— Em (@Em) 1575913189.0
Har'el among many others called B.S.

The director – who is previously known for earning the top prize at 2011's Tribeca Film Festival for her documentary, Bombay Beach – responded to Soria's statement with this now-deleted tweet.
"Oh please... If you only saw how these people get pampered with gifts, private concerts and events over 4 months.
"They vote by comfort and star f*****g."
"They don't care about women or new voices. Period."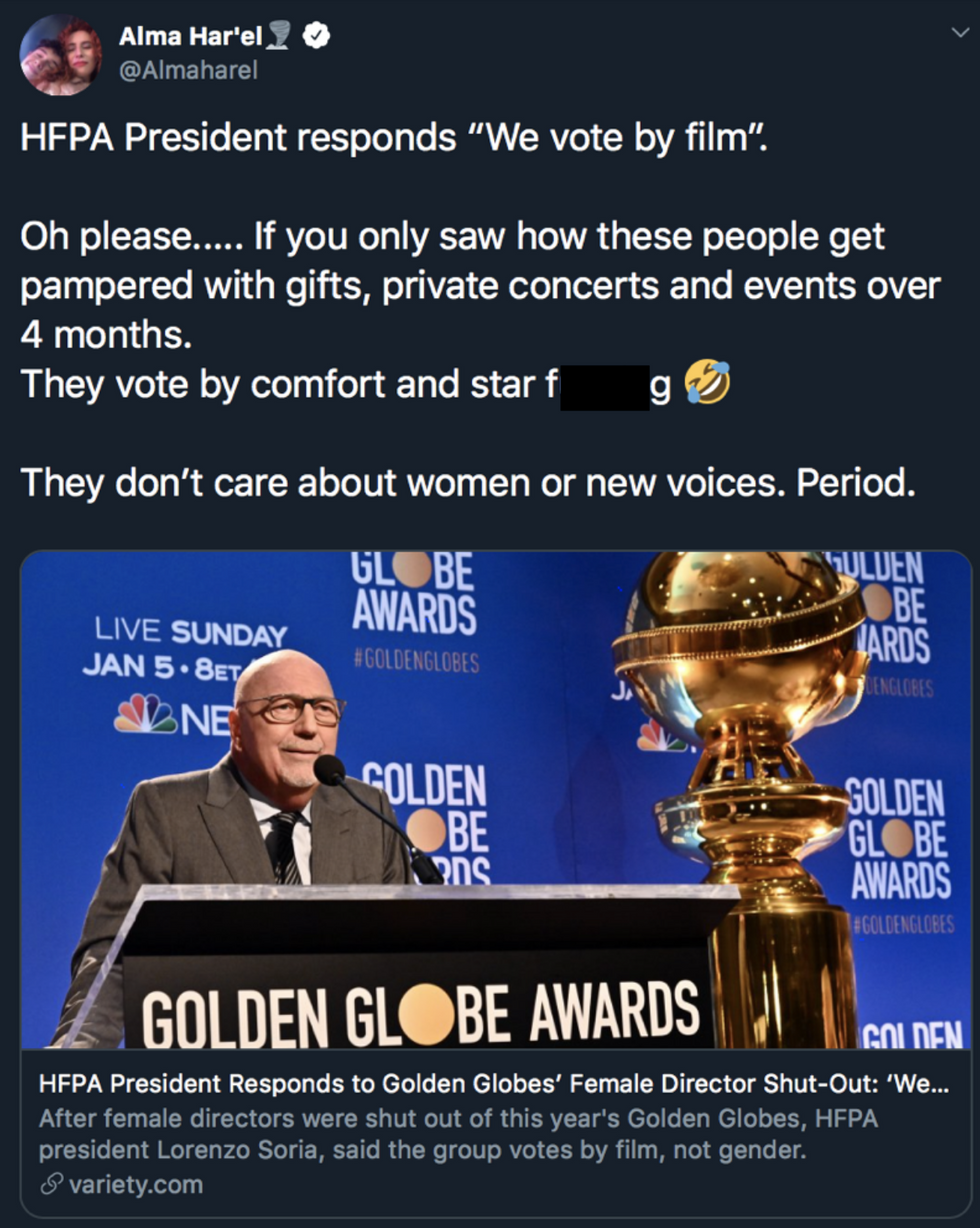 THE HFPA WHEN VOTING FOR BEST DIRECTOR GOLDEN GLOBE NOMINEES https://t.co/hYmIFvyw7B

— sarah (@sarah) 1575901054.0
Globes exec Barry Adelman, mitigated the controversy by explaining:

"Every year, somebody gets left out."
"There's so much talent going on, maybe we need to expand the categories so more people can be part of it. I also think that if you look at some of the other things…a lot of the big television shows are created by women, so I think across the board there is a good representation."
"Maybe in a couple of those categories, we wish it could be a little different. Who knows what will happen next year."
Har'el devised her own list of worthy, fellow female contenders and encouraged others to support women who are consistently invisible in the industry.
Lulu Wang Mati Diop Greta Gerwig Olivia Wilde Lorene Scafaria Marielle Heller Melina Matsoukas Chinonye Chukwu Cél… https://t.co/a060ytMAm7

— Alma Har'el🌪 (@Alma Har'el🌪) 1575902100.0
Keep fighting for more women & POC behind the camera by supporting their films. Don't make your end game the poli… https://t.co/oKk8kdeqCD

— Alma Har'el🌪 (@Alma Har'el🌪) 1575902100.0
Thank you to all the press and people who write and cover films in awards season! You are helping us get to new a… https://t.co/tRyNNxNCnm

— Alma Har'el🌪 (@Alma Har'el🌪) 1575902101.0
Huffington Post noted that In addition to Har'el, other female directors like Lorene Scafaria (Hustlers), Lulu Wang (The Farewell), and Marielle Heller (A Beautiful Day In The Neighborhood), failed to get a mention despite their films being recognized in other categories.
Many believe the most surprising omission was Greta Gerwig for her direction of the critically-acclaimed, star-studded adaptation of Little Women.
Someone broke into my classroom and stole my SmartBoard, and Greta Gerwig's Golden Globes snub is still the worst t… https://t.co/xwLnrXmlyn

— Taylor Young (@Taylor Young) 1575936186.0
I'm really hoping the outrage over the Globes snub helps propel Greta Gerwig to another directing nomination at the Oscars.

— Will Link (@Will Link) 1575936302.0
When it comes to the snub of female directors, #GretaGerwig was the only person that had a chance realistically. Th… https://t.co/Kgk8NgHV6F

— Antony Post (@Antony Post) 1575913484.0
For television, Ava DuVernay's powerful Netflix mini-series When They See Us was also absent as a contender despite receiving eleven Primetime Emmy nominations, including one for Outstanding Limited Series.
DuVernay became a part of a small group of women – precisely five – to be recognized for a Golden Globe in its 77-year-history after getting nominated for 2014's Selma.
Interrupting my med tweets with my side passion of film/tv to rant about how UPSET I am with some of this year's no… https://t.co/sSAKNL0K99

— Zarin Rahman (@Zarin Rahman) 1575948834.0
No female directors were nominated by the Hollywood Foreign Press Association for the 77th #GoldenGlobes. In fact,… https://t.co/T1mvPHlel9

— The Hollywood Reporter (@The Hollywood Reporter) 1575902105.0
In 1984, Barbara Streisand became the first female director to be nominated and win a Golden Globe for Yentl, paving the way for Jane Campion (The Piano), Sofia Coppola (Lost in Translation) and Kathryn Bigelow (The Hurt Locker and Zero Dark Thirty) to earn nominations.
@JustinCChang Only 5 women have been nominated for #GoldenGlobes director: Barbra Streisand, "Yentl," "The Prince o… https://t.co/hjfprvIwi1

— LAT Entertainment (@LAT Entertainment) 1575900535.0
What needs to change?
the HFPA is made up of a bunch of old white men who are totally out of touch. next question https://t.co/yP7Mdweg9w

— nathan (@nathan) 1575948118.0
Perhaps it's time to widen the field by increasing the number of women and POC in the HFPA roster of voters.