The Fab 5 from Netflix's reboot of Queer Eye are more popular and adored than ever before.
With a third season already on the way, Jonathan Van Ness, Tan France, Karamo Brown, Bobby Berk, and Antoni Porowski continue bringing people together and changing lives.
---
Recently, former guests on the show – William Mahnken and Shannan Eller and Tom Jackson and Abby Parr – got together for a double date that melted the hearts of fans.
If you remember Tom from the first season, he appeared on the show not only for a makeover and a drastic reduction of his draping beard, but also in attempt to win back his ex-wife's heart.
Thanks to the boys, Tom found his way back and is now happily re-married to Abby!
And then there's William from season two, who proposed to his sweetheart Shannan in an elaborate and heartfelt presentation on the show.
Two worlds collided when both couples met up for a double date.
William let fans of the show in on the epic rendezvous by posting this photo. It looks like the gentlemen also kept up with their appearances by exercising the grooming regimen instilled in them by the marvelous Jonathan Van Ness.
Just a few hours away from the biggest event of this afternoon!!!
@queereye double date with William/Shannan and Tom/Abby

Could the fab five be any prouder?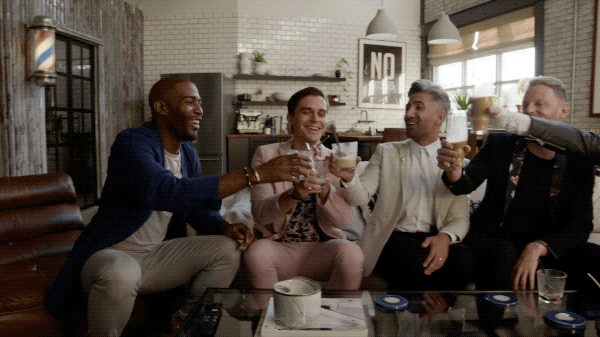 William took the obligatory group selfie once they met up.
Fans expressed their love for the couples.

Instagram

Instagram
Instagram
Some things remain the same from their time on the show.
Tom still loves his margaritas!
Prior to the party getting started, William and Shannan were a little too punctual for the meeting time, arriving 1 1/2 hours early.
Who can blame them? They were excited.
So they took a selfie to kill time. What a sweet couple.
Here's another group shot of all four of them.
Tom Jackson's daughter submitted her father to be on the show for a makeover.
Tom also wanted to win back his love and, although he and Abby split after the episode aired, they got back together again. They announced their engagement on March 12.

Tom tweeted:

It's official, Abby and I are engaged. What a Netflix special [that] would be. If the Fab 5 planned and attended our wedding!!!!!!!!!"
Abby shared with US about the newly rejuvenated Tom.
He has a lot more confidence in himself and he has opened himself up and got out of that rut. He got into the new look and it changed his mindset almost. It put some pride in himself … I have seen such a positive change in how he views himself.
William Mahnken and Shannan Eller got married on June 13 in Amelia Island, Florida, after William proposed to the love of his life on the second season episode titled, "A Decent Proposal."

Although the boys weren't present at the wedding, they were happy to have been at their engagement.
They sent their well wishes on Instagram.
The double date looks like it was a night to remember.
The Avengers have got nothing on these loveable people.