A first mate who found love with her captain aboard a yacht on the high seas told how they swapped their cabin for life in a converted Mercedes van – slashing their monthly outgoings to just £250 (~$323).
Anchored in Tahiti, French Polynesia, when the global lockdowns were imposed in March, first mate Maggie Kerr, 28, and captain Anna Strang, 30, had a "nightmare in paradise" as they waited for international flights to be reinstated, so they could return to the UK.
Currently parked in Gosport, Hampshire, Maggie said:
"You might think being stranded off Tahiti would be the stuff of dreams, but for the first few weeks the lockdown rules were very strict."
She continued:
"We were allowed off the boat for one hour a day and you weren't allowed to go into the sea."
"We had no air con and it was incredibly hot."
Sadly, the research project they had joined was put on hold as the pandemic unfolded, so returning temporarily to Anna's family farm in Salisbury, Wiltshire, on the first available flights in June, they needed an income and somewhere to live.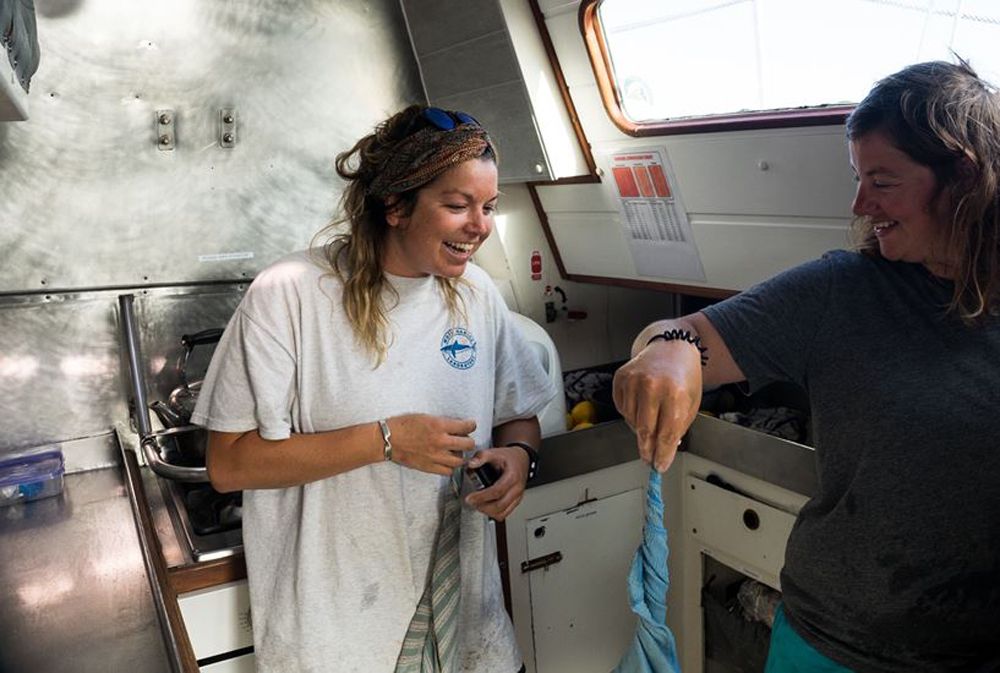 Maggie and Anna spent over a year on the sea together (Sophie Dingwall/@sophiedingwall)
Investing £4,500 (~$5,821) in a Mercedes MWB Sprinter van, before spending a further £2,500 (~$3,234) upcycling the vehicle and turning it into a home, they now live in it full-time and travel the country in search of "any sailing gig they can get."
Maggie said:
"Like the rest of the world, we never imagined the way that 2020 would have turned out."
"This time last year, we were sailing across the world on an incredible work project."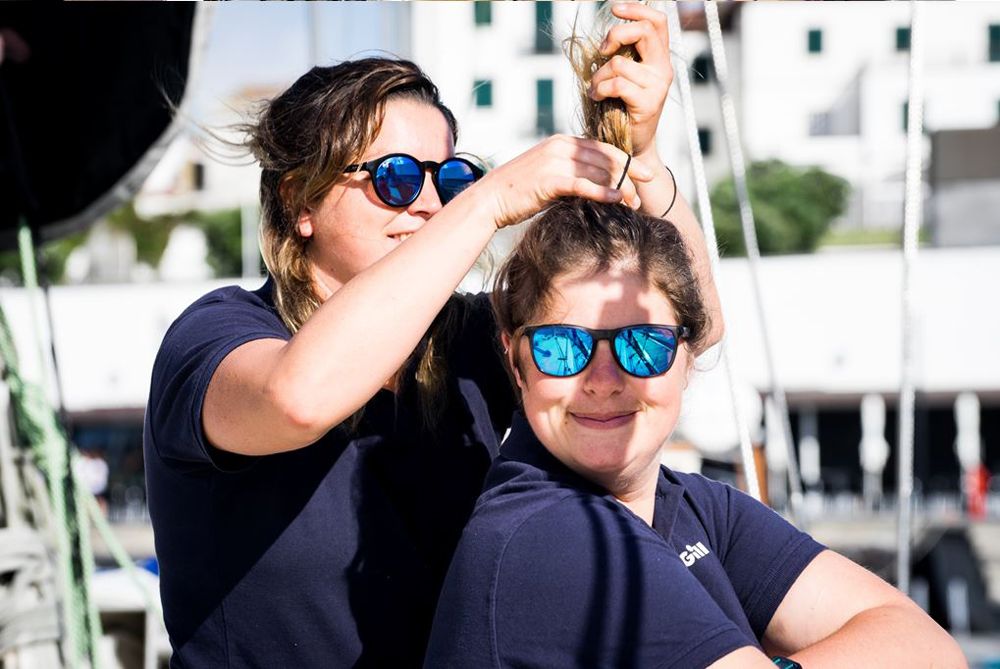 Maggie and Anna were brought together by their love of sailing (Sophie Dingwall/@sophiedingwall)
She continued:
"But, like everyone else, we've learnt to adapt."
"Now our dream is to be traveling around Europe, going from port to port, following the work, in our new four-wheeled home."
Brought together by a love of sailing, Maggie – who was born and raised in Airlie Beach, Queensland, Australia – and Anna met when they joined the crew of a research yacht, studying the extent of ocean plastic pollution, in February 2019.
Maggie recalled:
"I'd spent most of my career working on luxury yachts, and when I saw the research position I knew I wanted to do something that felt more meaningful."
"It was a dream job. Sailing across the globe and helping scientists collect and analyze data, which they shared with affiliated universities."
With a crew of just 14, the two women soon forged a strong connection.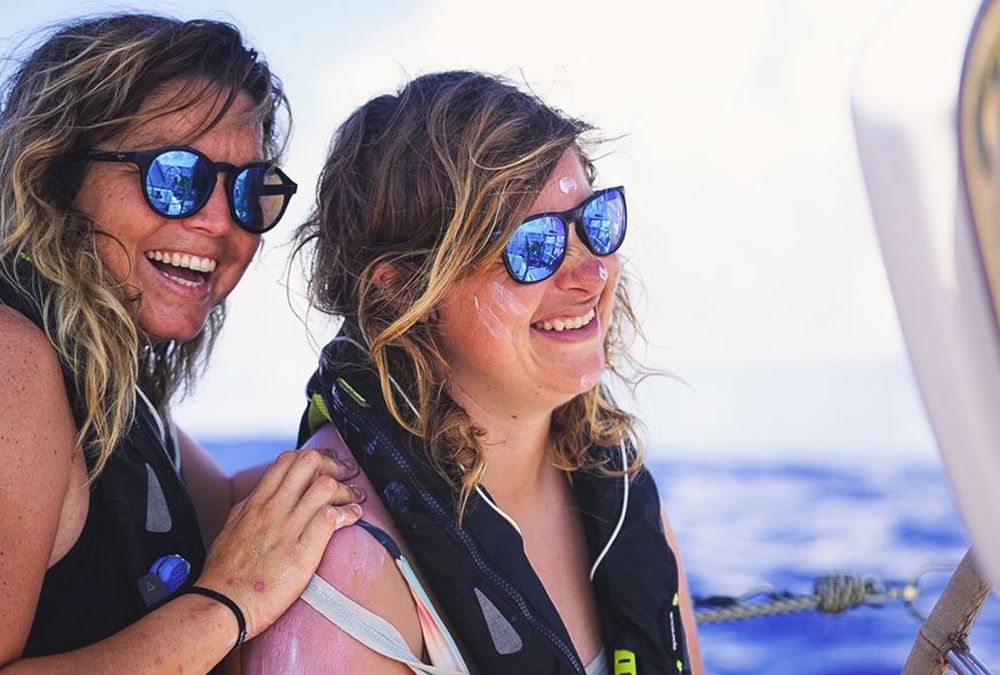 Maggie and Anna were brought together by their love of sailing (Sophie Dingwall/@sophiedingwall)
"There were only a handful of professional sailors," Maggie continued. "So, it was very intense, with long hours in close quarters."
"Anna and I spent a lot of time together and got to know each other very quickly."
A year into the project, their romantic feelings became clear, although they agreed not to pursue them for professional reasons.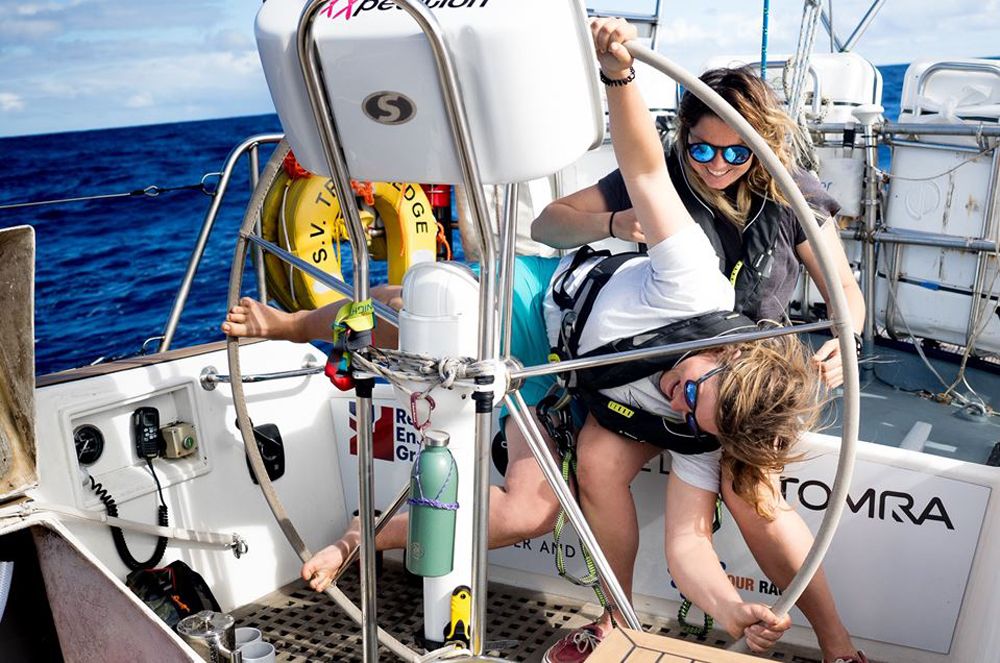 Maggie and Anna sailing (Sophie Dingwall/@sophiedingwall)
Maggie said:
"It felt like we were a couple, but we just didn't act on it."
Thrown even closer together by lockdown, when the research project was put on hold three months later, the couple returned to the UK – earning their keep by working on Anna's family farm as they put the wheels for their next adventure in motion.
"We were pretty much official as a couple the day we boarded the plane," Maggie laughed.
She continued:
"We knew we wanted to travel as soon as we possibly could and came up with the idea of traveling around Europe in a van we could live in – going from port to port."
So, two days after landing in England, the couple found their future home on the website Gumtree – a second-hand yellow Mercedes MWB Sprinter.
For the next two months, when they were not working on the farm, they were stripping down and refitting the van – 95 percent of which was done using reclaimed materials.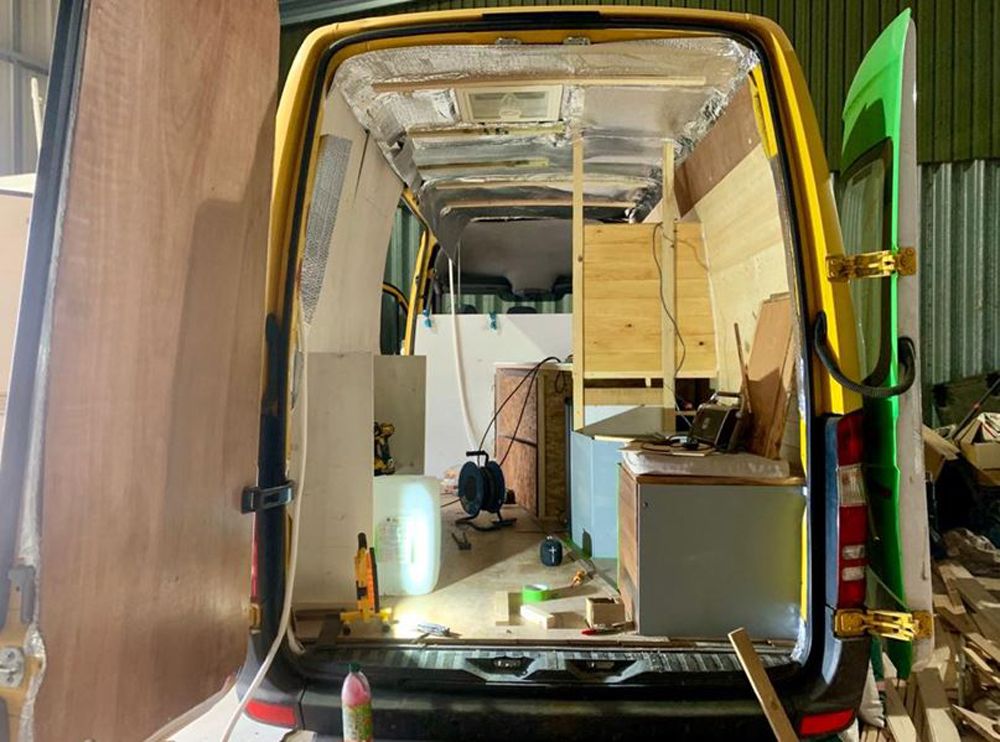 The van cost £4,000 second hand (PA Real Life/Collect)
"We ripped away all the plastic panelling," explained Maggie. "We tore it down to the bare shell, then starting working out the dimensions.
"A lifetime of being on sail boats meant we knew how to optimize every single inch of space.
"We literally drew a floor plan on the actual floor."
She continued:
"There were a few essential requirements. A bed, lots of storage, somewhere for us to cook and a loo."
Using everything from a felled tree from the farm to craft the oak-topped kitchen units, to scrap beechwood furniture for the dining table and toilet seat, they also repurposed an old sofa retrieved from a skip into a bed frame.
"Luckily, Anna is an architecture graduate," Maggie added. "So she knew what she was doing."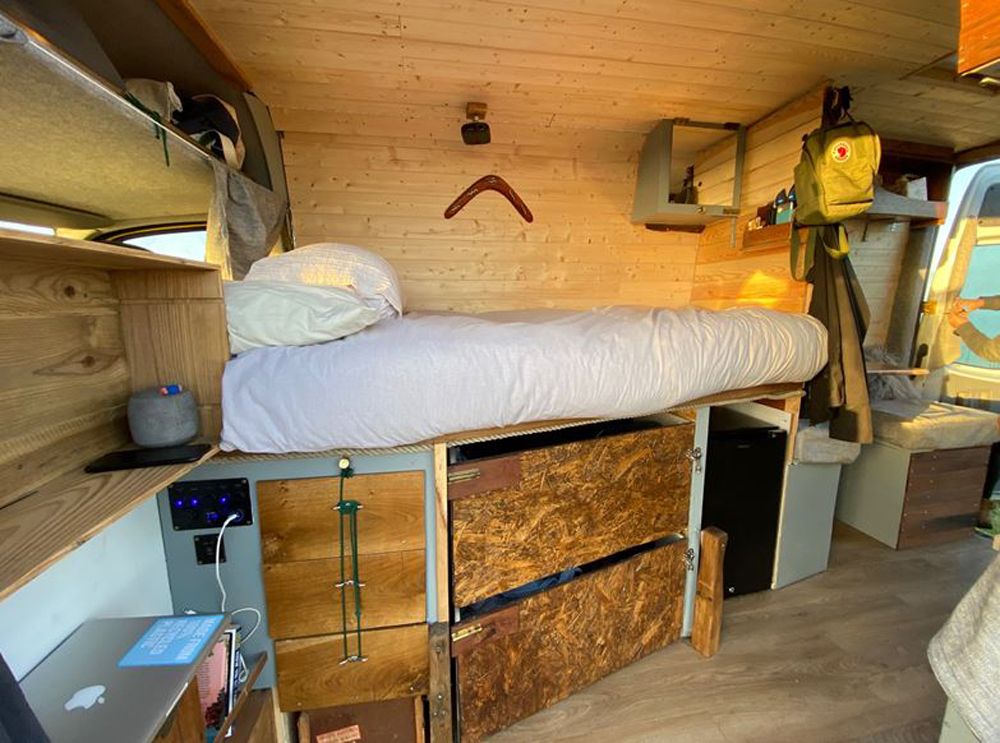 Sleeping quarters (PA Real Life/Collect)
Dipping into their savings for a few luxury items, they bought a £250 (~$323) fridge, a £250 camp shower and spent £1,000 (~$1,294) on a solar powered battery kit, to give them electricity inside the van.
With the remodeling completed by the start of September, the couple had an inaugural week-long trip to Cornwall, somewhere Maggie had never been.
She said:
"It was everything we could have hoped for and more."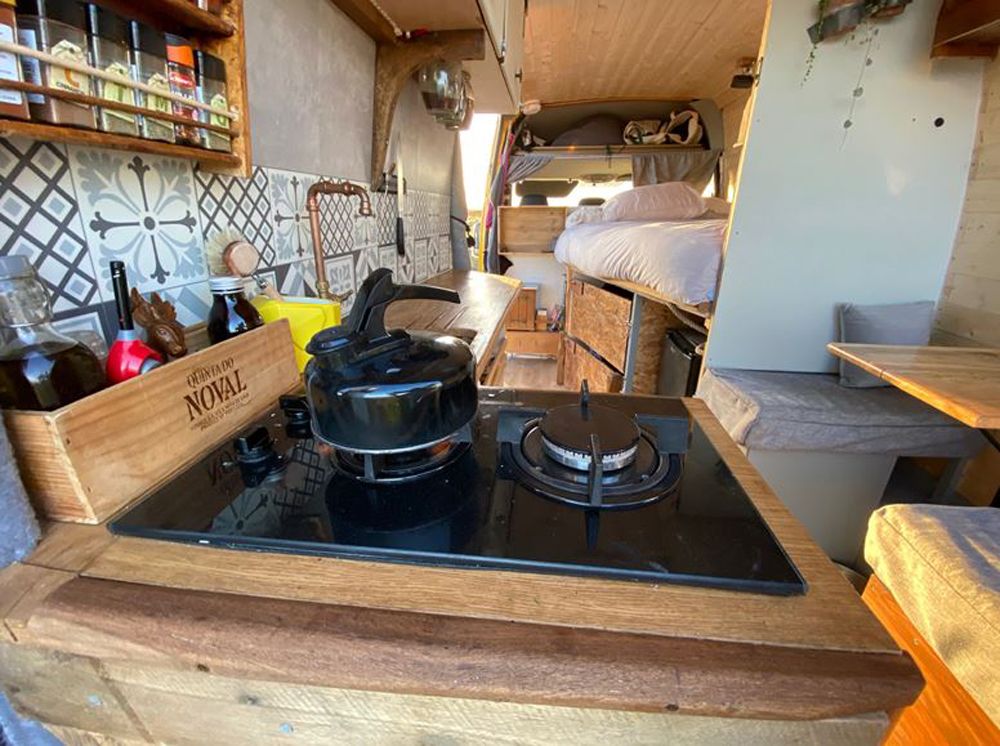 Anna and Maggie's kitchen (PA Real Life/Collect)
She continued:
"It's like a super cosy home on wheels."
"It was great being able to wake up next to a beautiful scene, before heading on and finding the next one to wake up to."
With their new home passing the test, the couple set about looking for temporary sailing work around the UK.
Landing a week-long gig in Lymington, Hampshire, at the end of September they worked on a super yacht for eight days.
After that, they enjoyed a seven day break in Devon, before heading to Gosport, where they plan to stay until the end of the week.
"With the world still reeling from lockdown, sailing is no exception," Maggie said.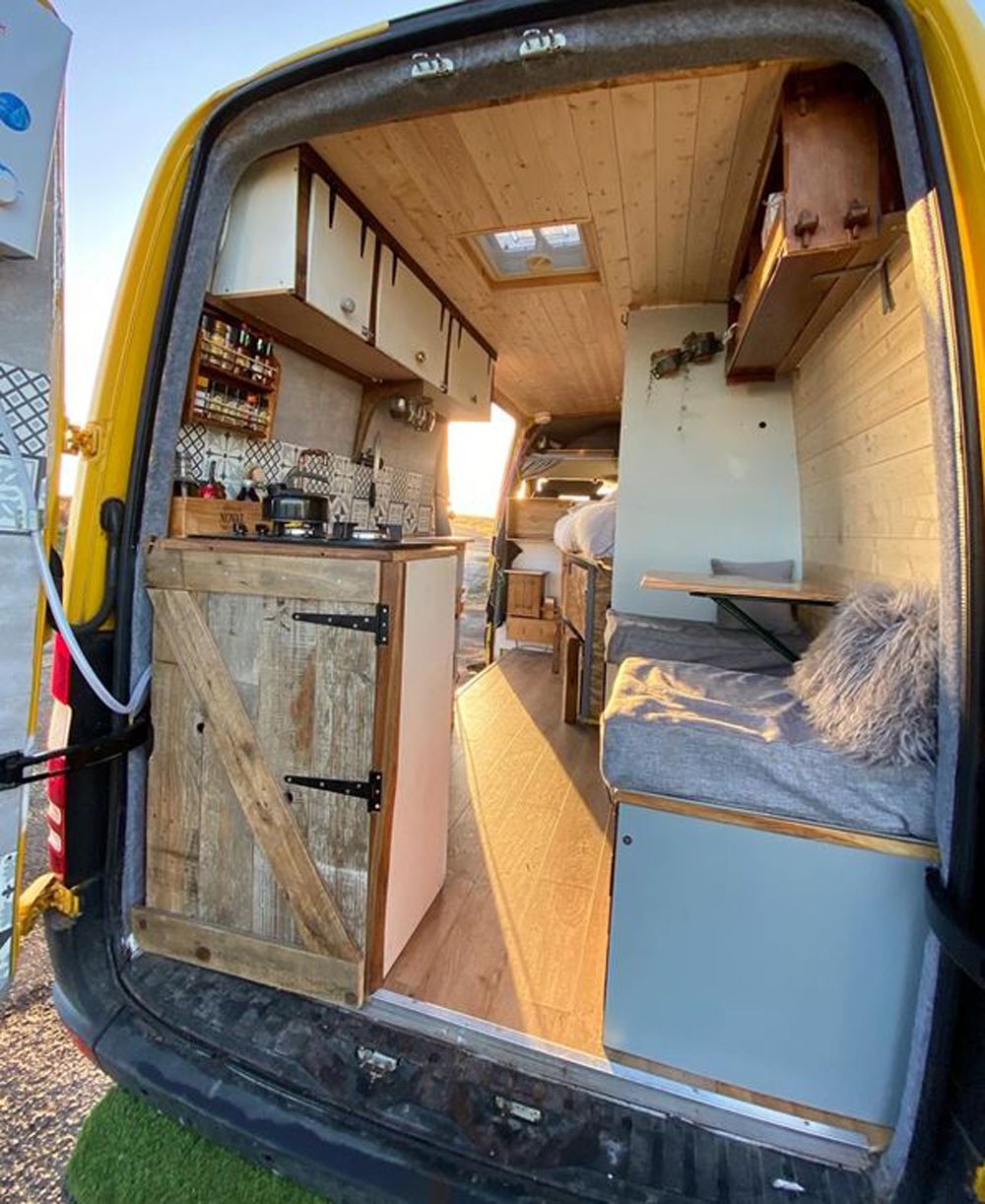 Anna and Maggie spent £2,500 doing up the Mercedes van (PA Real Life/Collect)
She continued:
"At the moment there's a lot of work doing boat maintenance, like fixing rigging and polishing, or taking nice photos, but if it pays we're more than happy to do it."
Fortunately, the massive reduction in their outgoings since buying the van means the couple are not worried about their income, for now.
"We're definitely saving money," Maggie continued. "At the moment we're staying in free car parks or laybys legally, which is saving a massive amount on rent."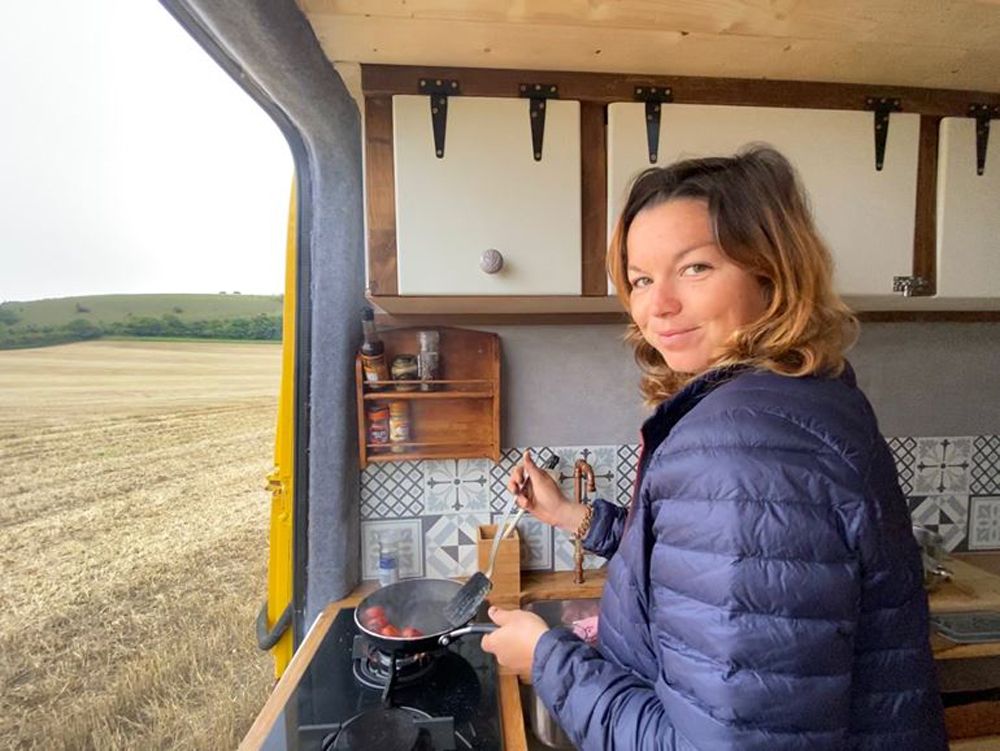 Maggie cooking on wheels (PA Real Life/Collect)
She continued:
"All our electrics are powered by the solar panels and we fill the water tank from free collection points."
"As it stands, we're currently forking out about £250 a month, on the petrol and occasional camping fees."
Heading down to Exeter, Devon, at the end of the month for another week's work, the couple have their sights set on traveling further afield to Europe when restrictions ease.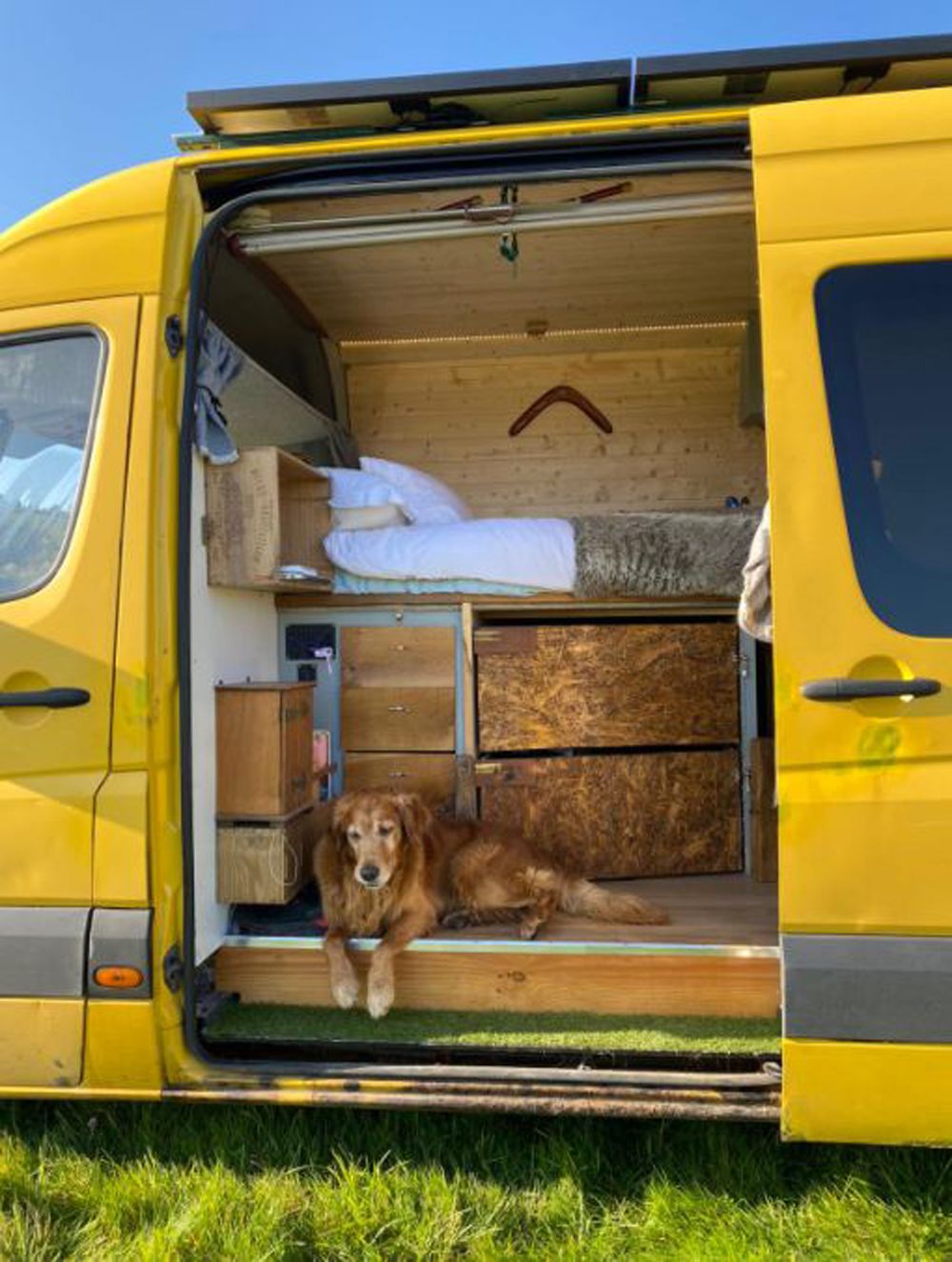 Family farm dog Rudder, enjoying the view (PA Real Life/Collect)
And Anna is looking forward to a happy future together in their four-wheeled home.
She said:
"It really is a house on wheels – we love it."
"It's super comfy and there's no worry about where we're going to be spending the night."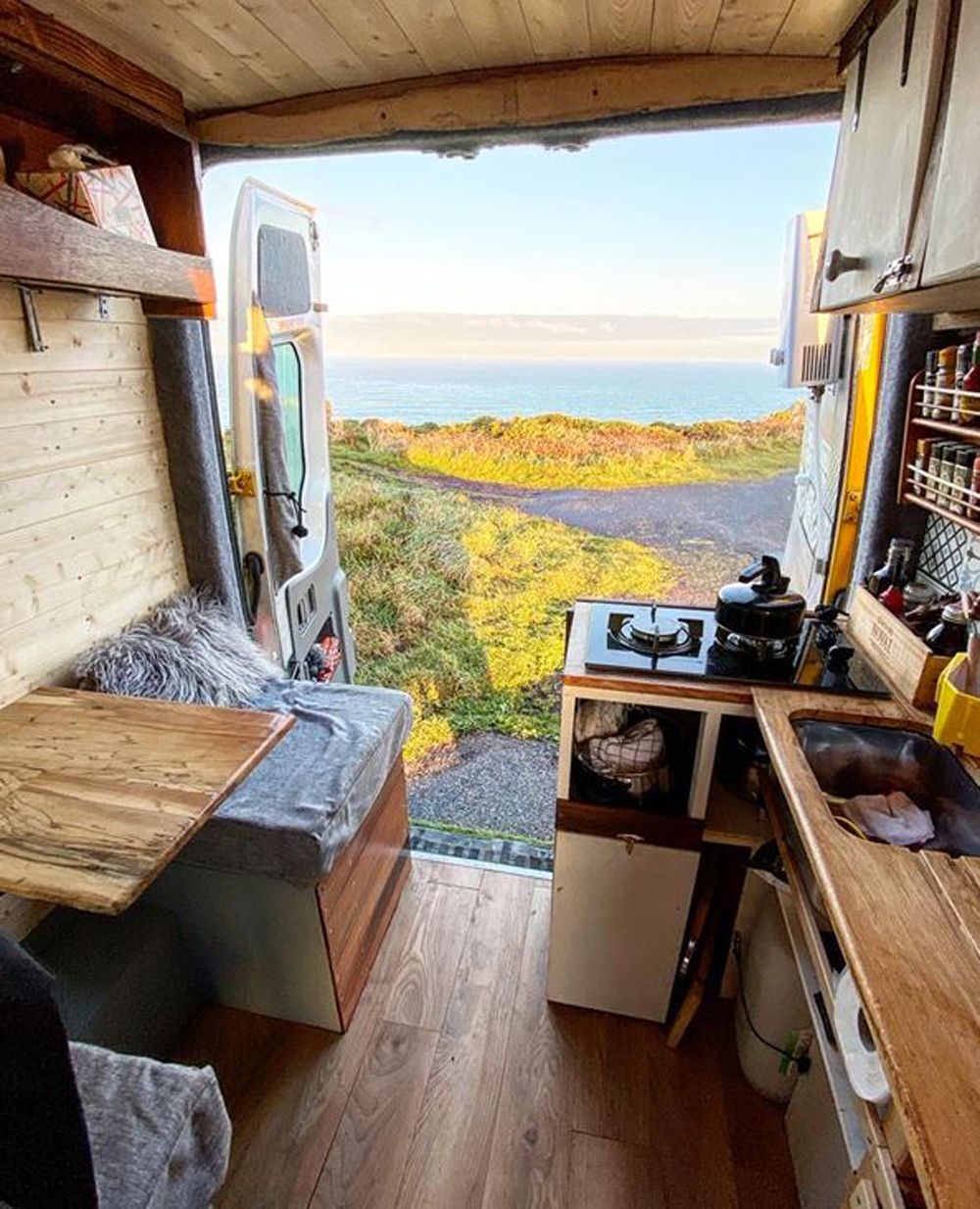 Room with a view (PA Real Life/Collect)
She concluded:
"I can see us traveling around for years and year like this."
To keep up with Maggie and Anna's van adventures, follow them on @upcycledvangram.