It appears there was a 3'1" tall Hollywood horror legend on the loose in Texas.

For a hot second, Texans thought Chucky—the murderous moppet from the popular horror franchise Child's Play—had abducted his son, Glen Ray, from Seed of Chucky.
Seriously.
It turns out the Texas Department of Public Safety (DPS) sent out an amber alert on Friday by mistake.

The report indicated the 2'3" tall, five-year-old abducted child was last seen in Henderson, Texas, on Thursday morning. The 28-year-old suspect was wearing "blue denim overalls with multi-colored striped long-sleeved shirt " and "wielding a huge kitchen knife."
The demonic doll wasn't kidding when he said he always comes back.

Here is s screenshot of the Texas DPS amber alert.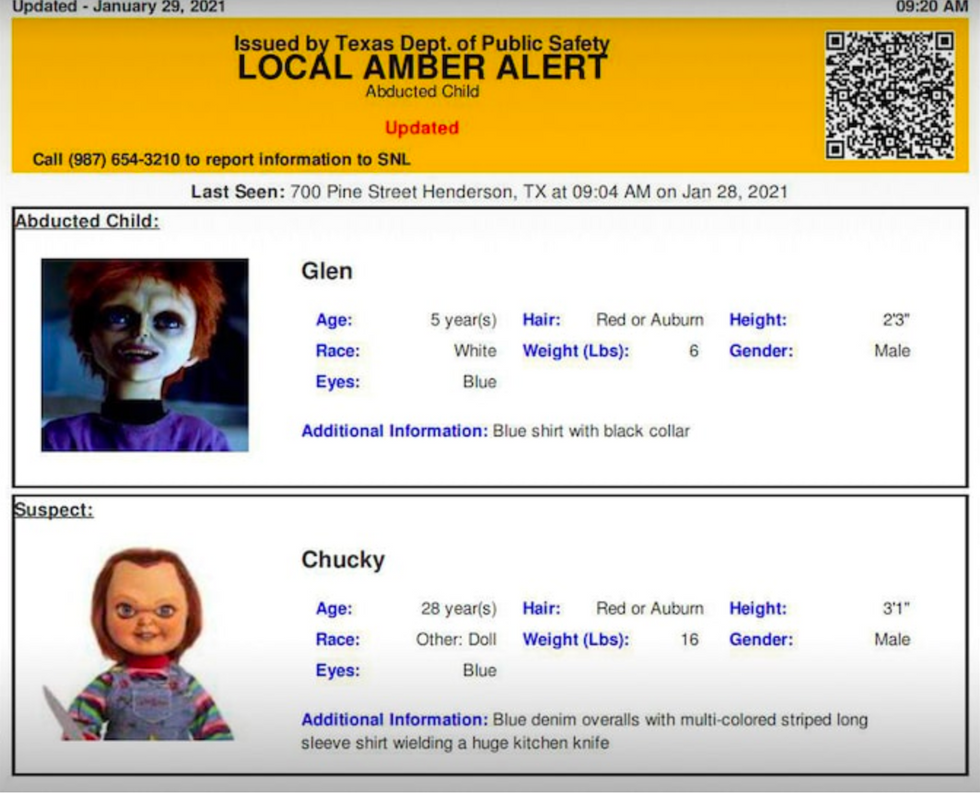 Texas Department of Public Safety
Texas officials have apologized for the snafu and told TMZ:

"This alert is a result of a test malfunction. We apologize for the confusion this may have caused and are diligently working to ensure this does not happen again."
Oh, Texas.
People remained skeptical online.

Local news station KPRC 2 received a statement from Ruben Medina of DPS, which read:

"This was actually a test we were running on a dev server and it accidentally went out."
"We appreciate you reaching out to us to verify this. We do apologize for this inconvenience (to) you."
The AMBER alert, or the child abduction emergency alert, is an early warning system developed by broadcasters and local police asking for the public's help in locating abducted children.
AMBER is an acronym for America's Missing: Broadcast Emergency Response and was named after Amber Hagerman, a nine-year-old who was kidnapped while riding her bicycle in Arlington, Texas in 1996.