Chris Hemsworth had a cheeky response to a photo of fellow Marvel actor Cate Blanchett visiting the Disneyland Resort and posing with Thor and Loki.
The photo of Blanchett, who played Hela–the Asgardian Goddess of Death and sister to brothers Thor and Loki (yes, we know he's adopted)—was photographed at Avenger's Campus inside the resort's California Adventure park in Anaheim, California.
The area inspired by all things Marvel is the hotspot for diehard fans of the MCU wanting to rub elbows with their favorite characters–many of whom wander the area's grounds either looking for recruits in the fight for justice or to intimidate with their nefarious charm.
In response to seeing Blanchett posing with the Disney theme park actors playing Thor and Loki, the real Thor, Chris Hemsworth, delighted at seeing his Asgardian siblings reunited–albeit with a bit of resentment.
He wrote:

"What a nice reunion.. still mad about Mjolnir though."
The photo was originally shared by CinemaBlend content producer and Disney parks aficionado Dirk Libbey in a tweet that went viral.
It gained further traction when Hemsworth referenced his bitterness over Thor's hammer that Hela destroyed in 2017's Thor: Ragnarok, despite the perfectly intact Mjolnir seen in the photo.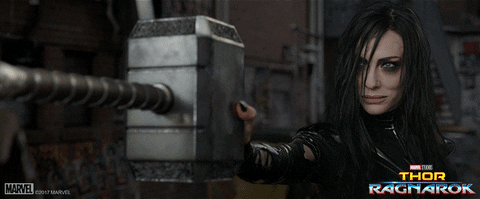 Giphy
Fans sympathized with the defeated hammer-wielding Avenger.
There were some wisecracks.
MCU fans also couldn't help but make "Jonathan" references, which was a random name Ant-Man actor Paul Rudd used to call the confusing-to-pronounce Mjolnir.
Others with the "out with the old, in with the new" mindset favored the Stormbreaker–the enchanted axe used to summon the Bifrost Bridge.
After seeing the photo of Blanchett at California Adventure, Libbey noted how her character has never made an appearance at Avenger's Campus, which opened on June 4, 2021, to Disney park guests.
The MCU-themed land–which consists of the major attractions, Guardians of the Galaxy–Mission: Breakout! and Web Slingers: A Spider-Man Adventure, and a quick-service restaurant Pym Test Kitchen–usually features characters from the latest theatrical and DIsney+ releases.

Hela hasn't appeared in any Marvel film following Ragnarok in 2017 outside of the animated What If... series on Disney+.

Nevertheless, seeing Blanchett as a Hela variant mingling with her Marvel siblings was a treat for MCU fans visiting the park that day.

R.I.P. Jonathan—er, Mjolnir.