Country music legend Charlie Daniels has been very vocal in his condemnation of the NFL players protesting the national anthem. Daniels recently wrote an essay on his website, entitled "To Stand or Not to Stand," complaining about the protests. In the essay, he wrote:
---
"Disrespecting the flag, the banner they fought under and the anthem that was played when they were sent off to war, cuts deep in the veteran population."
He clearly missed the boat, considering that many veterans have expressed their support of the protests.
My grandpa is a 97 year-old WWII vet & Missouri farmer who wanted to join w/ those who #TakeaKnee: "those kids have… https://t.co/DSLvQYmgn2

— Brennan Gilmore (@Brennan Gilmore) 1506263257.0
Daniels continued with his tirade, complaining about the politicizing of football, saying:
"Can we not even watch a sports event, which used to be sacrosanct territory where we could escape the ever-present political blabber and enjoy a couple of hours of excitement and entertainment?"
Along with many Trump supporters, the "Devil Went Down To Georgia" singer has stopped watching football games, which he made clear on Twitter earlier this week: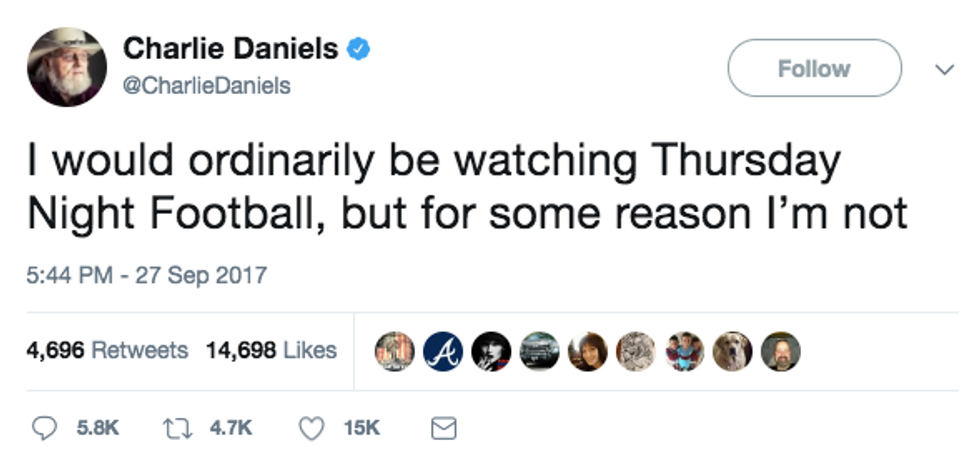 There was one major problem, however. It was only Wednesday.
Twitter instantly let Daniels know of his error: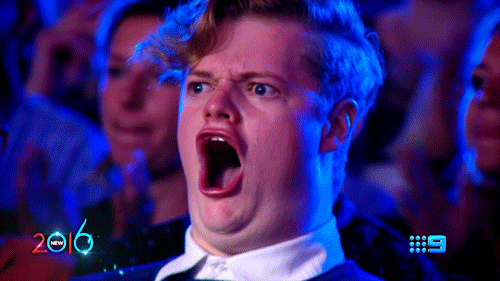 @al_morales @CharlieDaniels Whoa, let's learn to crawl before we walk. Start with a calendar. #HumpDay

— Tork Mason (@Tork Mason) 1506563016.0
@GaryMillrat @CharlieDaniels That sounds about in line with other MAGA boycotts.

— Miss Matched Shoes (@Miss Matched Shoes) 1506564198.0
@DerekDaGamer1 @squealandgiggle @GaryMillrat @CharlieDaniels Sounds like something a bad Catholic would give up for Lent! 😂😂😂

— Miss Matched Shoes (@Miss Matched Shoes) 1506564940.0
People stood in mock-solidarity with Daniels:
@JoeyEGEN @thejd44 @DerekDaGamer1 @ReidHJOlsen @wwg248 No Taco Tuesday on Thursdays!

— Kristen S. (@Kristen S.) 1506567073.0
@DerekDaGamer1 @ReidHJOlsen @wwg248 I will stand with Charlie in preventing this mixing of the days of the week. #AllDaysMatter

— Global Warming Only Exists If I'm Never Cold (@Global Warming Only Exists If I'm Never Cold) 1506565927.0
Hopefully Daniels has learned his lesson, and will consult a calendar before the next time he decides to make such a bold stand.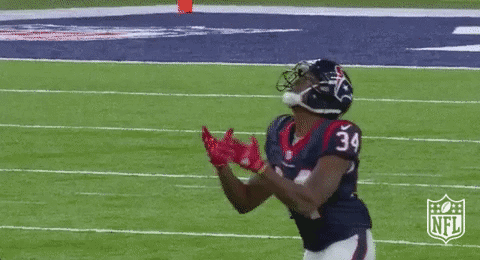 Please SHARE this with your friends and family.
H/T: Huffington Post, Salon, Twitter