Actor Busy Philipps has called out Republican Senator Lindsey Graham in a pointed and emotional Instagram post that has left many fans cheering her on.
The post is in response to Graham's proposed national ban on abortion, a draconian move that makes a liar of Graham, long a proponent of "states' rights" who heralded the Supreme Court's June 24 overturn of Roe v. Wade as "a long overdue constitutional correction" that will allow state governments to make their own decisions on abortion.
His law would in fact prohibit states from having any say on issues of abortion, and would ban the procedure entirely after 15 weeks.
In her Instagram post, Philipps spoke of her own experience having an abortion as a teen.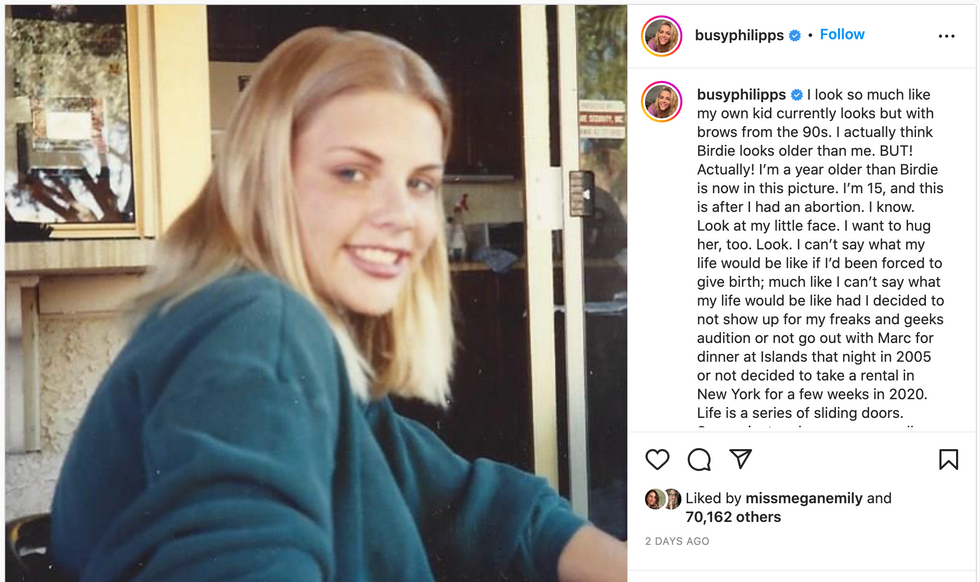 @busyphilipps/Instagram
In her post, Philipps featured a photo of herself at the age of 15, just after she'd had an abortion herself. In her caption, she discussed her experience with the procedure, and mused about how her life might have been impacted if she hadn't had the option of abortion at the time.
"I can't say what my life would be like if I'd been forced to give birth... Life is a series of sliding doors. Some giant and some very small."
"...There are legitimate and devastating medical reasons to enshrine abortion and bodily autonomy (My breath was taken away by the bravery of the woman who spoke up to Lindsay Graham today) and obviously rape. And incest."
"But ALSO! There is this: a CHOICE. HOW to live one's life, what one believes, the ability to choose for yourself, as you see fit, in that particular moment WITHOUT the input of total and complete strangers and their judgements or beliefs."
Philipps then pointedly called out Senator Graham, for trying to legislate life decisions he will never have to consider himself.
"It's funny(it isn't) that we're rarely confronted with the sliding door moments that men have had. (Maybe that's fed into their silence as our rights have been stripped?)"
"I say this genuinely & honestly; I wonder what sliding door moments Lindsay Graham(and his like) have had in life? What led him to this point where he's SO incapable of seeing anything outside his limited perspective?..."
Philipps closed with an eloquent and stirring take-down of Senator Graham.
"...I wonder *if* he had been held to the standard that all women are held to, would he have EVER been so bold?..."
"...Would Mr. Graham have ended up where he is today? Declaring proudly he "picked 15 weeks" (like he's picking a damn fantasy team in baseball)? Refusing eye contact with a woman bereaved, even after all these years?"
"I doubt he would."
"In fact. *I know* he wouldn't be so brave."
"Well. I was. I am."
"And so are you."
"We have no choice."
On Instagram, many of Philipps' celebrity friends were deeply moved by her post.

@busyphilipps/Instagram

@busyphilipps/Instagram

@busyphilipps/Instagram

@busyphilipps/Instagram

@busyphilipps/Instagram

@busyphilipps/Instagram

@busyphilipps/Instagram
And others were inspired by her words to keep up the fight.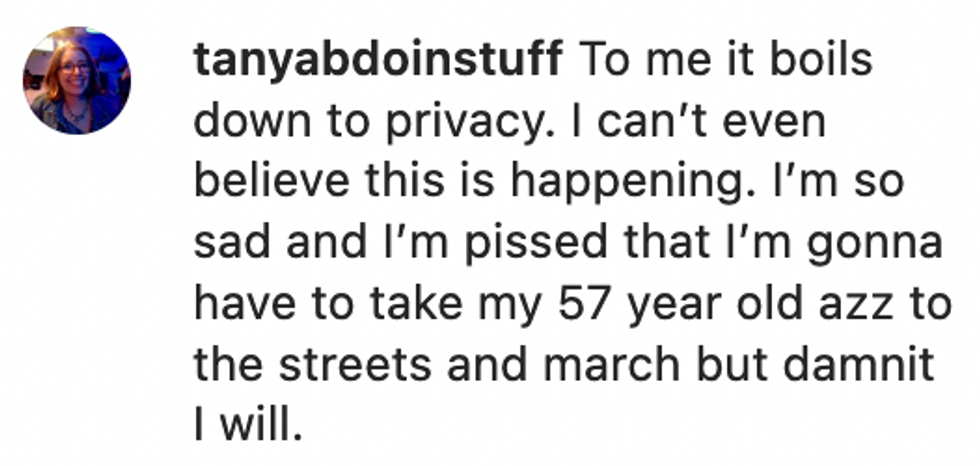 @busyphilipps/Instagram

@busyphilipps/Instagram

@busyphilipps/Instagram

@busyphilipps/Instagram
Graham's proposed legislation is believed by many to be an attempt to appeal to the GOP based while seeming more moderate on the issue of abortion amid a tidal wave of women registering to vote in November following the June 24 overturn of Roe v Wade.

Most experts believe it to be a profoundly misguided move politically speaking as abortion rights are overwhelmingly popular on both sides of the political aisle.