Turning Point USA'S (TPUSA) Student Action Summit is a gathering of conservative leaders and voters where various people give talks about politics and current events aimed at high school and college students.
A major theme this year was apparently the evils of censorship and the importance of inclusivity, but it would seem the inclusivity doesn't apply to conservative adult entertainers.
Adult film star Brandi Love had her VIP pass to the event, which she had paid $550 for, revoked and refunded.
Love tweeted a screenshot of the email she received from TPUSA and said she had just watched the likes of Charlie Kirk, Dan Bongino and Senator Rick Scott speak about the inclusivity of the "movement" before she was summarily removed from the conference.
She added:
"The Republican Party is broken."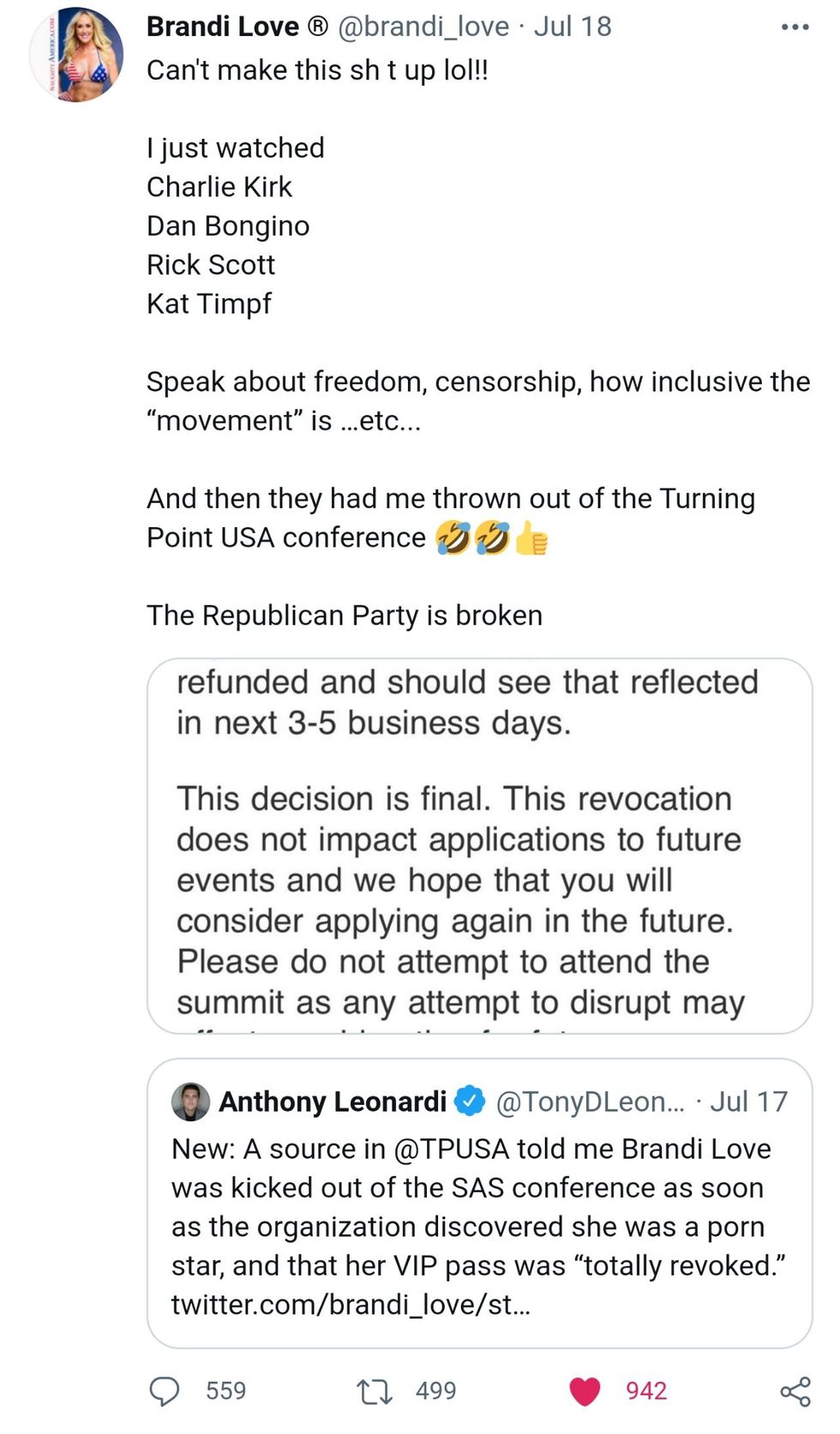 @brandi_love/Twitter
Love also included a tweet from reporter Anthony Leonardi stating a source inside TPUSA disclosed the revision was because they discovered the nature of her profession.
A TPUSA representative later told Newsweek:
"As a matter of policy, TPUSA does not allow adult entertainers, influencers, or brands to participate in its events designed for minors."
"This was not a decision intended to be unkind to anyone, but in the interest of the student attendees in attendance, and their thousands of concerned parents."
There was substantial argument among conservatives on Twitter between those who supported TPUSA's decision and those who thought it was hypocritical to decry "cancel culture" but then kick someone out for their profession.
Many non-conservative Twitter users were simply confused as to how TPUSA managed to miss the fact Love is an adult film star in the first place.
After all, her Twitter bio clearly states...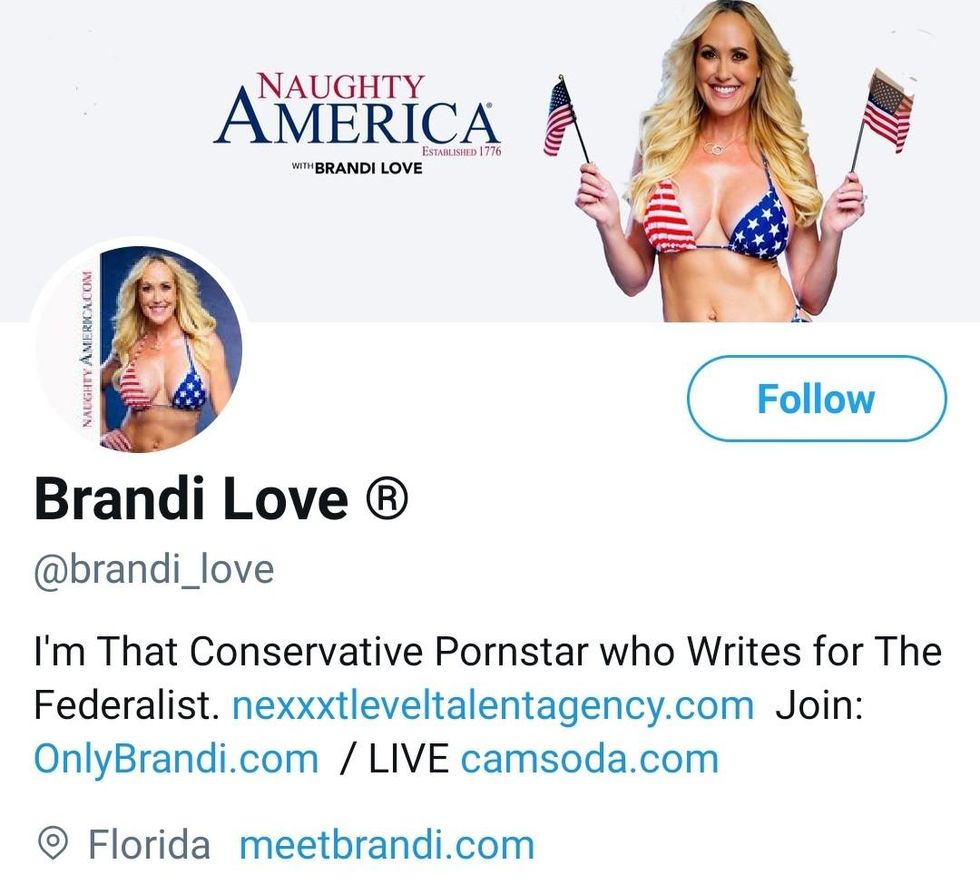 @brandi_love/Twitter
She isn't exactly secretive about it.

Yet somehow people were expected to believe it escaped TPUSA's notice.
Others were unsurprised by the move, noting the right's tendency to fight amongst themselves and the high level of hypocrisy.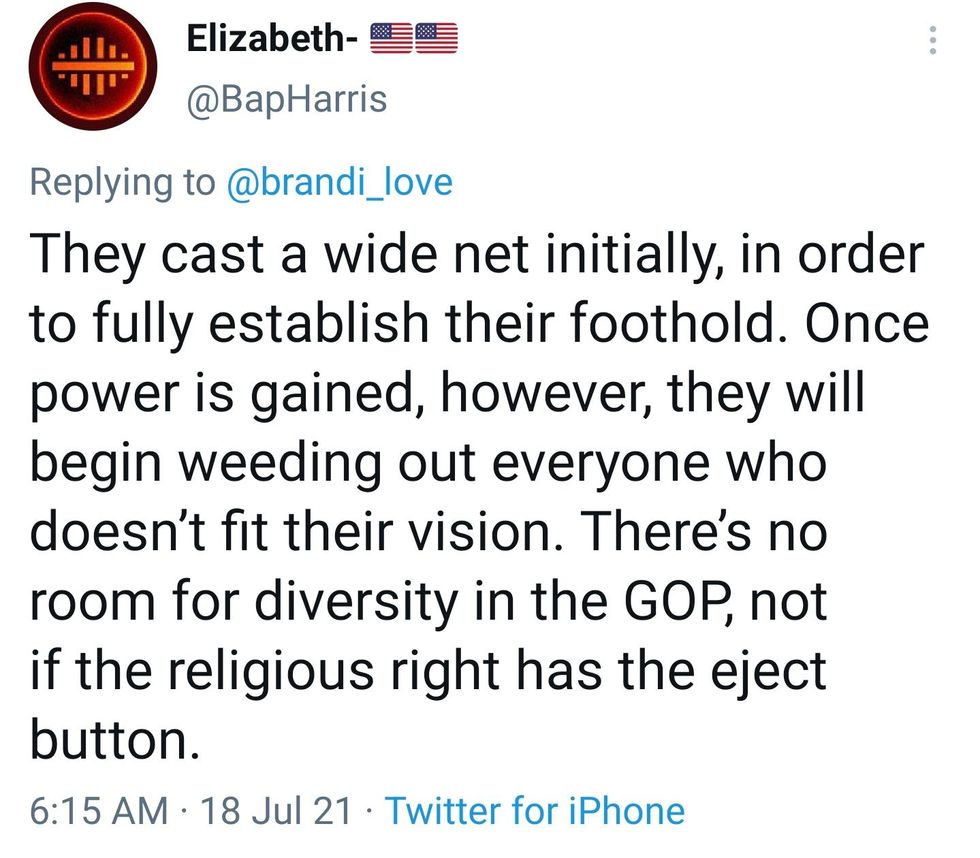 @BapHarris/Twitter
TPUSA offered a variety of responses for the backlash to their original statement.

So far though, the debate rages on between self-proclaimed conservatives and Republicans.