The third season of Netflix's animated puberty comedy Big Mouth recently dropped online and one particular scene has fans up in arms.
---
In the scene, a new student arrives in the main character's classroom and introduces herself as Ali.
She introduces herself as pansexual, and says "being pansexual means my sexual preference isn't limited by gender identity." She also adds that "bisexuality is so binary."
Following a question from one of the main characters about the difference between bisexuality and pansexuality, she later elaborates:
"Some of you like tacos and some of you like burritos and if you're bisexual you like tacos and burritos… But I'm saying I like tacos and burritos, and I could be into a taco that was born a burrito… Or a burrito that is transitioning into a taco… And honey, anything else on the f*****g menu."
Guys, @aliwong is now on @bigmouth. It makes SO much sense. https://t.co/5S76ezwIuD

— Netflix Is A Joke (@Netflix Is A Joke)1570298531.0
People online quickly lashed out against the scene, which implied the false sentiment that bisexual people can't be attracted to transgender or non-binary people.
Really really not that hard to be like "Awh pan sexual means I'm attracted to everyone regardless of their gender"… https://t.co/FQtZCsXwx8

— spooky smart and sexy (@spooky smart and sexy)1570392391.0
No! No! No! Stop this bi vs pan discourse abeg! Stop spreading this false information. Bisexuality has never exclud… https://t.co/yGql26nkTx

— Akilah (@Akilah)1570331895.0
Others, meanwhile, felt that Big Mouth, a comedy with often fallible characters, shouldn't be taken so seriously.
big mouth is a dark satire that isnt supposed to be taken seriously at all ,why are people extremely sensitive nowa… https://t.co/Zv61DU4dI7

— 𝚫 𝖇𝖇𝖖 𝖘𝖆𝖚𝖈𝖊 𝚫 (@𝚫 𝖇𝖇𝖖 𝖘𝖆𝖚𝖈𝖊 𝚫)1570406257.0
At the end of the day, however, it's all about context and the setup of the scene made it seem like facts were being presented.
This is wrong and irresponsible. I get that it's a comedy, but this is presented as truth within the show. Very dis… https://t.co/qiI554rZED

— Mara "Get Rid of the Nazis" Wilson (@Mara "Get Rid of the Nazis" Wilson)1570408080.0
@MaraWilson I'm bi and this doesn't bother me. You're just taking it too seriously.

— Luis G. "Twink Buttercup" Moret 🇵🇷 (@Luis G. "Twink Buttercup" Moret 🇵🇷)1570408339.0
@MesousaGaby Well, good for you. But I don't like misinformation being spread, or the implication that we are trans… https://t.co/juHR8DhDgE

— Mara "Get Rid of the Nazis" Wilson (@Mara "Get Rid of the Nazis" Wilson)1570408550.0
Mass media can make an impact on how people understand the world.
Big Mouth controversy goes far beyond people disliking the show. People are impressionable and will roll with thi… https://t.co/xhmqEczeSo

— Kevin Williams 🎃 (@Kevin Williams 🎃)1570486971.0
Others had different critiques of the scene in question.
everybody is criticizing that big mouth scene for how badly it handles the subject matter, but one thing I've seen… https://t.co/ksm3sCjGQH

— slime is already a halloween thing (@slime is already a halloween thing)1570470144.0
While we're on the subject of sex/gender thanks to BIG MOUTH, can we PLEASE stop using food as metaphors to talk ab… https://t.co/35nKHEcBzA

— BJ ColanGIALLO (@BJ ColanGIALLO)1570479399.0
Big Mouth, which prides itself on its careful depictions of sexuality, seems to have misfired in a major way with this loaded topic.
bisexual excludes trans people according to @bigmouth when you're so woke you fall back asleep https://t.co/aqXY0buDLU

— shoe (@shoe)1570421484.0
Big Mouth's first response to the criticisms was a short, understated tweet.
a lot of big feelings huh...

— Big Mouth (@Big Mouth)1570353936.0
But then creator Andrew Goldberg responded with a mea culpa.
https://t.co/TyJ0ZrQjwb https://t.co/49H6UwbU9n

— Andrew Goldberg (@Andrew Goldberg)1570486379.0
As a refresher, members of the LGBTQ community most often say that the difference between bisexuality and pansexuality is that people who identify as bisexual can be attracted to people of their own gender as well as one or more others (though not necessarily all genders), while pansexual people can be attracted to all people without regard to gender identity.

But really, pansexual people should just define their own identity without labeling or trying to define others.
Same goes for everyone. Let each person define their sexuality themselves, gay, lesbian, bisexual, queer, or otherwise.
Looking for Big Mouth gear? This shirt is available here.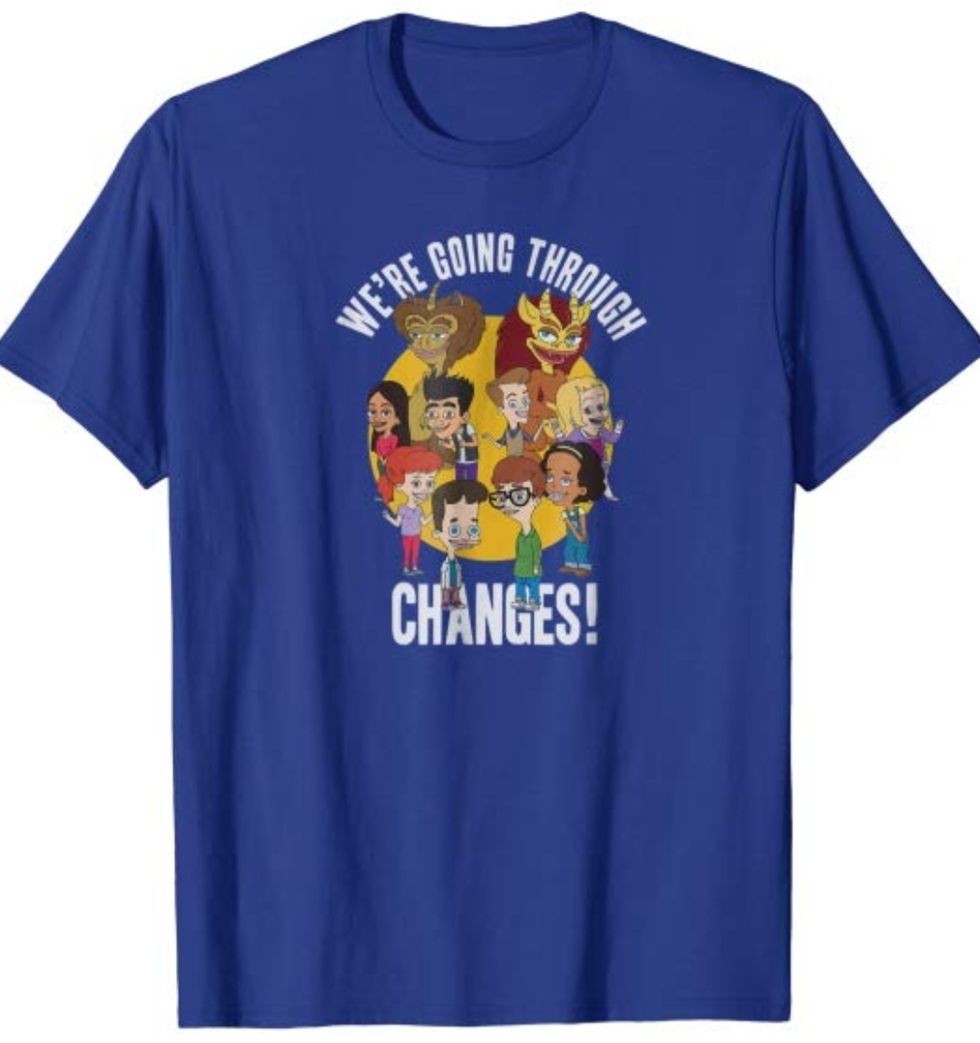 ******

Have you listened to the first season of George Takei's podcast, 'Oh Myyy Pod!'?
In season one we explored the racially charged videos that have taken the internet by storm.
We're hard at work on season two so be sure to subscribe here so you don't miss it when it goes live.
Here's one of our favorite episodes from season one. Enjoy!