In a video with over half a million views, a TikToker revealed a woman throwing a tantrum in a Barnes and Noble café, demanding her money back and trashing the store's merchandise. She cursed and yelled slurs during her tirade.
The TikToker and author Jen, known as @jenmarz on the app, shared videos from her phone and her daughter's phone strung together.
The angry woman was heard yelling:
"Give me my f*cking drink so I can leave, b*tch."
"Give me my f*cking money now, b*tch, give me my f*cking money!"
"Give me my f*cking money or my drink."
Watch the clip, below.
@jenmarz

Karen gone wild in B&N Café #karen #karensgoingwild #karensgonewild #karenalert @officialbarnesandnobles
The woman slammed her hand repeatedly on the counter and knocked over whatever was sitting behind the half wall.
The clip also showed the manager on the phone, presumably with mall security or the police. Neither showed up during this video.
After knocking over some things behind the counter, she screamed:
"You're gonna have a big mess to clean up, you little c*nt."
She then knocked over merchandise displays before leaving, shouting expletives the whole time.

@creativechica/TikTok

@theedarling/TikTok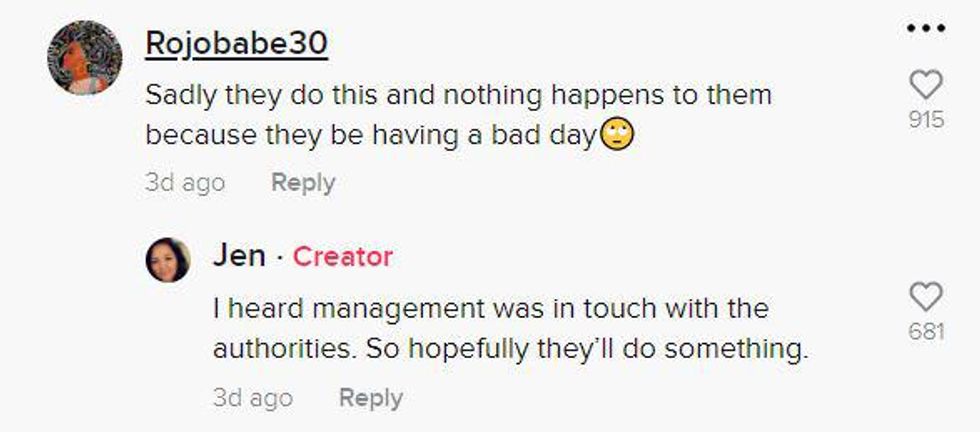 @jamba945/TikTok; @jenmarz/TikTok

@bellemonroe/TikTok

@sheilawoody/TikTok

@franmaguilera/TikTok
@graciebee420/TikTok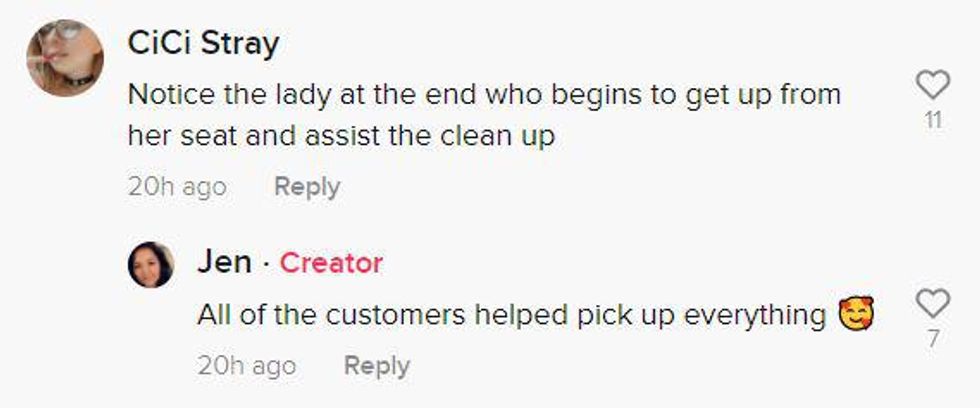 @cicistray/TikTok
A follow up video answered a few questions about what happened before and after the video.
Jen said they did not call the police because the managers seemed to have already called the mall's substation. She wasn't sure if she was arrested, but she was seen later that same day.
Apparently, the user @momma.marlene made a video that showed the same woman in a different location of the mall. That video has since been removed from TikTok.
Many people asked what triggered the woman's behavior:
"Doesn't matter. Nothing justifies what occurred."
"But for those still curious... I don't know if anything happened in the cafe before hand but this incident occurred after she had been walking around and was confronted for taking some bags from behind the main B&N register."
"She's yelling about a drink but she couldn't have ordered unless it was way before."
So far, there have been no statements from Barnes & Noble about the situation.