John Dowd—the lawyer for two associates of President Donald Trump's personal lawyer, Rudy Giuliani—claimed in a letter to the House Intelligence Committee counsel that the committee was harassing his clients in its request for documents relating to the President's pressure on Ukrainian officials to investigate his political rival, former Vice President Joe Biden.
---
Efforts from Trump's camp to avoid accountability are hardly unusual at this point.
Dowd's font choice, however, was.
Dowd chose a font that's a staple in kindergarten classrooms and sleepaway camps, but that's become a pariah to many:
Comic Sans.
The font has long been decried as unprofessional.
There was even a campaign to ban it, with founder Holly Combs saying:
"Using Comic Sans is like turning up to a black-tie event in a clown costume."
The "Ban Comic Sans" group had a change of heart later, saying that the hate had all been "in good fun."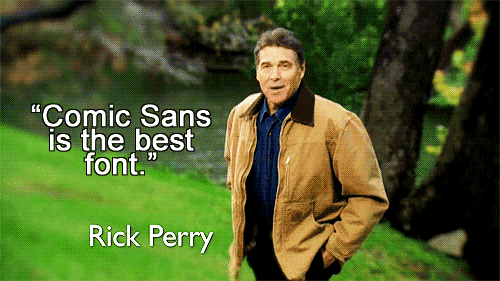 Giphy
Many designers still haven't warmed up to the font, and the memo from John Dowd reminded them why.

As silly as it looks to designers, many of the 15% of Americans with Dyslexia assure that the font serves an important purpose.
While the focal point of the letter became about its font choice for many, what's more ridiculous is the continued bulwark of Trump and his associates against the most basic demands for accountability.
The book Thinking with Type: A Critical Guide for Designers, Writers, Editors, & Students is available here to help you make the right font choices.
******
Have you listened to the first season of George Takei's podcast, 'Oh Myyy Pod!'?
In season one we explored the racially charged videos that have taken the internet by storm.
We're hard at work on season two so be sure to subscribe here so you don't miss it when it goes live.
Here's one of our favorite episodes from season one. Enjoy!