An Atlanta restaurateur's plea to increase his business on social media majorly backfired after commenters slammed his establishment with bad reviews.
On September 9, Tre Pierre, who owns New Orleans Creole Cuisine, took toX (formerly Twitter) and asked:
"Hey Twitter can you blow up my restaurant it's been slow af this month I need a big push can y'all retweet this post."
His post included a video featuring the interior of his fledgling restaurant and food offerings like gumbo, beignets, and colorful cocktails.
The post of the promo video, set to smooth jazz saxophone music, reached more than a million views within 24 hours, according to Insider.
But the reception he received was not the push he was hoping for to boost business.
In addition to some messages of support, users were quick to point out some of New Orleans Creole Cuisine's flaws, including horrible business policies and bad food preparation.
TikToker @bodacious_bobo shed some light on the drama, explaining why potential customers were shying away from patronizing the restaurant.

The TikToker pointed out one of the negative Yelp reviews, in which a customer complained about receiving undercooked chicken and shared a photo of the pinkish meat seen underneath the fried batter.
"That chicken is still clucking," said the TikToker, adding, "That's fried chicken y'all."
She pointed out another review in which an unsatisfied customer claimed she was confronted by the owner and "the rest of the staff."
In a review Pierre later claimed was written by a troll, a patron said one of the staff allegedly flashed a gun at her and hurled homophobic slurs aimed at her and her girlfriend after they had been complaining of poor customer service.
Here is her TikTok video.

Pierre continued getting majorly roasted.


@bodacious_bobo/TikTok
@bodacious_bobo/TikTok
@bodacious_bobo/TikTok
People also slammed Pierre's restaurant policies, which included not guaranteeing "anything over medium for our steaks and medium well for our salmon" and that "all sales are final. No exceptions."
Here is a screenshot of the restaurant's policies @bodacious_bobo shared in her TikTok video.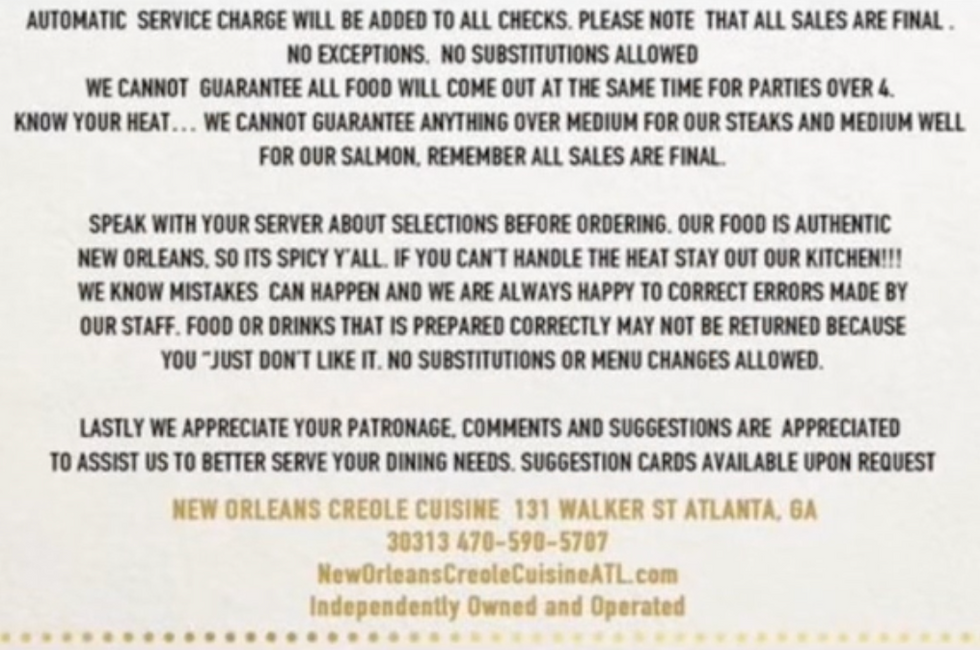 @bodacious_bobo/TikTok

@bodacious_bobo/TikTok

@bodacious_bobo/TikTok

@bodacious_bobo/TikTok
Some of the bad reviews also accused Pierre of not fairly compensating his restaurant staff.

Kayla McPhaul, who worked at New Orleans Creole Cuisine as a hostess and waitress in late 2022, claimed Pierre underpaid her and owed her around $1,400.
She told Insider that her lack of a livable wage nearly caused her to be evicted.
McPhaul also shared screenshots of what she considered unprofessional DM exchanges with Pierre.
@KayTheHippy/X
She eventually filed a police complaint after several paychecks bounced.
Eventually, she was paid $1,100 but says the restaurant still owes her $351.
Said McPhaul:
"It's not about the money, it's moreso about the principal."
"It felt like they were making me seem like I was begging for money I earned."
Pierre responded to the accusations, telling Insider that he and McPhaul were "paid up" and that another staffer was more in charge of HR issues.
He also regretted calling McPhaul the B-word in their message exchanges she shared online.
Pierre, a self-described musician, writer, and actor, who started the business venture in 2021 with his two siblings, addressed all the drama, claiming it was the "greatest thing that could have happened" for his business.
He attributed the restaurant's poor location situated downtown near the Mercedes-Benz Stadium, which is a parking nightmare, as one of the problems in addition to staffing issues after COVID.
Said Pierre:
"When people are just so used to having government assistance and things like that, it leads to businesses with little to no one to pick."
"It's like a child where you have to keep telling 'em over and over again."
Pierre is currently in the process of a "revamp," which entailed replacing his front-of-house staff with 12 new employees, including two new managers.

In spite of the backlash, Pierre has no regrets about posting his request to help spread the word about his restaurant.
He added that the viral feedback was both "flattering," for increasing the restaurant's exposure, and "humbling."

Pierre also admitted to learning about how customer service was a "hell of a business," but was open to suggestions for areas of improvement.

"We know what areas to fill in," he said.
"So that was kind of the greatest thing that could have happened for us."